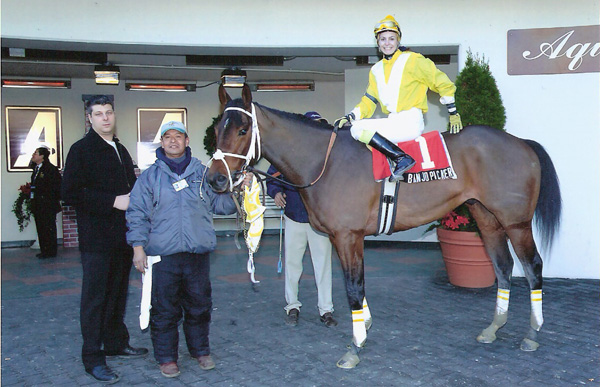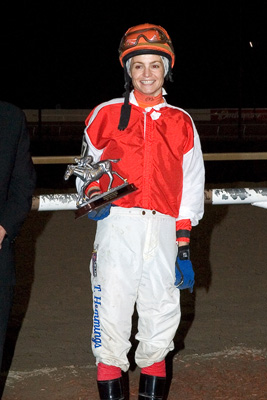 Tara Hemmings
Tara Hemmings is a jockey I know quite well and I interviewed her way back when and I decided to beg and plead (ha ha) with her to do a new interview and she agreed and here is what she said to the questions that I posed to her:
FOTH: It has been a long time since we last interviewed you. How much longer to do you think you will ride for?

TH: I don't know how long I will ride for, before I used to say just a couple years after my bug, but I have already surpassed that and I am still having too much fun.
FOTH: What are some of the injuries you have had over your riding career?

TH: I have had 2 broken collarbones and I had a broken scapular.
FOTH: Do you miss the days of riding at Phila Park during the day and then doing Penn National at night?

TH: I don't miss the commute with me and my car and the long hiurs, but I do miss not riding as much.
FOTH: You recently went out to Hoosier Park with Maria Charles and Joanne McDaid to compete in the 2007 Female Jockey Challenge. How was that experience for you and tell me a little bit of what you did that weekend?

TH: When me and Joanne got there we actually went to the spa and ended up relaxing. We all had a blast and then after the races we went out dancing.
FOTH: Now you actually won the challenge. What was it like jogging the horse back to the winner's circle and getting your picture taken?

TH: It was very exciting.
FOTH: What did you get for winning the actual event and what was it like getting your picture taken with me since I was out there ha ha?

TH: I got a nice trophy for winning and the picture afterwards was fun.
FOTH: Let's talk a bit about your favorite horse, "Banjo Picker". How many times have you rode this horse?

TH: A bunch. I have won 12 races on him so far and he is awesome!
FOTH: How many stakes wins do you have on this horses and out of all of them which one was your favorite?

TH: I have won 6 stake races on him so far. Winning the Grade 3 "Graves End" in NY and paying
$ 97.00 was my favorite so far.
FOTH: I know your married to Trainer Steve Krebs. How did he pop the big question and were you surprised when he did it?

TH: We went to Las Vegas on vacation and it was a spur of the moment thing.
FOTH: I know you only ride for Steve and a handful of other trainers. Is this something you choose to do on your own?

TH: Well I gallop a lot of horses for Steve in the morning, so I don't have a lot of free time to hustle other barns.
FOTH: Phila Park now has a casino with slots and stuff in it. Have you ever been over there and dropped some money in any of the machines, and if you did, did you win anything?

TH: No, but I walked through the casino and it looks very nice.
FOTH: What was the craziest thing you did away from the track?

TH: I once went sky diving with Frankie Pennington and Joanne Mcdaid. (both are phila park jockeys too-chris)
FOTH: If some young girl came to you and said she wanted to become a jockey, what would you tell her?

TH: If they are serious they should work for good people at the track, listen, watch and learn and also plan on putting in a lot of hard work.
FOTH: I know your from England. Do you miss it much and do you ever plan taking Steve over there and showing him what England is all about?

TH: I dod miss it. I have family and friends over there. I went back there in September of 2006 and one day I'll get Steve over there.
FOTH: DO you think another female rider will win a Triple Crown Race?

TH: I am sure one day in the future one will.
FOTH: DO all the girls at Phila Park pretty much get along with each other?

TH: Yes.
FOTH: If asked, would you go out to Hoosier Park for the 2008 Female Jockey Challenge?

TH: Absolutely.
FOTH: Do you do anything to stay in shape and has weight ever been a problem for you?

TH: Not really. I gallop and work out a lot of horses everyday and that keeps me in good shape. Weight for me has never been a problem.
FOTH: How many more races do you think 'Banjo Picker" has left in him?

TH: I don't know. As long as he is healthy and sound, we'll keep him going.
FOTH: I am all out of questions Tara. Thumbs up for the interview and any last words?

TH: Thanks Chris for everything and thumbs to you and I'll see ya around the track I am sure.