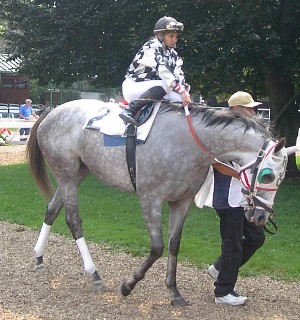 Ada Jimenez
I met Ada Jimenez when she came down to ride at Phila Park and also over the summer at Monmouth Park. I recently got Ada on the phone for this interview.

FOTH: Where were you born and where did you grow up?
AJ: I was born in Puerto RIco.

FOTH: Did you know growing up you wanted to become a jockey?
AJ: Yeah when I was 14 years old I went to the race track with my brother and in the mornings and we go to see horses workout. I would go with him every morning and I liked horses so started working out on ponies and stuff.

FOTH: What led to you actually becoming a jockey?
AJ: When I was 16 years old I went to a jockey school down in Puerto Rico and that is it.

FOTH: Is there a lot of race tracks down in Puerto Rico?
AJ: There is just one track in Puerto Rico.

FOTH: Looking back, was becoming a jockey easier or harder than you thought it would be?
AJ: When I start to do this, it was very hard. It was me and 10 boys in the school and it was really hard.

FOTH: Tell me a bit about this jockey school as we don't have any in the US.
AJ: You have to be at least 16 years old and have had to finish 9th grade. You also can't be more than 5'2 and weight no more than 102 pounds.

FOTH: Did you ride much in Puerto Rico before coming to the US?
AJ: I started the jockey school in 1994. I finished in 1995. I graduated January 1, 1996, and I won my 3rd race overall on January 16, 1996. I won 112 races when I was an apprentice.

FOTH; Compare the riding here to over in Puerto Rico.
AJ: Here is very different. Here nobody know who I am and a couple trainers say to me 'you say you won in Puerto Rico, but I don't know you' and I am not an apprentice now and it is hard here in NY. It is more hard here.

FOTH: I know you have rode at Monmouth Park, Phila Park, and NY. Have you rode anywhere else?
AJ: I also rode at Suffolk Downs.

FOTH: If some young girl wanted to become a jockey what advice would you give her?
AJ: It is not easy, but don't worry or be sacred. Just talk to all the trainers and owners and let them know your available to work out their horses and hopefully they will give you a chance.

FOTH: What made you decide to come to the US?
AJ: I was working at the casinos at Mohegan Sun in Connecticut. I know one guy and he talked to me about Aqueduct and he knew a trainer there. So I talked to the trainer and he gave me a chance to gallop some horses for him and Carlos Morales helped me as well.

FOTH: Do you plan on staying in NY or maybe moving to a smaller track?
AJ: I know it is hard in NY, but I think I am gonna stay here.

FOTH: How much longer would you like to ride for?
AJ: Maybe one more year. I am married now and I want to start a family and I'm gonna be 28 soon so I want to start a family.

FOTH: Do you miss Puerto Rico a lot?
AJ: I miss Puerto Rico because that is the place I grew up with all my life and I miss Puerto Rico in the winter time, but I do like NY.

FOTH: Have you gone and seen like the Statue of Liberty and stuff like that?
AJ: Yeah I have been to Times Square and I went to the World Trade Center. I like the city.

FOTH: Is there any hobbies or things you like to do when your away from the track?
AJ: I like to watch tv.

FOTH: Are most of the jockeys pretty helpful to you?
AJ: Yeah they have been. Shannon Uske and me talked when she was riding up there and she is really nice.

FOTH: Ada, I am out of questions. Anything you want to say to wrap this up?
AJ: Thanks for the interview.


Back to our main page