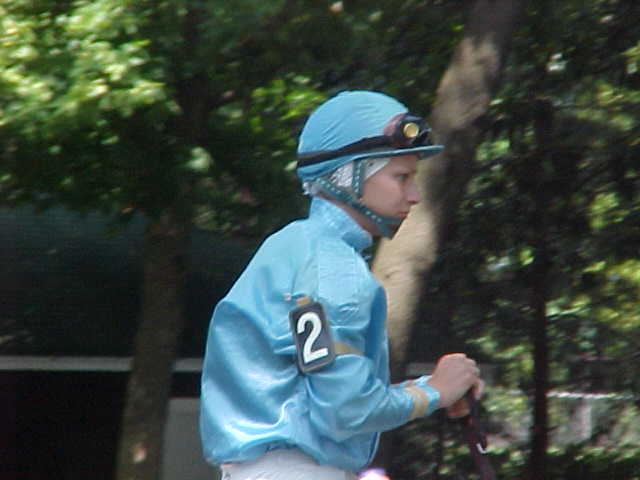 Alison Hershbell
The first track we hit on our weekend trip was Delaware Park. We both agree Alison is one heck of a rider. We had previously asked Alison if she wanted to be on our site and she agreed. So this time armed with some questions we both wrote up, she took our tape recorder and our questions and went into the jock's room and what she said follows: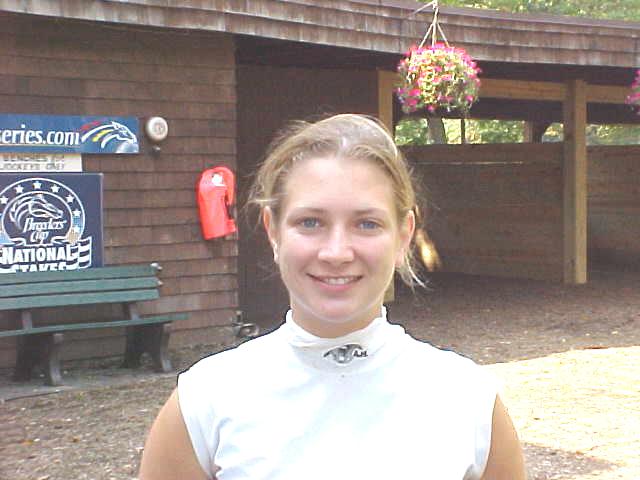 Alison Hershbell at Delaware Park, September,2001
FOTH: Where were you born and where did you grow up?
AH: I was born in Chicago, Illinois. I grew up in a town called Unionville, Pennsylvania.
FOTH: Do you have any brothers or sisters? Are you close with your parents?
AH: I have one brother. He is 8 years older than me. Actually my entire family and my brother are very close. We usually try and see each other at least once a week.
FOTH: What was the first track you ever went to?
AH: That would be Delaware Park actually. (laughs)
FOTH: What did you want to be when you were growing up?
AH: Actually when I was growing up I rode horses a lot. I did a lot of riding and played some sports in high school, but mostly rode horses. Never quite sure what I wanted to be, but ended up becoming a jockey kinda by just falling into the sport.
FOTH: Describe what it was like getting up on a horse for the first time? When did you know you wanted to be a jockey?
AH: I don't actually remember getting up on a horse the first time cause I was three years old, at least that is what my mom tells me (laughs). I was three when I first started riding. I have vague recollections of it, but I have ridden ever since. I always knew I wanted to do something around animals and something to do with horses, but I wasn't sure I wanted to be a jockey till after I rode my first race.
FOTH: How long did you exersise/gallop horses before becoming a jockey?
AH: My first job was with Doug Fisher. That was a summer job and I worked for him for two years and then I worked for Ronnie Hounton for three years and then I came onto the race track. So it was kinda how I started. So I galloped horses from when I was 13 till almost 17 then I started riding.
FOTH: What stuff were you taught as far as riding goes? Who helped you out?
AH: When I started riding there was a lot of girl riders in the room. Kendra Taylor, Sharon Gunther, Darci Rice, like I said there were a lot of girl riders in the room that helped me out a lot. Some of the guys as well, but mostly the girls. Most of the girls sat down with me and told me what I needed to know.
FOTH: What was the first race you ever rode in like and where did you finish?
AH: First race I ever rode in was here and it was for a friend of mine and the horse finished fourth. To tell you the truth the race went so fast I really don't remember much about it as I was a little nervous.
FOTH: What are some of the tracks you have ridden at over the years? What is your favorite track and worst track if you have one.
AH: I have ridden of course down in Florida, and Delaware Park, Philadelphia Park, Atlantic City, Garden State Park, Meadowlands, Laurel Park, Pimlico, I was out in Texas and rode Sam Houston, Retama and also Lone Stone Park. I also rode in California at Los Alamitos. A favorite track would have to be Delaware cause its home and I have never really been to a track I dislike.
FOTH: What was the biggest race you ever won and rode in?
AH: I think there was one for $55,000 or $60,000 I really couldn't tell ya. The biggest race I ever rode in was the Delaware Handicap and it was $350,000.
FOTH: We know you ride in a lot of Arabian races. What is the difference between riding one of those horses and a thoroughbred horse?
AH: There is a little bit of a difference, but not much. The Arabian horses are just a little bit slower that is it. There is not too much difference between the two.
FOTH: What was the biggest Arabian race you ever won?
AH: I won a couple of $50,000 races on them, and that has been all over the country.
FOTH: What are some of the injuries you have had and what was the worst one?
AH: I have broken my nose, fingers, toes, ribs and my leg. I think my leg was the worst one. When I had the "bug" I broke my leg up at Philadelphia Park and had 2 have screws put in and had them taken out later on. I broke both bones right below the knee.
FOTH: Do you have a favorite horse you have ridden?
AH: I can't say I have a favorite. There have been a lot of horses I have really enjoyed riding. Winner's Melody was one of them for Camac. Lickity Split is one of my favorite Arabian horses I like to ride. A little horse by the name of Rapunzel's Knight was one of my favorites as well.
FOTH: Do you think female riders are treated fairly in the sport of horse racing?
AH: I think female riders as a whole aren't given the same opportunities as men. Not just because I am a girl, but I think it is hard because we are the only females competing in a male sport without any kind of handicap or anything like that. I mean we compete with the boys strictly on their level as well and it is kinda hard. I think a lot of trainers are a bit more open-minded than they were in the past. I think trainers and owners nowadays are more open-minded to give women a chance on their horses and I think in a way of respect we have come a long, long way since Diane Nelson and those girls as they had it real rough, so I think it has gotten a lot better, but I'd like to see it improve over the years.
FOTH: What advice would you give to somebody that wants to be a jockey?
AH: The only advice I could give to a person that wants to be a jockey is to listen to the journeymen jockeys. Listen to what they have to say, talk to them and gallop, gallop, gallop in the morning and practice as much as you can.
FOTH: Do you know how many wins you have?
AH: I to tell you the truth I am not quite positive. I would say well over 500, but I am not sure. My dad keeps track of that and I don't (laughs) and I am not exactly sure.
FOTH: How much longer do you want to ride?
AH: I would think another five years or so.
FOTH: Any tracks you would like to ride before you hang up your riding boots?
AH: I am not sure. I don't know of any track I would really like to ride at before I retire. There is not just one track that sticks out for me. I just want to keep riding as much as I possibly can.
FOTH: Any last words you want to say or add?
AH: I want to thank you guys for doing this. For the girls it is great you are doing this and I am gonna try and get on a computer and check out your site cause I think this is really neat and I thank you again.