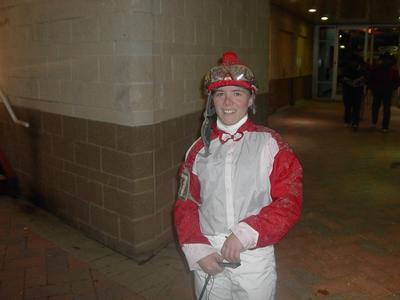 Amanda Crandall
I got a chance to meet Amanda when I was down in Houston at the Super Bowl. I briefly talked to Amanda and told her about the website. After a few phone calls I got Amanda on the phone for this great interview.
FOTH: Amanda, the first question I have for you is where were you born and where did you grow up?
AC: I was born in Houston, Texas and I have lived here my whole life.
FOTH: What sort of girl were you when you were younger?
AC: I was sort of a tomboy.
FOTH: What did you parents think when you told them you wanted to be a jockey?
AC: My mom was really excited and my dad was kinda excited, but he has always sort of wanted me to be something like a lawyer or a doctor. Something that makes a lot of money and stuff.
FOTH: Do you have any brothers or sisters?
AC: I have an older brother that is 25 and a twin sister.
FOTH: Have you parents and your brother/sister seen you ride?
AC: Every couple weekends they will come out and watch me.
FOTH: What event or events actually led to you becoming a jockey?
AC: I have always had my own horse and he used to be a race horse and a quarter horse so I always thought it would be neat to run my own horse in a race. That is how I met some trainers and that is how I got started.
FOTH: Were you taught a lot as far as riding or did you learn a lot on your own?
AC: A little bit of both. There was a few people who helped me out, but some of it was my natural ability I learned from jumping and watching other people ride.
FOTH: You are a young rider. Were the riders down in Texas pretty helpful as far as helping you out?
AC: None of them would really give me tips on anything. They would just complain about what I was doing wrong. There was one jockey Carmen Clarke he helped me out a little bit. He would give me a few tips and stuff. Whenever I did something wrong I knew what I did wrong, I figured it out myself.
FOTH: Tell us what you remember about your 1st race.
AC: The 1st day that I rode I had 2 horses in. It was for trainer Brenk Kanitia, who I had worked for 2 1/2 years. I was a little more excited than I thought I'd be. It was totally different workouts. In the morning you can really work out the horse and during a race you have to re adjust your thinking and especially on the turf as you really don't have a chance to work a horse out in the morning on the turf and my first race was on the turf. I think I finished 5th in my turf race and on the dirt the horse I was on tired as the race was too long for him. If the race had been shorter I think we might have won. The track was Retama.
FOTH: Have you raced outside of Texas yet?
AC: Right now I am just doing the Texas circuit. I had a chance to go to Philadelphia Park and Delaware and Laurel, but my agent persuaded me to come up here to Lone Star Park and I am not doing too bad.
FOTH: Do you like riding on the dirt or the turf cause when I was down at Sam Houston the turf course looked great.
AC: At Sam Houston I like the turf better, but it is a lot harder to ride and you really got to know your horse and it is very hard to go to the front and win. The track surface here at Lone Star, when it rains, the track surface holds too much water and it becomes deep and hard and it is never good. Everyday it's different. The turf is like a rollercoaster ride. (laughs)
FOTH: Tell us about your 1st win.
AC: My 1st win was at Retama and it was like my 11th or 12th ride and I won by like 7 lengths and I broke her and my maiden (laughs). The horse's name was Miss Susan.
FOTH: What was it like going into the winner's circle for the 1st time?
AC: I was just really happy. The horse ran so good for me and I had ridden the horse before and that time he ran 2nd. This time I ran him back and he won. This was one filly you had to work with and be careful with.
FOTH: Did they get you after the race and did you know it was coming?
AC: I knew it was coming, but after the race I had forgotten about it. When I got back everybody was out crowded around the jock's room and I got water. They had shaving cream and water and asked 'where do you want it?" They didn't try anything else though.
FOTH: Do you have any goals you would like to accomplish?
AC: Well my goal at Lone Star is to win at least one race a weekend, which so far I have been doing. This past weekend I ended up winning 3. That is my goal for here. There are a lot of guys here that are doing well and I am in the standings and I am in the top 10.
FOTH: Do you have any hobbies or things you like to do when you're away from the racetrack or is it pretty much 100% horses.
AC: Well when I am in Houston in my home town and when I am done in the morning or on my days off I like to go out to the farm and I gallop a few. I like to do jumping and I like to go on trail rides so I pretty much don't do anything outside the horses too much (giggles)
FOTH: Take us what you do in a typical day.
AC: I get about and try to get to the track no later than . I go and check with my agent as he has helped me so much, he helped me get my license and everything, so I go and check with him and see what he needs and get on between 6 and 8 horses every morning and then I'll hang around the track until the overnights and paperwork comes out and then I'll go home and eat and take a little nap. On my off days I might go and hang out with my friends and go bowling and if it is not an off day after my nap I go and go to the track and ride races.
FOTH: Any other female jockeys you like or admire?
AC: Cathleen Garner. She has helped me out a lot over at Sam Houston. When I would come back from a race sometimes other jockeys would say you did this or that wrong and I would go talk to her and she would say you didn't do anything wrong or tell me this is what you can do and she does really well in Texas as well.
FOTH: What advice would you give a girl if she wanted to become a jockey?
AC: I actually had a girl ask me how to get to become a jockey and I told her to go to a farm and work as a groom first and I actually wish I had become a groom. I think it is really important that you know all that stuff and you should do groom work for about a year and then get into galloping and stuff and do that for about 2 years. I am actually glad I waited 2 1/2 years to get my license and it helped me out galloping 2 1/2 years. There was some girl here she had only galloped about 6 months and rode a few races and now she can't ride because she got hurt too bad.
FOTH: Was becoming a jockey harder or easier than you thought it would be?
AC: It is a lot harder.
FOTH: Any tracks you would like to ride at one day?
AC: Santa Anita looks like it is the hardest place you can go to. Delaware Park would be nice as I saw the purses there.
FOTH: Amanda anything you want to say to wrap this up.
AC: Not that I can think of. (giggles)