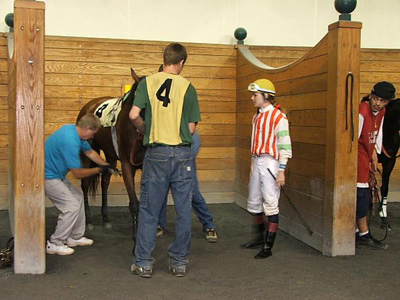 Amanda Han
Amanda Han is a jockey that recently retired and was riding up at Penn National not too long ago. She got in contact with me and I asked her if she wanted to do an interview and she agreed and I emailed her some questions and here is what she said to them:
FOTH: Where were you born and where did you grow up?

AH: Irving, Texas
FOTH: What sort of girl were you growing up and what do your parents think of you being a jockey?

AH: I was a tomboy. My mom was my biggest fan I could here her at the 1/4 pole when she was at the track.
FOTH: Did you know at a young age you wanted to be a jockey and were you a tomboy at all?

AH: I was a tomboy but when I was younger I wanted to rodeo. I competed all through junior and senior high. But when I saw my first Kentucky Derby I knew that was what I wanted to do but had no idea how to get started.
FOTH: What were you like the 1st time you saw a racetrack and horses?

AH: The first track I saw in person was Lone Star, and I felt like.... I'm home.
FOTH: What event or events actually led to you becoming a jockey and did you have anybody help teach you how to ride and stuff?
AH: I was always a natural on the back of a horse even at the age of 10. So when Lone Star opened I lied my way on the back of a horse and said I had galloped at a farm for six months when I had only rode a baby in the round pen about six times. But I guess I covered it up well because my first real galloping job was w/ Steve Asmussen. I had many riders help me in learning to ride. At the Fair Grounds I rode schooling races (a bunch of them!) and riders like Eddie Martin Jr., Robbie Alvarado, Donnie and Lonnie Meche would race ride me. Not to be nasty, just so I knew what it would be like. They where all every supportive. Bobby Colton helped me so much too. Alison Hershbell, Clinton Potts and even my now husband Vladimir Diaz have help me too.
FOTH: Looking back was becoming a jockey easier or harder than you thought?

AH: The riding part...easy...The weight part.... hard
FOTH: How long did you gallop horses before you became a jockey?

AH: About five years of galloping and riding about 75 or so schooling races at the Fair Grounds
FOTH: Tell me about your 1st race. What track was it? Were you nervous and what was it like walking out of the jock's room for the 1st time?

AH: My first race was supposed to be the last day of the meet at the Fair Grounds but my horse flipped behind the gates and was scratched... So I rode my first race at Delaware Park on Jessies Flying for Tito Moreno, I was on the A.E. list so I didn't know for sure I would ride till that day. I was cool in the paddock and in the post parade but when they came and got me to load all I thought was "OK I changed I mind I don't want to do this any more but luckily my friend had me in the gate and told me he wouldn't load me till I was ready. But once the gates opened the I felt fine, like I had been doing it for years.
FOTH: Tell me about your 1st win. Where was it and did you win by a lot and did the jocks get you after the race and if they did, what did they get you with?
AH: Penn National on Robins Ridge for Sam Keyrouze. I won by five or so. The trainer was the first to get me with shaving cream, then I got the paddock pony uuummm... muck bucket, the paddock ash tray and a nice bucket of water to top it off.
FOTH: I know you are retired. Do you ever plan on coming back to ride and how long did you ride for?

AH: I don't know if I will go back. I never say never.
FOTH: What actually led to you retiring?

AH: My third child, second in two years. I was riding with no weight problems then I found out I was pregnant with my son.
FOTH: Do you feel that while you were riding that you were a good rider?

AH: I was good I think for a girl but there is always room for improvement.
FOTH: What tracks did you ride at and did you have a favorite one?

AH: I only rode races at Penn, Charles Town, Delaware, and Philly. I think I liked Philly more.

FOTH: What advice would you give a young girl if she wanted to become a jockey?

AH: Don't believe anyone when they tell you can't. Always ask other jockeys for advice, and always listen to any advice (even when you don't want to) because even an idiot can tell you one thing that can make all the difference.
FOTH: Do you still follow the sport at all? Have you been to Penn National since their casino opened?

AH: I've been galloping horses for Flint Stites at Penn for the last year or so and I my husband is riding here too.
FOTH: If you could change a few things about the sport, what would they be and why?

AH: Well I love that there are new changes being made know in Pennsylvania like doing away with steroids or equipoise. And the change in June at Penn that after so many starts in a bottom claiming if a horse cant hit the board they cant run. I think that it will help make racing in Pa. safer for horses and riders.
FOTH: Do you think another female can win a Triple Crown Race?

AH: I hope so!
FOTH: Do you feel that while you were riding that you were treated pretty fair as a jockey?

AH: I think so. I know that men are always going to be chosen over a female because they might "be stronger" but I think its that way in ever profession.
FOTH: What sort of music do you like?

AH: Everything. Just depends on my mood.
FOTH: Are there any other female jockeys or athletes that you admire?

AH: Yes! All of them!! They all pave a way.
FOTH: Did you have any injuries any injuries at all while you riding?

AH: I was lucky and was never in a spill, but I partially tore my ACL in a morning accident.
FOTH: Do you think the weights should be raised at all for jockeys?

AH: Yes I think so. I know that Puerto Rico has raised there weight to 116 and I think that's something the states should consider.
FOTH: Do you watch any sports at all and what are some hobbies or things you like to do?
AH: Besides horse racing I like football, I don't have any hobbies so to speak, but I do love the outdoors and working in my yard, and I just love to working around horses.
FOTH: Amanda I am out of questions. Thumbs up for the interview and anything you would like to say or add the floor is yours.

AH: I love what you are doing with you website. I think its just wonderful! Keep it up!


Back to our main page