Anne Sanguinetti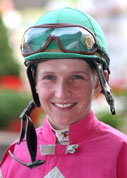 Anne Sanguinetti is a jockey I saw riding up at Suffolk Downs during their meet and I got in touch with her and here is the chat I had with her. Anne is currently riding at Portland Meadows
FOTH: Where were you born and where did you grow up?
AS: I was born near Ann Arbor, Michigan and I grew up in California.
FOTH: What sort of girl were you growing up?
AS: (laughs) I was a tomboy and horse crazy. I don't recall having any girlfriends until like 1st grade. I went to pre school and my only recollection is only playing with boys. I had all these boy toys like Transformers and Thundercats and all that kind of stuff. I never owned a barbie doll. (giggles)
FOTH: DO you have any brothers or sisters?
AS: No. We had 3 foster children at various points, but I am an only child.
FOTH: What do you parents think of you being a jockey?
AS: They are very supportive of me and they have both followed their dreams of passion in like and I think they would be disappointed if I didn't do the same. They would like it better if it wasn't so dangerous. I think it makes them a little nervous. They are very proud of me and they both have winning pics of me on their desks and they bring in videos of me winning races and stuff.
FOTH: Did you at a young age know you wanted to be a jockey?
AS: I had been galloping for like 2 years and I had been following racing since I was like 11 and I rode hunters and jumpers and did all the horse shows. Horse racing was something I watched on the side. It was something I never thought to be a part of. When I was in collage my horse that I had got hurt and show horses are really expensive and so it sort of dawned on me that I could make some money and I could ride if I went over to the racing side of things. Somehow it didn't click in my head that 'hey your really small and your build just right." I galloped for 2 years and people would always pester me "when you gonna ride...when your gonna ride" and I was like "I'm not gonna ride." One day I broke a horse from the starting gate and it was all over as I said to myself "I'm gonna ride."
FOTH: Did you have people teaching you how to ride and stuff?
AS: I had a lot of people from the people I was working with, Dennis and Leslie Ward. Leslie actually won the Eclipse award for apprentice rider sometime in the 80's. They both taught me how to gallop and do everything. When I came to Boston (Suffolk Downs) I came with Tammi Pierrmani and her husband, who is my agent. They have taught me a lot as well.
FOTH: I know Tammi rode out in California. Is Tammi the reason that you ended up at Suffolk Downs?
AS: Yeah. I had just come back from Texas actually. I didn't stay there too long and I was riding at Bay Meadows and she shipped a horse up for a race and we got to chatting and she watched me ride and she said "you know there is a lot more opportunities back east if you want to come" and she gave me her number and it sort of went from there.
FOTH: Is there any big difference you notice in the way jockeys ride from the different regions you have rode at?
AS: I think ever track is unique in it's own way and each group of jockeys is unique. I also rode at Portland Meadows for one month when I first started, and there was 11 girls and 9 guys and that was interesting and different. Texas had huge fields like 12 horses all the time. The jockeys were tight and aggressive and Bay Meadows had short fields and you didn't have to worry about traffic in a 4 and 5 horse field. Here at Suffolk sometimes there is a big field and sometimes it's not.
FOTH: Tell us a little about your 1st race.
AS: I rode the day I graduated collage over at Hollywood Park. The race was a mile and 16th maiden fillies and basically the filly I rode, I had been galloping her forever and I was the only one who would gallop her because she was a little bit cocky and so I got along with pretty well. She had rode a couple times before and never did any good, she kept pulling weird stunts especially in the starting gate and the they actually wanted to try me because I got along with her in the morning and you could take 10 pounds off, which they liked the idea of that and so she was good and she broke 3rd and we ended up 3rd at the end of the race. I didn't even know how to uncock my stick or anything. I was just sort of taking a ride. (sort of laughs)
FOTH: Were you nervous at all cause riding your 1st race at Hollywood Park is nothing to sneeze at?
AS: It was a little weird. I had not idea how to get from the jockey's room to the paddock and I had only ever been there to watch. It was the 1st race of the day and there weren't too many people there, which I was quite happy about. It was interesting. I had done horse shows and gymnastics in high school and sort like the same thing and I think having done the horse shows previously helped a lot.
FOTH: Tell us about your 1st win. Where was that at?
AS: It was at Bay Meadows in August of last year. It was like a perfect 1st win, not some random horse, it was a horse that I had been galloping for this guy for months. He was a trainer at Bay Meadows that only had like 2 or 3 horses and I'm not sure if he still has anymore than that now. I only worked for Dennis, but I worked for this guy on the side and I would take his 2 horses out everyday and this horse was one of them. The horse's name was "Deja Brew" (hope that is right-chris). He was just a neat horse, he kinda had his own way of doing things. Me and the trainer really liked this horse and he hadn't any luck with him and he was sort of at his wit's end with the horse when the trainer approached me and said "I got a proposal for you. I am thinking of putting you on the big horse" and I told him it sounded good to me. He came from behind and he closed and made up ground and made up ground and at the 1/4 pole I swung him out and passed the only horse in front of me and went on my way.
FOTH: What was it like jogging the horse back to the winner's circle for the 1st time? Were you in shock at all?
AS: Yes and no. I think I had ridden about 25 races at that point and I had got a little bit frustrated cause you read about these apprentices that win on their 1st race and I was like saying to myself, why is it taking me so long. So I was like "yeah...finally. I loved the horse so much that was really cool and then I was a little petrified as to what the other jockeys were gonna do to me.
FOTH: That was my next question.
AS: Yeah, but it isn't as bad as it used to be because I think they had some lawsuits. They can't paint you or use tar on you like they used to do.
FOTH: How has it been going for you at Suffolk Downs this year?
AS: I have been doing really well. I have won over 40 races and I am 8th in the jockey standings. I think that is pretty cool with me being a bug rider and having never ridden at Suffolk Downs before. Most of the jockeys that ride here, ride here regularly. I have a good agent and his wife is Tammi and she had been on this circuit forever and that has really helped as I have picked up some of her double calls. (a double call is when the same jockey is listed to ride 2 horses in the same race so what Anne means is when Tammi is listed to ride on 2 horses, Tammi takes one and Anne usually gets the mount on the other-chris). I got off to a good start here as on the 2nd day of the meet I got my 1st win here.
FOTH: What are your plans after the Suffolk Downs meet ends?
AS: I am gonna take a little vacation since May of 2004 I have been riding straight through and I am gonna take at least 2 weeks off. I have a couple ideas where I want to go so I'll have to contact some jockey agents and Tammi is going to Gulfstream and I can't go there cause I just lost the bug.
FOTH: Take us through what you go through in a typical day.
AS: I get up at like 5:00 am and I go to the track and I am there by 6:00 am and I get on however many I have to get on. At Suffolk a lot of the jockeys gallop a lot of horses and not just working them. Bay Meadows a lot of the jockeys just breeze the horses. A lot of times I'll get on 10 horses in the morning. If it is a race day, after the morning workouts I'll go straight to the room and try to read a book or have some lunch and then ride some races and then I am home by 5pm. I try to be in bed by 9:00 pm or so. Days off I'll sleep really late and go to the gym and take care of any errands I have to do.
FOTH: Have you had much of a chance to walk around Boston and in the city much?
AS: I have been in the city a bunch of times and my boyfriend came out for 10 days and we spent a bunch of time there. We have some family friends that live here and sometimes I go in there by myself and wander around as it is a really cool place.
FOTH: Have you ever been recognized outside the track at all?
AS: Actually I have a couple times but part of that was because there was an article in the Boston Globe about me and that it had a big picture of me in it. When that came out a couple people recognized me and I met a guy on the subway one day near Suffolk Downs and the guy was coming from the track as he had a program in his hand and he said to me "are you Anne?" and I was like 'yeah t hat's me."
FOTH: How long would you like to ride for?
AS: As long as I can. You never know how long you got in this game. It is not a business you can plan terribly well. I'll ride as long as I can do it.
FOTH: Do you have any hobbies or things you like to do when you want to get away from racing?
AS: I don't own a TV, but I watch MASH on my DVD player on my computer. I am like addicted to MASH as I own the box sets and I like to knit, but I don't tell many people I do that cause they will think I am an old nanny.
FOTH: Do you miss the West Coast at all?
AS: I love the West Coast, but I am having a great time here. I like to travel and I traveled around the world on a ship that I was on for like 100 days and I was in 10 different countries. I moved around quite a bit and I like to see places.
FOTH: Do you feel with every race your improving as a rider? Do you critique your races a lot?
AS: Yeah, sometimes too much too. Sometimes I'll grab the remote and change the channel off the replay. (laughs) Tammi is a lot of help and she is a tough critic and is always afraid to be tough with me and I always tell her to be tough with me. I always try to get better with each race.
FOTH: Do you think another female will a Triple Crown race?
AS: I don't see why not. My thinking is and I have never see actual statistics, but I would like to know if you take the total number of men who have ridden in say the Kentucky Derby and divide it by the number of Derbies that have run, it's a 100 and something and your going to have a percentage of those who have rode in the Derby that have won the Derby. Now take a percentage of woman who have ridden in the Derby, which maybe like 2 or something. It seems quite clear to me that the only reason no woman has won the Derby is simply because we haven't have had as many chances. It is the same with any of these big races. When the right girl rider gets the right horse she is gonna win.
FOTH: Do you have a proudest moment or anything that sticks out in your mind as far as riding days go?
AS: I did win 3 races a few weeks ago and that was pretty cool cause I liked all 3 horses. One cool think that happened to me recently was I won my 1st race as a journeyman on the very 1st horse that I rode without the 5 pounds. That was really cool cause it took me so long to win my 1st race and it was on my favorite horse that I like here and then the same day I won again on my 2nd favorite horse at Suffolk. The fact that I would win on both of them on my very 1st day without the bug is amazing.
FOTH: If you could ride at any track you wanted too what track would it be?
AS: I would love to be able to ride Hollywood all the time. I loved galloping there. I loved Hollywood Park and I'm really sad cause I think it is gonna get bulldozed and I'll probably cry when that happens. I also love Belmont and I love to ride a mile and a half races. I like to run in long races and I like to break and sit and make one big move at the end. I'd love to ride a 2 mile race one day too.
FOTH: Since Tammi's husband is your agent has there ever been any friction between both of you?
AS: He is a really good agent. Sometimes it is hard to be a husband and wife in that kind of relationship and I admire them for making it work cause I can see how it would be tough for them, but it is not tough for me at all. Tammi is 3rd leading rider and sometimes when she can't ride a horse I get to ride it.
FOTH: Anne I am out of questions. Anything you want to say to wrap this up?
AS: No I don't think so.