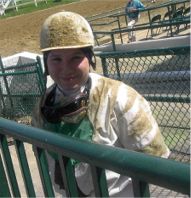 Ashton Fitzpatrick
Ashton Fitzpatrick is a young jockey who I have been in contact for almost a 2 years now. When she became a jockey I told her we would have her on our page. Lo and behold she is a jockey riding down in Maryland and here is her interview.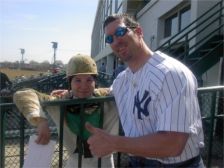 Chris with Ashton Fitzpatrick at Pimlico, April, 2003
FOTH: Where were you born and where did you grow up?

AF: I was born in D.C. but I grew up in Montgomery County, Maryland.
FOTH: Any brothers or sisters? What do your parents think of you being a jockey?

AF: Yes I have two older sisters and a younger brother. My parents donít love me being a jockey because of how dangerous it is, you know, typical parent worries, but they support me and they make it out most of the time to see me ride, they enjoy it a lot.
FOTH: I know you have wanted to be a jockey. How long did you know you wanted to be one?

AF: Iíve ridden horses for 8 1/2 years, but I knew I wanted to be a jock when i flipped the channel to the KY Derby of í99 and saw Chris Antley and Charismatic and they broke from the gate and I pointed to the screen and said "woah, thatís awesome, I want to be just like him"
FOTH: Who helped or taught you how to ride?

AF: Well you have to be 16 to ride race horses and so before I turned 16 I worked rubbing horses on the backside for 1 1/2 years for Nancy Heil, and then when I got my gallop license (the day I turned 16). I started galloping for trainers Eddie and Linda Gaudet. Theyíve taught me an incredible amount and their daughter Lacey and I are very close friends. Also some jocks that have helped me out immensely are Jeremy Rose, Vernon Scantling, Walter Cullum, Ryan Fogelsonger, Joe Rocco Jr., Natasha Bracaloni, really a lot of people help me out. Itís a great atmosphere here in Maryland.
FOTH: Any other female riders you like?

AF: Of course the usually named, Julie Krone, Rosemary Holmeister, theyíre awesome. But locally Natasha Bracaloni (a 7 lb bug here in MD) and Kay Marie Kreidel rides a little bit still, but other than that thatís it as far as girl riders here in Maryland. But Natasha and I have known each other for years so weíre really close. Kay helps me out a lot too.
FOTH: Tell us all about your 1st race. How nervous were you?

AF: Actually to be honest, everyone was shocked, I never get nervous on a horse, it only makes them nervous and bad things tend to come out of that happening. I was really anxious and excited. My first race was actually an amateur race at Laurel Park in November on a mare named Quality, she ran 4th. Then I rode her back 2 weeks later in my first 10 lb race and she ran 7íth, both were for MSW.
FOTH: Have you won a race yet? If so what was the feeling like and did you get creamed with stuff after the race?

AF: Actually Iíve ridden 30 and won 2. My first race I won was on Dec. 28 on a horse named Lost City. He paid $73.20 to win and won by a neck in a photo finish going 1 1/8 miles. Heís a cool horse because heís really smooth, and yes they plummeted me afterwards they put it on the big screen in the infield and on TVG and everything they got me really good, they even admitted in the room that that was the best theyíd seen anyone done in years. The second race I won was on Jan. 18 on that same mare that I rode my first two races on, Quality. The trainer had taken me off of her and dropped her from MSW which I rode her in to M/CL $7,000- and she didnít run any good for 3 other guys so he put me back on and she broke her maiden by 11 with me. It was a special win, Iíve always called her my Super Mare from day one. Sheís a big beautiful built mama and got a huge stride, that was the best feeling Iíve ever had.
FOTH: Do you plan on staying down in Maryland to ride?

AF: Yes, I just got an agent last week, Al Dellape, and we plan on staying here.
FOTH: Do you have goals you want to accomplish?

AF: Just to do the best I can do and hopefully Iíll do well.
FOTH: Take us through what you do in a typical day.

AF: Typically i wake up at 4-4:30 (during winter time training starts at 6 a.m. and summer itís 5:30) so i get to Bowie or Laurel, where ever Iím going at first that day, at 6 and start getting on horses until 10:00 when training is over and head over to the jocks room, eat and relax and what not, and ride the best I can in the afternoon. Then I go home and play with my horses and feed and do their stalls, do homework, and go to sleep.
FOTH: Is being a jockey harder or easier than you thought?

AF: Itís not easy at all, very time consuming, stressful, all of the above. But itís well worth it. I guess from working on the track for 1 1/2 years before I even started galloping I sort of expected I knew I guess you could say that it is going to be a tough job. But never give up.
FOTH: What are some things you like to do when not at the track?

AF: When I have time, I spend it with my horses or like during the winter right now me and some of the other jocks here we all go up to PA after training on Mondays and go skiing. Itís a blast.
FOTH: Have you had any problems with any of the male riders?

AF: I get the usual they call me "the baby" and "little bits" and "youngin" but theyíre just being funny, since I guess Iím technically the baby of the room since Iím only 16 years old, but to be honest with you Laurel park is one great jocks room. Everyone gets a long good and they all treat me the same way I treat them, with respect. They all treat me really well and for the most part theyíre mostly all willing to help me out with anything, theyíre like a big family. Really great guys.
FOTH: Do you do anything special before going out to ride?

AF: No not really, usually just look at the form one more time, eat candy, you know same old stuff, we all make fun of each other, the usual.
FOTH: What goes through your mind when you are in the gate?

AF: I just wait for my guy in the gate to say 2 out or 1 out and then I wait for the hollar "locked up" and look straight ahead and where the metal doors in front of me are together, and relax, and as soon as that gate opens up 1/2 a millimeter Iím hustliní out of there. Itís such an adrenaline rush!!
FOTH: Thanks for the interview. Any last words to say?

AF: Thanks for the interview, and having this site, itís very helpful and if thereís anything I can do for it ever, just let me know. Thanks again! Take care!