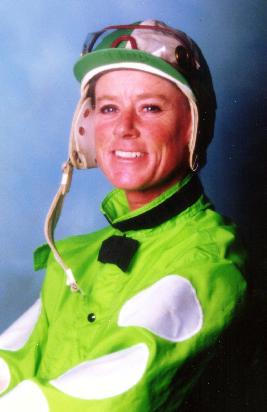 Beth Butler
Beth Butler is a jockey we are both familiar with from riding in Ohio. We recently had a chance to talk to Beth on the phone about her riding career so far and here is what was said: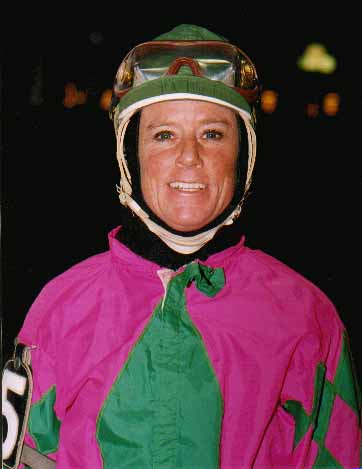 Beth Butler
FOTH: Beth my first question is where were you born and where did you grow up?
BB: I was born in Indiana and lived in Colorado.
FOTH: Do you have any brothers or sisters?
BB: I have an older brother and a younger sister.
FOTH: What sort of girl were you growing up?
BB: I was pretty much a tomboy. Rough and wild. (laughs)
FOTH: What event or events led to you becoming a jockey and did you know when you were young you wanted to be a jockey?
BB: I wanted to be one when I was growing up as a child. We grew up Tennessee walking horses and when we moved to Colorado, we made them into barrel horses and game horses and all that and started working with quarter horses, showed quarter horses for years and then ended up on the thoroughbred end of things. Started breaking babies and then horses and that led to me becoming a jockey.
FOTH: What can you tell us what you remember about your 1st race.
BB: It was horse running 300 yards (a quarter horse race) in Billings, Montana at Yellowstone Downs. I remember the horse wasn't a very fast horse.
FOTH: Tell us what you can remember about your 1st win.
BB: It was the 1st day that I rode and it was in the last race of the day and it felt great. It was like nothing that had ever happened in my life.
FOTH: Did you get the treatment after the race?
BB: Oh yeah. But I tell ya what it was so hot up there and I was so exhausted I couldn't wait for it. I couldn't wait for the ice cold water. (we both laugh)
FOTH: What was it like going into the winner's circle for the first time?
BB: Yeah it was like a feeling, well you always still get that feeling everytime you go in there. But the first time you go in there it is like unbelievable. I still get that feeling when I get into the winner's circle now.
FOTH: Looking back, do you think you were a good apprentice jockey?
BB: Yes I do.
FOTH: What are some of the tracks you have ridden at? I know you ride in Ohio now.
BB: I have ridden in Billings, Montana, Churchill Downs, Keeneland, Turfway, Indiana Downs, Hoosier, Beulah, Thistledown, Mountaineer. I also rode at a brand new track in Fargo, North Dakota and rode there this past fall.
FOTH: Do you have a favorite race track and do you have that you would like to ride at one day?
BB: If I am lucky enough to ride at any race track I am more than happy to do it. I love quarter horses and I love thoroughbred horses, it makes me feel the greatest. Just to still be riding still and being to go anywhere I want to ride. Keeneland and Churchill are about the 2 more famous tracks I have ridden at.
FOTH: How do you approach riding a quarter horse race as opposed to a thoroughbred race?
BB: Quarter horse racing is a little bit faster. You got to be tight on them and a little bit quicker coming out of the gate. You got to be quick with the stick and be very alert.
FOTH: Looking back, do you think being a jockey was harder or easier than you thought it would be?
BB: It was easier that I thought it would be. It is hard and still is hard, there is a lot of work in it, you have to be dedicated, you have to be very friendly and out going.
FOTH: Do you think female jockeys get the respect that they deserve in the sport?
BB: I think it we are getting more respect than we used to get, but we still have to work harder. We have to have the feeling we are just as tough or tougher than the men out there riding.
FOTH: How much longer would you like to ride?
BB: I don't know yet. I have been looking at other job deals and if I get a job that I want and I can work it out where I can do it full time or part time I probably will.
FOTH: Do you have a favorite horse you like to ride?
BB: There has been so many that I like. I have had so many in my life, I hate to name one horse and not name another. I get on so many horses in the morning, I have my favorites it seems every year. (laughs)
FOTH: Take us through a typical day.
BB: I get up at and I am on the track by . For certain people I get on their horses everyday for extra money during the wintertime. I go around and visit my clients. Right now I have my own book so I go to the draw every day. A lot of the other days I'm either going to Beulah Park in Columbus, Ohio or Turfway Park. I keep myself pretty busy during the day as I have 2 dogs. On my days off I come up here to visit my family or do some house cleaning that needs to be done.
FOTH: Have your parents seen you ride and what do they think of you being a jockey?
BB: My parents have been with me every step of the way. They that it was great that I became a jockey as they know how wild and crazy I am. They knew it was one of my goals and they have been great supporters and my number one fans.
FOTH: Do you have a proudest moment as a jockey?
BB: I think my proudest moment would be 2 years ago when I had my apprenticeship and I won on a maiden special weight the horse's first time out. We did everything wrong, we tried to the gap, didn't come out of the gate, she started running and we were in and out of traffic and we won by a nose and she paid like $29.00.
FOTH: What do you like to do when your away from the racetrack?
BB: If I had more horses at my house I would be breaking babies. I do crossword books, play with the dogs. I like to cook.
FOTH: What do you specialize in?
BB: I specialize in everything. I like to make my own things from scratch. Main dishes, soups. I am not a big desert eater.
FOTH: I guess you don't have much problem with the weight then.
BB: I don't have any problems. Actually I have been trying to gain weight and this year I did gain a few pounds.
FOTH: If a young girl wanted to be a jockey, what would you tell her?
BB: I'd tell her go for it, but make sure you have something to back it up like a side job or some type of other skills beside being a jockey.
FOTH: Okay Beth. Thanks for the great interview. Anything you want to add to it?
BB: No I pretty much think you did it all. Good luck with the website and thanks Chris.