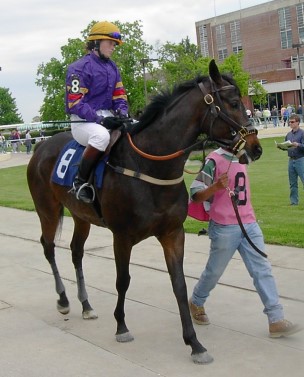 Blair Waterman
Blair Waterman is a steeplecahse jockey that I got a chance to see ride down at Atlantic City over the summer. I recently got Blair on the phone for this interview.


FOTH: Where were you born and where did you grow up?
BW: I was born in Winchester, Virginia and I grew up in Upperville, Virginia.

FOTH: What sort of girl were you growing up?
BW: I grew up riding a lot. Everyday I with them after school cause my father was a hunter and he hunted a lot.

FOTH: Do you have any brothers or sisters? Have they or your parents seen you ride and what do they think of you being a jockey?
BW: I have 2 sisters and they always come and watch me run and support me. My older sister used to ride races herself. My mother is not thrilled that I ride in races, but she is also supportive.

FOTH: What event or events led you to becoming a steeplechase jockey?
BW: Pretty much my upbringing. Fox hunting, riding from point to point. My father and older sister riding races, I just kinda felt into it.

FOTH: Tell us what you can remember about your 1st race.
BW: My first race was a point to point down in Virginia. I rode an old fox hunter for a friend of mine and slow and I think we finished dead last by like a 100 lengths, but I got around and I was happy.

FOTH: Tell us about your 1st win.
BW: My first win was on a maiden claimer on Virginia Gold Cup day. It was pretty surprising. My horse ran well and just came up late to win. People were very happy.

FOTH: Did you get creamed after the race?
BW: I got doused with several buckets of water.

FOTH: What tracks have you rode at?
BW: Saratoga, Colonial Downs, Phila Park, Atlantic City. Saratoga I would say is my favorite.

FOTH: Any thoughts of becoming a jockey?
BW: That's a tough one. It's a hard life. The highs are high and the lows are low.

FOTH: For those who don't know, what exactly is a steeplecahse jockey?
BW: A steeplechase jockey is a person who rides thoroughbred horses over fences. It is usually a 2 or 3 mile race.

FOTH: Have you had any injuries and if so, what was the worst one.
BW: I have had several injuries. I have broken my collarbone a few times. I've had several concussions.

FOTH; Take us through a typical day.
BW: I get up in the morning, muck a bunch of stalls, gallop a bunch of horses, groom a couple and go home and take a nap. Go back later and feed, graze horses and take care of them and then go home and do whatever.

FOTH: If a young girl wanted to be a jockey what would you tell her?
BW: Work hard. You have to work hard and persistant as things don't always come easy. You want to find someone who will give you a shot and have faith in you and give you a chance.

FOTH: Do you have any hobbies or activities you like to do?
BW: I love to read and do crossword puzzles. Riding takes up most of my time.

FOTH: Is there any other female jockeys or female athletes you admire?
BW: I really admire Bythe Miller, unbelieveable rider and very dedicated. She just worked and worked and was a pleasure to watch.

FOTH: How long would you like to ride for?
BW: I'd like to ride for as long as I'm healthy. Maybe not full time, but I'd like to keep my hand in the sport for as long as I can.

FOTH: Do you have any goals for yourself?
BW: I had a few goals. One was to win the Maryland Hunt Cup, which I did about a month ago. The other would be to win the Virginia Gold Cup. I am a amature jockey so I don't think I'll ever be leading rider, but those 2 races are my goal.

FOTH: Blair, thanks for the interview. It was great meeting you and getting a picture with you down in Atlantic City.
BW: Thanks for the interview and nice meeting you too.