Catherine Treyman
Catherine Treyman is a jockey who's picture and profile I came across on the www.jockeysroom.com site and I emailed Catherine top see if she would like to be part of our page. She did so I sent off some questions and here is what the lovely lady told me.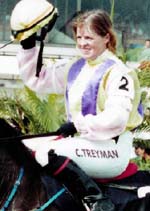 FOTH: Where were you born and where did you grow up?
CT: I was born in Nelson, New Zealand and bought up in a tiny town called Murchison in the South Island of New Zealand.
FOTH: Do you have any brothers or sisters?
CT: I have an older sister, Yvonne, an older brother, Wayne and a younger brother, Basil.
FOTH: What were you like as a kid growing up?
CT: I was horse mad!! Rode and competed from very young.
FOTH: What event or events led to you becoming a jockey?
CT: Horses were always going to be part of my life, I was always a very ambitious and competitive on horses and being just under 5 foot, I guess I was never going to be anything else.
FOTH: I know you rode in New Zealand quite a bit. Is it easy to get mounts there or is it hard to get mounts there as a female rider?
CT: In New Zealand the female jockey thing is no longer an issue. I was very lucky to come after several very good female jockey's who pathed the way and made life easier for the rest of us.
FOTH: Tell us what you can remember about your first race. Name of track, horse, where you finished, etc.
CT: My first ride was on a horse called Young Brag at Ellerslie in New Zealand, we didn't figure in the finish.
FOTH: Tell us what you can remember about your first win. Did you get creamed with stuff after the race?
CT: I will never forget this!! I was on a very smart little filly named Cool Deal. She had been a favorite of mine even long before I got my apprentice license. It was only my 3rd ride and I was blown away. There was no big celebration, but was still very special to me.
FOTH: You have won quite a few stake races in New Zealand. Which one was your favorite and why.
CT: My first stake win was on Cool Deal, it is hard to pick a favorite amongst them. The bravest stakes win would have to be the Ellerslie Sires Produce Stakes G1 on Good Faith. She broke down badly in the race and still won.
FOTH: You have ridden in several different countries. Please give us a little opinion on each one of them ok.
CT: Australia: I loved riding in Australia. The racing is so professional and such good riders around you. But it was very difficult to gain rides with the female bias there. Singapore: Singapore has a beautiful turf track now, which is lovely to ride on. They also have the sand track which takes a bit of getting used to. Stake money there is very good. Malaysia: I spent more than three years riding in Malaysia. Racing is very different there compared to New Zealand or Australia as it is so betting orientated and veers away from being a sport. I had a lot of success and was involved with a successful stable there. Hong Kong: I only rode in one race in Hong Kong, as it was an international invitation. I rode the New Zealand representative, Ferragamo. She went a brave race and finished 5th. Macau: Macau is also very betting orientated. I really enjoyed racing on the sand there, were I rode a few winners. The turf track could get quite rough at times as it did take a lot of racing.
FOTH: What kind of response did you get riding in these countries. Do you they get many people that go to these places? Did you have to adjust your riding style in each country?
CT: Riding in Australia is very similar to New Zealand. In Asia, the races are run very fast, on the pace racing. No time to sit and relax, its hard out all the way. Although Singapore has changed now they have the new track, it is very much sit and wait.
FOTH: Are there many female riders in these other countries?
CT: In Malaysia and Singapore there were two female apprentices while I was there. I was the only girl riding at the time I was in Macau, Lisa Cropp having been injured at the time. There are a lot of girls riding in the provincial and country areas of Australia and only a handful that ride successful in metropolitan areas.
FOTH: In 1998 you came to the US and rode at Canterbury Downs. How did you manage this and what made you ride at that particular track?
CT: It was actually 1988 and I accompanied Cool Deal to US. She was owned by Americans and trained by Clayton Grey who was at the time in Minnesota, Canterbury Downs.
FOTH: What did you think of the United States when you got here and also the track? Would you ever want to come back and ride again here?
CT: This was the first time I left New Zealand and I loved it. The racing was great, although I had a few placings I never managed to win a race there. I would love to come back and ride in the States again.
FOTH: Out of all the places you have rode at what is your favorite?
CT: If it wasn't for the biased against female riders it would be Australia and but for the lack of stake money it would be New Zealand.
FOTH: How long would you want to ride for?
CT: As long as I'm fit and healthy and enjoying it.
FOTH: What injuries have you had over the years and what was the worst one?
CT: I've been very lucky, probably the worst injury I've had would be a concussion.
FOTH: What sort of stuff do you like to do when you are away from the track?
CT: I love action and fun! I hunt on horses, jet ski, snow ski, scuba dive, cycle. I really enjoy a good meal with a nice wine.
FOTH: Do you feel you have to work harder to be accepted as a jockey as opposed to the male jockeys?
CT: Only in Australia.
FOTH: What was the biggest race you ever rode in and the biggest race you ever won?
CT: The biggest race I've won would be the New Zealand Oaks. The biggest race I've ridden in would be the Singapore Cup, where I was very confident turning for home, then got galloped on and severed my horses rear tendon.
FOTH: What are your future plans as far as being a jockey goes? Would you like to become a trainer or be involved in the sport after you retire?
CT: I am having a break at the moment, the first time in 17 years. I will start up again maybe in October in New Zealand. I would like to train, but only a few and mainly my own.
FOTH: Any last words? Thanks for the interview.
CT: I've been blessed to be able to be part of the racing world. I've seen the very high highs and I've been right at the bottom as well. It has taken me many places and I've met a lot of wonderful people. If I had my life over again, I'd still be a jockey.