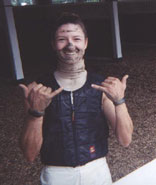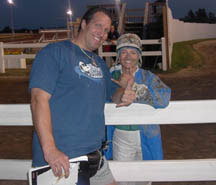 Charlene Hunt
Charlene Hunt is a jockey I am very familiar with and here is a new interview I did with her to see what she has been up to since the last time we chatted. As you will see as you read this, she has been keeping busy.
FOTH: Charlene it is a pleasure talking to you again and it was a pleasure seeing you again last summer he he. I guess you just left Monmouth Park when we interviewed you for the old website and you have been up to quite a lot since then and I know when I spoke to you out at Prairie Meadows, you took some time off from racing so tell us a little about that.
CH: Well I was in Sunland Park in New Mexico and I was galloping in the morning and riding a few in the afternoon and I wound up in a relationship and I stayed there and didn't ride for a year and a half. I would up getting on babies, 2 year olds that were being broke and I spent the summer at Lone Star Park and then I went back to New Mexico in March of 2005 and then I went and rode the 2 meets at Prairie Meadows until the end of September and then I went out to NY for Trainer Larry Jones to gallop his filly for the Breeder's Cup, which she ended up not running in. I stayed there and ended going to Japan for 2 weeks with a horse named "King's Drama" for Trainer Bobby Frankel. I wasn't there to ride in the race, I was just there to take care of the horse and gallop him. From there I went back to NY and I went out to California and I have been here since December of 2005 and I have rode 8 races so far out here in California. I have rode 3 races at Golden Gate, a few at Santa Anita and Hollywood Park and I have been getting on horses and galloping horses for a number of trainers out here. I have been getting on horses and having a good time basically.
FOTH: What was Sunland Park like? How was the quality of the horses out there?
CH: It varied. It was mixed. You had really good horses and really bad horses. It was really a high class area yet. There still needed to do some weeding out and I don't know what it is like now as I have not been there in awhile. It had it's lower class and higher class of horses.
FOTH: What was Lone Star Park like?
CH: Lone Star was beautiful I really liked it there. I didn't ride any races there, I just galloped there, but it was a really nice area. The racing was good too.
FOTH: Tell me about what it was like for you out at Prairie Meadows and what was it lime riding the quarter horse races?
CH: Prairie is a nice little race track. It's not as big as Delmar or NY, but I would say it is a middle class kind of racetrack. I think they put a turf course up this year, but I wouldn't know as I did not ride this year, but last year there was talk about it. I think that would make a big difference cause they just had a dirt course. I know they were making improvements to the casino and the parking lot so I am sure that made a big difference appearance wise and catering to customers, which is a big deal cause the more people you bring it the more better it is for the industry. For the most part it is a nice little meet. The thoroughbred meet runs from the end of April till the 1st week in July and then you have the mixed meet which is thoroughbred horses and quarter horses that runs from like 2nd week in July till the end of September. If you stay for both meets it kinda get deditious and kinda drawn out. It is a nice little spot to go to.
FOTH: How was it riding the quarter horses cause I saw you ride in one race while I was out there?
CH: Quarter horses are fun and are not as bad as people make them out to be. Just like thoroughbreds you got your good ones and you got your bad ones and you got your fast ones and you got your slow ones. (laughs) For me it is not complicated mentally to go from a thoroughbred to a quarter horses. I can ride anything. I am a diverse style kind of rider. I didn't have the opportunity to do a lot of quarter horse riding, but I did fairly well on the ones that I had ridden. I had only 1 win on the quarter horses, and that was while I was out at Prairie Meadows, but I had several 2nd's and 3rd's and 4th's. Considering I had didn't ride that many quarter horses I did alright with them. I didn't go out looking for them, if somebody wanted me to ride for them I would. I still prefer the come from off the pace style. Long distance thoroughbred racing, that is what I prefer.
FOTH: How did you get along with Cindy Noll while you were out there? I guess you heard about her accident?
CH: What accident?
(I pretty much tell Charlene about Cindy's accident at Prairie Meadows and
how she was force to retire, etc-chris)
CH: Oh Cindy was such a nice person that is a shame. I have her phone number I'll have to give her a call.
FOTH: Now I was out there and I knew you were riding, but I saw the entries and was kinda disappointed when you weren't listed to ride and then I saw you got a pickup mount in a quarter horse race. I saw Cindy and told her to tell you that somebody from the East Coast was here to see her, did you know that it was me? (big time laughter from me)
CH: No, not till I saw you. Cindy was like somebody out there wants to talk to you and I was like whatever. So then when I saw you I was like hey and I was really surprised to see you.
FOTH: I was out that was for the Claiming Crown and went to Prairie Meadows. Now did you get a chance to ride at Canterbury Park at all?
CH: No I stayed at Prairie Meadows.
FOTH: So you didn't get a chance to go to Minneapolis and visit the Mall of America?

CH: No I didn't. I am not a big mall person. I don't go shopping much. If I need something I will go to the store. Just to go walk around and go shopping, no, I don't enjoy that.
FOTH: Do you miss Florida much anymore or are you happy with what you are doing right now?
CH: Well I am tired of traveling around and I hope to stay here cause the weather is really nice and I like it here so far and yeah I have been saying I'm tired for a long time and I am, but you just have to find someplace where you are comfortable. Right now I am actually in a good position, I don't have an assistant trainer's license, but I am assisting Ed Moser, I run the barn for him in the morning and I get on all of our horses. We have 11 down here at Delmar and if everything well and he decides to leave some horses at Santa Anita, he asked me if I would be interested in taking care of them. He is a really wonderful guy to work for and I told him that I would. So I just informed him I was no longer interested in jumping around from state to state, that I want somewhere to call home now. So I think I am good position now.
FOTH: I guess if you become an assistant trainer you will have to give up your jockey license, but you will still ride in the morning.
CH: I still have still have my jockey license and it is good for 3 years. I miss riding and I would like to ride some more, but it is the same old story, if you don't have an agent and you go to place to place and people don't know you and it is hard enough to get mounts and owners want leading riders on their horses and they don't know who you are and your a girl and they ask where have you been and what have you been doing and they want to see you first and I have had my fair share of riding whatever I can get on and I just don't want to deal with it anymore. I am a good rider, I know that and I don't have to prove it to anybody and people that know me and have seen me on horses know that I am a good rider and if somebody decided that I should get up on a horse for them, I'd be more than happy too. As a matter of fact trainer David (i couldn't make out his last name-chris) I would get on some horses for him over at Hollywood Park, he ran a horse over here at Delmar last week and it is the 2nd time the jock had ridden the horse and he is not happy with the horse the way he has been ridden and 2x in a row and I told him i would ride the horse for him and he said I should have put you on em. I could still ride if I went out there and said, "Put me on some horses I want to ride." I am so busy running the shredrow and getting on horses for outside trainers when I am done and checking on the horses in the afternoon and I just don't have the time to go sit in the jock's room all day to ride 1 or 2 horses. I am happy doing what I am doing and it keeps me busy. I miss riding especially when I take a horse to the paddock and I am not happen with the way it has been ridden, it just bring back memories of why I started riding races to begin with. So that is what it boils down to and I am 31 years old now and I can't ride forever. I am not getting any younger and of course you know I am in really good shape and I'm still fit and light.
FOTH: Now you being a jockey, you can notice whether it is on TV or you being live at the track, can you notice when a jockey gives a horse a bad ride?
CH: Yeah you can I mean everybody has their excuses or reasons for doing what they did, but if you know your horses and you watch a race and look at all the circumstances and you see what is going on, you can see whether a jockey hesitated or moved to soon or didn't ride the aggressively enough or he ran the horse too aggressively, you can see that. if you have any kind of eye for horses you can see what is going on.
FOTH: When you were riding at say Sunland and Prairie Meadows did people recognize you from doing the "Hang Loose" sign at all and do you still do that?
CH: Some people remember it from seeing me ride via simulcast in Florida. People over the years have come up to me out of the blue asking me what it means and it's never gone away, when people see it they ask me what it means, it's something that spurs people's curiosity.
FOTH: I want to ask you about Japan. What was it like for you over there?
CH: It was great.
FOTH: Compare the racing over there as compared to here? Were you treated really well over there?
CH: Absolutely, they treated me like royalty from the time you get there off the plane till the time you leave. They give you anything you need and do the best to accommodate you. Any country you go too they treat you very well and they had a really nice training center there and the racetrack was enormous and I had no idea it was like and they really observe how the animals function. It was a really good experience and I am really glad I had a chance to go.
FOTH: Did you get to gallop the horse out on the track and stuff?
CH: Yeah I galloped him every day.
FOTH: How were the crowds for live racing?
CH: Oh you could hardly walk especially for the big day, The Japan Cup of Racing. The turnout was amazing and the people, they gamble over there. Racing is really popular and I was not aware of that.
FOTH: Did anybody recognize you over there?
CH: No not me. It seemed like they knew more of the West Coast horses and riders.
FOTH: Was there any female riders out there?
CH: All male jockeys.
FOTH: I asked you this before and now I'll ask you this again, if a young girl came up to you and said she wanted to be a jockey what advice would you give her?
CH: If it was something she really wanted to do my advice to her would to get the help of a good well known trainer and take her under his wing and to teach her from the ground up about what it is like to be around horses and how they function, about their legs and teach her how to ride and when she would get fairly good at galloping, he would need to find her a good jockey to teach her good technique and she would need to watch a lot of races to see how horses run and just go in a manner of learning. I wouldn't advise just going on a farm and galloping a few months on a farm and then go and get an agent and start riding races. Everybody does that and the quality of riders is diminishing.
FOTH: Do you think a female rider will ever win another Triple Crown race?
CH: Absolutely. Somebody will eventually come around again like Julie Krone and be there at the right time and moment.
FOTH: Do you think female riders will start riding in California more often?

CH: It is all about woman wanting to be here. It is a hard circuit to break into and if I really wanted to do it I would do it, but I don't want to struggle like that anymore cause I have bills to pay and I am making good money and I am happy, but I am not happy being in the paddock giving a jockey a leg up to get on a horse (laughs) I wish it was me, but I am not 20 years old and I am not in the position to make a big deal out of it anymore. I need to think about my future and you also have to think about getting hurt. I don't have a family. I don't have a husband or children to take care of me. Any woman that is tough enough and has the balls to do it, can do it. Look at all the tracks that I rode at and showed up not knowing a soul and just started riding and won races. It is just a matter of wanting to do it.
FOTH: Charlene I just want to tell you thanks again for the great interview and it was great seeing you out at Prairie Meadows in 2005 and anything you want to say to wrap this up?
CH: It was great seeing you again and I can't believe I ran into you that was so great. It's a big world out there and the woman riders out there if they want to do it they can do it. Chris take care and always "Hang Loose."

Back to our main page