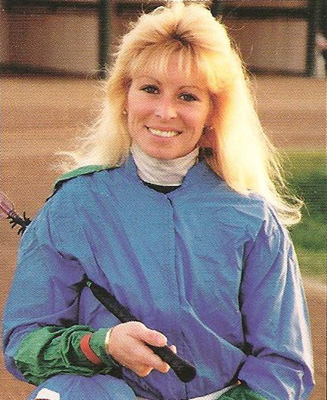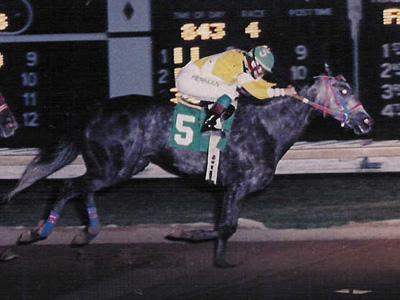 Cynthia Medina
Cynthia Medina retired a few years ago and I thought it was time do a follow up interview to cover the rest of her career and what she is doing today. Cynthia is one of the few female jockeys with over a 1000 wins.
FOTH: Since this is your 2nd interview I am not going to go through your whole racing career (you can read that in the 1st interview elsewhere), but what led to you retiring not too long ago?

CM: (pauses) Just getting a little tired. Getting older. Not bouncing back as quick as I did. I broke my back earlier that year and I was off for 3 months that year. I decided I wanted to finish out the meet. I didn't want to quit because I had gotten injured and I wanted to go back to racing and finish on my own terms, which I did. Like I said being in my 40's, I just didn't heal as quick as I used too.
FOTH: Now did you know when your last race was gonna be or did you decide when the last meet was over that was it for you?

CM: I decided in advance. When I was out with my broken back, which was one of the worst injuries I had sustained, I had broken my back in 3 places, my collarbone, my scapula, and I just decided I am getting to old for this and that is when I decided I am gonna go back and finish out the meet and soon as the meet is over and I'm done. I waited until the last 2 weeks of the meet before I said anything to any of the trainers or owners because I didn't want them to quit riding me before the meet was over.
FOTH: When you look back over your racing career what are some of your highlights and low points and we can start with the highlights 1st.

CM: Oh gosh there is so many. I rode one of the Breeder Cup preps at Thistledowns, I won some nice races and set some track records at Mountaineer Park and when they re opened the turf. I set won some stake races up this way. I was the 2nd leading apprentice in the nation at one time and I was the leading bug girl in the nation. Just about every goal I set out to do in racing I did achieve at one point. I guess the only one I didn't get to do was win the Kentucky Derby and how many jockeys can say that they have? I guess I was pretty fortunate, I had a pretty good career.
FOTH: Now what in your opinion were some of the low points of it?

CM: The injuries and also the traveling and having to miss out on some of my daughter's more memorable occasions. Missing school events and stuff cause I had to be in the jock's room ands to provide us with a living.
FOTH: Now do you miss riding at all still?

CM: No I don't miss riding. I don't miss riding races during the day and I still do ride, but I gave up galloping about 2 years ago and I retired in 2004 and I retired in 2006 from galloping. I don't miss it, I don't miss the hustle and bustle and freezing my butt off on these morning that are 20 degrees or colder, so no I don't miss it.
FOTH: I have been out to a few Mid-West tracks and stuff now is that mostly where you rode during your career?

CM: I started at Mountaineer and I wrote Thistledowns, Beulah Park, Penn National, Laurel, Pimlicio, Finger Lakes and just about everywhere up and down the East Coast and in 1996 I came out to the Mid-West, so the 1st ten years of my career were spent on the East Coast. I finished up the last 8 years of my career out here in the Mid-West.

FOTH: At the tracks you rode at were most of trainers pretty receptive about putting female riders up on their horses? Did you ride some good horses?

CM: Yeah I got some pretty good shots on horses. Like any other female jockey in the business, you have to prove yourself and you have to prove your as tough as one of the guys and prove you got a good work ethnic being out there every day and I found that woman riders were more accepted on the East Coast than they were when I came out here to the Mid-West. Things were a bit tougher and I had to work probably 3 times harder to get the decent mounts. I was very fortunate that my last 5 years here out at Fairmount that I happened to stumble into riding for one of the leading trainers out here and everything just clicked so for the last 5 years I rode for one of the top trainers out here and it was wonderful.

FOTH: I have never been to Fairmount Park. Describe to me a little as to what the track is like.

CM: There is 3 thoroughbred tracks in the state of Illinois, there is Hawthorne and Arlington up by Chicago and they used to have Sportsman's Park, but I don't think they race thoroughbreds there anymore (you are correct cindy-chris) and Fairmount is the cheaper of the 3 tracks. I pretty much stayed at the smaller, cheaper tracks. An old timer once told me, "you can choose to be a big fish in a little pond or a small fish in a big pond." I choose to be the big fish in the little pond. I did very well at the cheaper tracks.

FOTH: Do you know exactly how many races that you have won?

CM: I don't know how many I rode, but I know I ended up retiring winning 1,115 races.

FOTH: Tell me a bit about the 1,000 win since there is only 14 female jockeys that have accomplished that feat so far.

CM: I won my 1,000 race out here at Fairmount Park. My family and all my friends were in the winner's circle and thank goodness I happened to win for the main trainer that I was riding for and it was awesome and a wonderful feeling. Everytime I was getting closer and closer to riding that 1000th winner you realize what an honor it is. Most tracks have like 2 or 3 men that have won more than a 1000 races, but because woman riders, even in this day and age, have to work twice and sometimes 3 times as hard to get the decent mounts, so it was a really honor to win my 1000th race and have all my family and friends there.

FOTH: Now was there a favorite horse that you ever rode that stands out head and shoulders above all the others?

CM: You know I can't exactly pick one horses. I had several though for one reason or another were very special to my heart. My 1st mount, 'Southern's General" he was trained by my friend Jodie McGafferen and she put me on that horses. One of big stakes wins and track records I set on another horse of hers, "That's Are Gray" those were over at Mountaineer Park. Over the years I rode another lovely mare that I ended up winning 14 or 15 races on, "Secret Doctor," who was trained by the late Ann Dobbs out there at Mountaineer. Over the years, there are many others that are close to my heart and I fell in love with. There was a couple out here, a gray filly I used to ride out here and here name was 'Treat With Kid Gloves", she was very special to my heart, because when I started riding her she was a bit of a basket case and she had some mental issues to work through and you couldn't man handle her and we got along great and she is one of the horses I won my 1000 win on. There was a little discrepancy about my 1000 win. I actually had to win my 1000 race twice believe it or not because of the way the record keeping was. Equibase and the Daily Racing Form had me down as my 1000th race differently. I think it 2 races different between what the Daily Racing Form and Equibase had for me and what the Thoroughbred Time Jockey Club had for me. I actually had to win my 1000th race twice.

FOTH: That must have been some thrill.

CM: So the 1st time I won it "Treat With kid Gloves" and the 2nd time on "Cobra Devil."
FOTH: What was the biggest stakes race you ever won?

CM: That would have been that would have been on a gray mare called "Jayster".

FOTH: If a young girl came up to you and said she wanted to become a jockey, what advice would you give her?

CM: It is one of those things that if she has her heart sent on being a jockey there is no way your going to talk her out of it. You want to tell her to get a good education so she has something to fall back on because you can't ride forever, but the thing is to go out there and get some riding lessons and learn what it is like to be around the horses and start from the ground. I think that is where a lot of riders today make that mistake. If they just go to a farm and jump on a horse and learn how to ride and then go to the track and try to become a jockey, I think they miss out on a lot of things. You have to remember when your a jockey, your part of a team, you have to have to be able to help the trainer and owners and be kinda diagnostic for them. You need to get a real good horsemanship education and start from the bottom up. Start with rubbing and grooming horses and galloping and then get a good education with the horses.

FOTH: During your riding career did you have any real problems with any of the male riders?

CM: Yeah I had a few go arounds with my male counterparts. This is one of the only professions that pound for pound that men and woman are about equal. You have the some of the old school men that believe that the woman shouldn't be out there in the sandbox playing with them. How dare you be out there doing something that they are doing. Then you have the men that are jealous because you are doing better than they are. You are riding for a trainer that they used to ride for or that they want to ride for and you are kicking their butts so there is a jealousy thing there. There has been a few altercations over the years.

FOTH: Did you have a favorite track that you rode over the years?

CM: Probably Arlington Park. One of the reasons was I have never seen a more beautiful track than Arlington Park.

FOTH: Now I want to talk a little bit about the stuff your doing now that you retired. Tell everybody what you are up to now.

CM: I retired from racing, but I haven't retired from horses. I am teaching riding lessons and most of most of my riders are people that have off track thoroughbreds and I work directly with these riders and their horses helping them re train them for a live after racing. I volunteer for one of the local pony clubs in my area. I grew up being a Pony Club kid and it is just part of what I do, I like to give back. My main business is a new business that I started recently is hand painting glass wear. I have always loved doing art and as a matter of fact the jocks room at Fairmount Park is decorated with a lot of my art. There is all sorts of little horse characters and stuff. Art has always been a big part of my life and something that I enjoyed doing and that is what I do now. I started a hand painting and glassware business. It is called "Barn Brats"

FOTH: Do you have a website in case somebody would want to order some of your stuff?

CM: The url is:

www.cmmbarnbrats.com

I do all types of hand painted glassware from wine glasses to beer mugs to coffee mugs to dinnerware. I have racing themes and other to fox hunting, etc.

FOTH: Do you think another female will win another Triple Crown race?

CM: I think so and I hope it is in my lifetime. That is one of the reasons I think it is so cool when you email the updates of the new riders that your putting on the site even though I am not at the track anymore and don't keep up with it as much as I used too, I love getting the updates from people like yourself and my other friends that are still at the track and they keep me up to date what is going on with woman riders and I would love to in my lifetime see another woman win another Triple Crown race and I think that would be awesome.

FOTH: When your around out and about do you get people that recognize you from being a jockey?

CM: Oh yeah especially when I do things down at the track. I still volunteer and do some tours for the local horse clubs in the area and every year we do a junior jockey club thing, so I am always taking kids for tours down there and it is funny and the crowd is all sitting around and I come walking out and they say "oh there is Cynthia Medina" so they know who I am and as I walk through the grandstand and it is fun to be recognized.

FOTH: A lot of tracks are getting slot machines and stuff to boost purses, including the one I work at Phila Park. If you owned a track what would be some things you would do to get people to come to the track?

CM: That is one of the sad parts about living out here is that Illinois is one of the few states that doesn't have slot machines at the tracks and Fairmount Park is suffering and if I could say something to a government official, I would say look at the money that the slots have brought in from the other states. I realize there is a lot of people up in arms with the whole gambling anonymous thing, but gambling does bring in a lot of good revenue that does help the state, for schools and healthcare so gambling does have its benefits.

FOTH: With you being an ex-jockey, can you watch a race and tell if a rider has given a horse a bad ride or trip?

CM: Oh yeah that is just part of having a good eye. As a riding instructor you learn to train your eye. Just being at the track you just eye just kinda gets trained to what is going on and who is doing what. I find myself saying to myself, but never out loud when mistakes are happening.

FOTH: I am all out of questions. Good luck with all your work and stuff off the racetrack and hopefully some people will click on the link below and go visit your website. Thumbs up for your time and any last words to wrap this up?

CM: I think we covered just about everything Chris.

www.cmmbarnbrats.com

Back to our main page