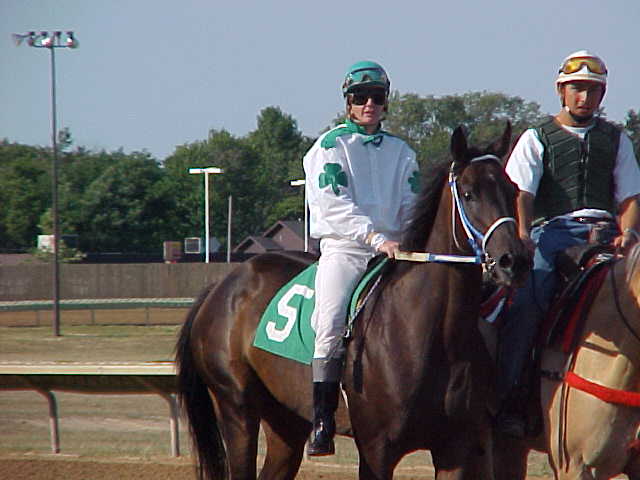 Denise Bush-Bennett
We both hung out with Denise Bush-Bennett and Lori Coburn while we were out at Great Lakes Downs in Muskegon, Michigan We are both very proud to have such a wonderful rider and friend up on our page.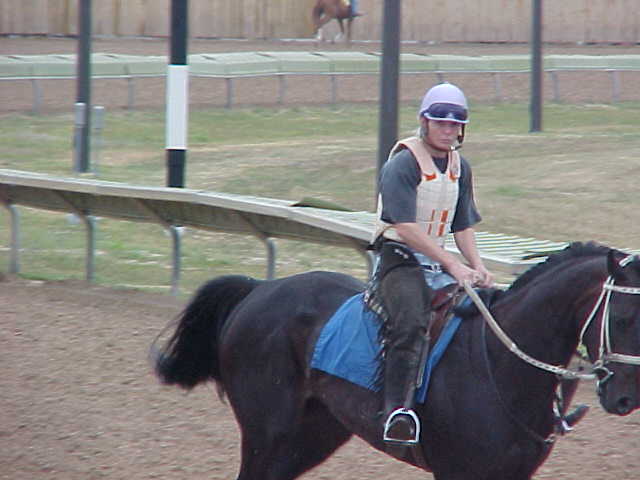 Denise aboard her mount in morning workouts, July, 2002
FOTH: Where were you born and where did you grow up?
DB: I was born and grew up in Baltimore, Maryland. I lived there till I was 17.
FOTH: Do you have any brothers or sisters?
DB: A whole lot. (laughs) You don't want me to list them. (laughs again) I have half sisters and step brothers who I grew up with.
FOTH: What type of kid were you growing up? A lot of the other girls said they were tomboys. Were you one as well?
DB: Absolutely.
FOTH: What event or events led to you becoming a jockey? Did you think when you were younger that you were going to be a jockey?
DB: I watched the Kentucky Derby when I was 8 years old and at that point I knew that is what I wanted to do.
FOTH: Is being a jockey easier or harder than you thought?
DB: I would say it is definitely harder than I thought. People think it is a fun thing to do and it's very physically challenging, it's mentally challenging, it's not an easy job to be a professional athlete.
FOTH: What tracks have you ridden at over your career?
DB: I started in Maryland, Delaware, NJ, PA, Tampa, Mountaineer, Thistledown, Detroit Race Course, Charles Town, Beulah, Great Lakes Downs are all the ones I think of right now.
FOTH: Out of all the tracks you mentioned what has been the most fun track and the worst track if there is one?
DB: The most fun I had riding was Atlantic City in NJ because after we got done riding we went over to the casinos. The worst track was Penn National because I was there during snowstorms and your hands would freeze to the reins. That was pretty much my best and worst.
FOTH: Did you ever go in the slot machine areas at the 2 West Virginia tracks you rode at? (Mountaineer and Charles Town)
DB: Oh yeah. Oh yeah. I've not made it to Vegas only by accident.
FOTH: Did you ride that last year when Detroit Race Course was open and were you sorry to see it go?
DB: I was the 1 horse in the last race ever run in Detroit and I was very sorry to see it go down because I had fun there, we all made money there. Everybody did well there. It came as a big shock as the track had been there for so long, you don't expect it to not be there.
FOTH: Tell us what you can remember about your first race?
DB: First race I ever rode was at Laurel Race Course on a horse called "Ambertly." She shipped off the farm, she was slow. I just stopped riding quarter horses so I thought you just sent everything to the front, so I sent her to the front for about a 1/4 of a mile and she just stopped. I rode 2 that day, but that was my first race.
FOTH: Tell us all about your first win. Did you get creamed with stuff after the race?
DB: No I did not get creamed with stuff after the race.
FOTH: First person not to get creamed.
DB: I shipped into Delaware from Maryland to ride an 8 year old first time starter. I rode his son before I rode him. His name was Sprizo. The reason they could not get him to run before 8 was because he would walk in the gate and just flip. They couldn't do anything in time. I was brave. They used to call me "Wild Bush." I said I'll ride em. He tried to flip in Delaware, but he just had tons of talent and he won. I didn't get creamed because there was a hailstorm going on. Delaware riders were not very friendly to me at that time. They didn't know that I had never won a race. So they didn't cream me and that was the only way I got out of it.
FOTH: Take us through what you do on a typical race day.
DB: I get up and take my dog out. I have my daughter she comes to work with me. I check out my husband's barn cause he is not here, he is in Chicago so I check in with the assistant trainer to make sure everything is going good there. I get on any horses he has to train and just whatever other trainers need me for the morning. I make it a habit not to get on more than 5 or 6 a day. I go home relax for a little while and do my mom/wifey things and then come back and ride races.
FOTH: You are currently riding at Great Lakes Downs. Do you like riding here? Do you approach riding here differently since the track is only 5/8ths long?
DB: Lot of speed. You want to be on a horse that has a lot of speed. If you're not in the first flight of horses, you're not gonna get there. You have to be a good gate rider and get your horse out of the gate. I don't mind riding on a bull ring, but I like riding on a mile track. I have done both so it is no matter to me.
FOTH: Are you surprised at how fast some of these horses go?
DB: I am not cause I came out of riding quarter horses. I just recently was riding quarter horses and I am a good speed rider so I did not have to adapt. I did have to adapt on how to not send everything to the front.
FOTH: What are some of the tracks you rode at doing quarter horse racing?
DB: Strictly bush tracks. Some track in North Carolina and I got videotape of that. Blue Ribbon Downs, I won a lot of races there. I was the leading quarter horse rider there. I rode 2 races at Delaware when they had quarter horse races. I won both of them on the same filly against the boys.
FOTH: Is there any track or tracks you would like to ride at one day?
DB: Keeneland would be one.
FOTH: Is there any other female riders you like or admire?
DB: I admire Mary Doser a lot. She is very focused and very much into the business and she is a good rider. Lori Coburn is another. She keeps getting injured and she keeps coming back. She tries hard on everything she rides.
FOTH: What are some of the injuries you have had over the years?
DB: Broken ribs, ankle, jaw, nose, fingers, toes. I got a broken toe right now. (laughs)
FOTH: How long have you ridden for and how much longer do you plan on riding?
DB: I rode my first race in 1986 a quarter horse race. I went to thoroughbred racing in 1989. I have had time off to have my children and I don't know about how much longer. This is my hobby. I have fun and I'll ride for as long as I'm having fun.
FOTH: Do you have a favorite horse or trainer that you ride for?
DB: I love to ride for Tiffany Beldon. She is a trainer that does not get a lot of recognition. She takes excellent care of her horses and when you go out there on one of her horses they are gonna try. My favorite horse I ride now is "She She Talk." Every jock on the grounds refused to ride her. I rode her and she ran ok. Then they gave her a little more ground, they gave her 6 furlongs and then she won. Every rider still refuses to ride her.
FOTH: What is the biggest race you ever won and rode in?
DB: I won a $50,000 race on a quarter horse. I rode in a Sire Stakes race at Detroit Race Course. It was a $125,000 and I ran 4th in that.
FOTH: Do you feel female riders do not get the respect they deserve in the horse racing industry?
DB: Definitely. We are on the way up, but we still have to prove ourselves. We are the softer gender, we should have to prove ourselves.
FOTH: What are your future plans?
DB: I think when the Hawthorne meet opens I may go over there to ride.
FOTH: Do you like turf racing at all?
DB: I love turf racing. It is so cool. Especially when the big chunks of grass come up and hit you in the face. (laughs)
FOTH: Denise we thank you very much for the interview. We had a great time hanging out with you and Lori at Great Lakes Downs this week. Anything you want to say?
DB: Good luck with your website and I think it is great somebody is finally recognizing woman riders.