Dodie Duys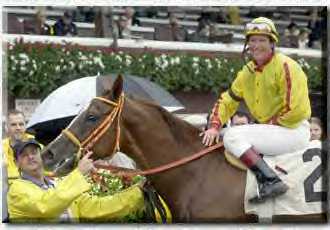 (Dodie in the winner's circle at Saratoga.)
Dodie Duys has been riding for over 20 years and is close to getting 2000 wins in her riding career. I recently got Dodie on the phone for this interesting chat.

FOTH: Where were you born and where did you grow up?
DD: I was born in Quincy, Florida and that is also where I grew up. I went to
high school in Tallahase, FL which is about 20 miles from Quincy.

FOTH: Do you have any brothers or sisters?
DD: I have one older brother and one older sister.

FOTH: What sort of girl were you growing up? Most of the other female riders were tomboys. Were you one as well?
DD: Yeah, I was into all the sports and everything. I was considered one of the Duys boys. (laughs) because 2 of us were girls. We lived right across from a park and whenever the guys needed more baseball or football players we were included.

FOTH: What do your parents and brother and sister think about you being a jockey and have they seen you ride much?
DD: They all think I am an extremely good rider, which we pretty much knew growing up. I used to compete a lot. They think it is an awfully rough career, and it has been. Naturally, when I get hurt, which unfortunately is part of this profession, they don't like.

FOTH: Growing up, did you know you wanted to be a jockey when you got older.
DD: No. I really didn't know much about being a jockey. I was always small and my parents were great athletes.

FOTH: What event or events led to you becoming a jockey?
DD: I used to fox hunt and showing and I got really enjoying the hunt meet/steeplechase racing and I was really good at them and it kinda got in my blood. When I was on summer break from college I went down to Miami, FL to stay with a friend. I took a job at Calder Race Course. Once I got out of high school I was at a farm down in Ocala and had my first job with race horses. It kinda just went from there.

FOTH: Looking back is being a jockey harder or easier than you thought it would be?
DD: I really had no idea as I was some little short country girl in a small town and we weren't exposed to any horse racing. The only thing I ever saw on TV was the Kentucky Derby. It was pretty much an unknown to me. I did see a lot of steeplechase riders get hurt pretty badly and as a kid I saw one them get killed down in Atlanta, GA. I had all kinds of opportunities to be a steeplechase rider, but when I read that in 1 out of ever 10 races a rider goes down, I sort of scratched that out of my mind. It isn't as bad as riding flats.

FOTH: How long have you been riding for?
DD: I started in 1983 and I was out one year and 2 months with an injury, but I have been riding for 20 years or so.

FOTH: Tell us what you can remember about your 1st race.
DD: It was at Calder and it was trainer Jimmy Bracken and the horses name was "Meet Dack" . The horse was a 1st time starter and kinda green. I had never been on a jockey's saddle until that race. It was pretty hairy. I had been on the horse a lot in the morning, but that saddle felt like nothing under me. I ended up doing pretty good with that horse later as I got 3rd with him a couple races later.

FOTH: Tell us about your 1st win.
DD: It was at Calder on a filly named (i couldn't get the horses name at all sorry dodie-chris) We finally broke the streak after getting like 6 2nd places finishes in a row, some of which were other riders. She finally broke her maiden and it was also my maiden too. It was pouring rain and we won by 9 lengths. (laughs)

FOTH: Did you get creamed with stuff after the race?
DD: Oh yeah. They got me good. (laughs)

FOTH: Did you know that was coming?
DD: I knew it was coming, but you get surprised when they actually do it. I was getting dirt thrown in my face and whipped cream. This one jockey had a nice big bucket of cold water. Naturally you are all hot and steamed up in the middle of summer and I saw it coming and thought it would feel good and the water took the air out of me and they got me really good.

FOTH: What are some of the tracks you have rode at over the years?
DD: Out of the country I have ridden in Venzulwalia (i know it is spelled wrong-chris) and Japan.

FOTH: How was it riding over there.
DD: Well in Venzuwalia a lot of the horses you go bare backing and I wanted to get on some in the morning. Heck, I was raised bare backing (laughs) I even jumped horses bare back so I fit in right there (more laughs). There a lot of the horses you just stay up on the track and go on one horse to the next, depending on what horses the trainer wants you to work out. In Japan it is kinda different as the faster horses go on the outside, so when you want to pull your horse up. You go to the inside and then pull up, which is the exact opposite of what I was taught. Some of the riders that weren't used to riding over there could not figure that out, but I picked up on it pretty quick. It was different and you Laos have the foreign language and you don't know what they are saying. I did manage to learn the form that was over there in Japanese. I won the Queen Jockey Title over there in 1992. I made a lot of money and invested well and that money paid for the farm I have down in Ocala, FL now.

FOTH: What are some of the tracks that you have ridden in the US?
DD; I have ridden at all the Florida and Louisiana tracks. Colonial Downs, Oaklawn Park, Kentucky, New Jersey, New York, New Hampshire, Philadelphia, Park, West Virginia, Ohio. I pretty much have been all over.

FOTH: Do you have a favorite track you rode at?
DD: I like the Fairgrounds a lot. I liked Hialeah's turf course a lot. I loved Saratoga, but I didn't get to ride there much.

FOTH: How was that winning up at Saratoga?
DD: Well I won by like 20 lengths, so that was kind of incredible. It was a maiden 1st time started coming out of Rockingham. It was kind of the underdog winning. It was a lot of fun. It was pouring rain. I also liked Rockingham a lot. They had a nice turf course and I won a lot of races there and I would say I made most of my money riding there.

FOTH: I have been to Mountaineer were you are currently riding. There is not a lot to do out there from what I saw. What do you do when your away from the track?
DD: All I do is work. (laughs) There is no spare time with me and I don't even get enough sleep.

FOTH: I know you have over a 1000 wins. Do you remember where and when that was?
DD: Well it is not a matter of remembering it, nobody celebrated it at all. They didn't celebrate my 1500 and now I'm closer to 2000 than I am 1500. Nobody has ever celebrated anything I have ever did of importance. I won a world championship in Japan and that was never even written in the newspaper. The press and I don't get along too good cause I should have gotten a lot more respect I have for the ability I have.

FOTH: Do you plan on riding until you get your 2000 win? How much longer to you think your gonna ride for?
DD: I am not shooting for that as a goal. I am just taking life as it comes basically. I am working with a lot of young horses. My desire for what kind of horses I am riding has certainly changed. I don't go out hustling like I used too and I am more selective on what horses I ride. I don't ride beat up broken down horses anymore and I used to win a lot of races on those kinds of horses. I like developing a young horse and a good one.

FOTH: I know Mountaineer has slot machines. Have you ever gone over there and played any of them or just walked through that area?
DD: I haven't played the slot machines, but I have walked through there. The entertainment is very nice. There is a very nice piano bar where you can sit and have some wine. It is a very elegant atmosphere. There is several places to eat, but the Ball Verra (not sure this is right) is very nice dining. Ray my boyfriend and I have had several nice dinners there. I really like the resort there.

FOTH: Is there any other female jockeys or athletes you admire?
DD: I used Mary Russ and I really admired her. She was one of your pioneer riders, she was the first female to win a $100,00 race and I had a lot of respect for her as a person too. It was tough and we both went through hell and it wasn't easy. She had to fight weight a lot worse than I did and that probably shortened her career. She was lucky enough to have twins and later on had more children. Her last name is now Mary Russ Dortorn.

FOTH: Do you think there will ever come a day when all female riders pretty much get fair shakes at all the race tracks?
DD: Julie Krone had more than a fair shake. I think she had everything handed to her on a silver platter, but then too, she wasn't necessary good for our profession cause she did some things that weren't good. Mary Russ and I were different types of individuals. I think Donna Barton is doing a very good job announcing and she is certainly showing her knowledge of the sport. I rode with her a bit. I didn't like her as a rider, but I think what she is doing now is good for the business.

FOTH: Dodie, I am out of questions. Anything you want to say to wrap this up?
DD: Thanks for the interview and letting me be part of your website.