Jackie Sherman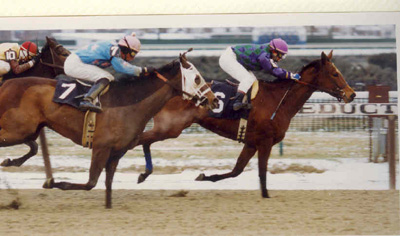 Jackie riding at Aqueduct

Jackie Sherman is a retired jockey who saw the website and I got in touch with her about an interview. She agreed to do one so I fired her off an email interview and here is what she said.
FOTH: Where were you born and where did you grow up?
JS: I was born in CT, but I grew up in a northwest suburb of Chicago.
FOTH: Do you have any brothers or sisters? What did they and your parents think of you when you were a jockey?
JS: I have three older brothers. My parents supported me a great deal. I graduated from college before I started riding full-time, so that made my dad happy. My mom was torn between being very worried about me and being proud of me for following my dream.
FOTH: What sort of girl were you growing up and did you always want to be a jockey?
JS: I was convinced I was going to grow up to be a boy. I have no idea how it got into my head that I wanted to be a jockey, but my mom saved this school paper from when I was maybe 6 years old that asked what your possible career choice was, and I wrote "jockey."
FOTH: What event or events led to you becoming a jockey?
JS: I started taking lessons when I was around 9, and rode hunters for a while. I worked on TB farms while I was in high school and college, and finally got a job on the track with Carl Nafzger in 1992. I worked for him for years, until he shipped in to Saratoga and then Belmont in 1995. After the Belmont meet, he shipped out, and I stayed and got my license at Aqueduct.
FOTH: How long did you ride for and what tracks did you ride at?
JS: I really only rode for about a year and a half (around 56 races); I rode at Aqueduct, Belmont, and rode one race at Saratoga.
FOTH: What are a few highlights you remember of your riding days?
JS: Well, my first win was on a horse that was 80-1 and paid $164.50. That was pretty cool. Mike Kelly gave me a shot to ride a really nice filly that I galloped every morning, and she won for me. And I rode a filly for a trainer I eventually married - that filly and I ran second twice, we won twice, and ran fourth her first time on the turf.
FOTH: What led to you retiring and do you miss it at all?
JS: My husband and I moved down to FL in Nov of 1997, both to get away from the cold and to go somewhere that had racing year-round. I was working as an assistant trainer at Calder when I was injured in a riding accident. I dislocated and fractured a lumbar vertebra. So, my riding days ended, but at least I learned how to walk again. Yes, I still miss it quite a bit, and I still have dreams about riding (and it's been 6 years since my injury). My head knows I'm in a better place now - I have a great job with *gasp* days off, vacations, health insurance, even a pension - but my heart wasn't ready to quit. I used to thank God every day that I could do what I did for a living, and then it was gone and I had to start over.
FOTH: Do you still follow the sport at all?
JS: I still read the entries and results in the Sunday paper, and watch the big races on TV. But, other than that, not really.
FOTH: Do you feel that when you were riding that you had to work 2x as hard as the male jockeys to get some respect from the owners/trainers?
JS: I don't think we necessarily had to work twice as hard, but we sure weren't allowed to make mistakes. It seems like if a girl rider made a mistake, she was taken off the horse immediately and it hurt her chances to get other mounts, even if it was the kind of mistake the boys made every day.
FOTH: If some young girl came up to you and wanted to become a jockey, what advice would you give her?
JS: I would say, go for it. Find a farm to get started at, and be prepared to work hard. Don't be afraid to ask questions, and don't be too proud to listen to advice.
FOTH: Is there any special horse or favorite track that you rode at?
JS: Oh, there were so many special horses I won't bore you to list them all. Almost every horse I worked with was special in some way, and I certainly have a long list of favorites. Arlington Park was always my favorite racetrack, even though I never rode a race there.
FOTH: Any funny jockey stories to tell?
JS: Not really, although I always thought it was funny when I would call my mom and tell her about conversations I had with Julie Krone or some of the other big-name jockeys or trainers. She would always be so surprised that I was so nonchalant about it, and I had a hard time convincing her that these people were not celebrities to me, they were people I worked with every day.
FOTH: Did you ever ride any over 100-1 shots in your career to victory?
JS: My first winner was 80-1, does that count?
FOTH: Do you think a female jockey can win one of the triple crown races ever again?
JS: Absolutely - no doubt about it.
FOTH: What was the easiest and toughest part about being a jockey?
JS: Communicating with the horses was the easy part; communicating with the people was the toughest.
FOTH: Did you ever have any problems with weight?
JS: Yes, unfortunately, I did. I always wanted to be just like my brothers when I was growing up, so I did a lot of weightlifting when I was in high school and college. I was really strong, and put on muscle very easily. I even had someone tell me I could be a professional body builder. Well, I was young and not thinking about the future (obviously) since muscle weighs more than fat and is much, much harder to lose (especially when you are a professional athlete). When I finally decided I was going to try and get my jock's license, I worked out like a fiend to try to lose the weight. I never stopped moving - I galloped in the morning, I ran, rode my bike, got on my stair climber, did aerobics in my room. I finally got to a point where I could tack 105. But when I started riding and didn't work out constantly, the weight would creep back on until I had trouble tacking less than 109. Now, 109 is great if you're a journeyman, but not if you're a 10 lb bug. I found out no one was interested in using the bug to take 10 lbs off their horse that's going around two turns at 120, they want to take 10 lbs off their cheap claimer that's going 6 furlongs at 112. So, that's the real reason I didn't ride more than I did. I couldn't really hustle like I should have because I was always afraid I would finally convince a trainer to ride me on something, and then I would have to go back and convince him to waive one of my bugs because there was no way I could tack 102. If I had only known, I would have just taken a week off, lain in bed for a week, and not moved. I spent 9 days in the hospital after my injury and dropped over 10 pounds from muscle atrophy!
FOTH: Thanks for being part of our website with this interview. any last words?
JS: Thanks for asking me. It's been a fun trip down memory lane.