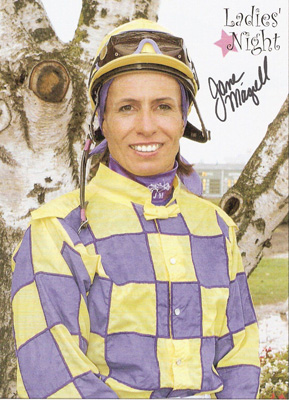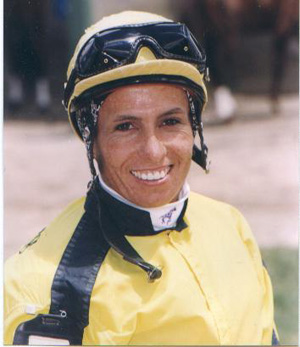 Jane Magrell
I have known Jane Magrell for a few years now and have been fortunate enough to meet her 3 times and she has even helped me out by answering peoples questions on my female jockey message board and it has been a few years since I last interviewed her so I thought it was time for another interview and Jane was kind enough to answer the questions below that I emailed her:
FOTH: Jane since this is out 2nd interview I am not going to get into all the beginning of your career and stuff. If people want to know they can read the 1st interview. Anyway how much longer do you think you will be riding for?

JM: Never Ha.-No really I have no set time. As long as I stay fit and healthy, I'll keep going.
FOTH: You have been riding for a long time now. Do you know exactly how many wins you have and do you have a favorite horse that you have rode so far?

JM: I am not sure, I know it is around 700 or more.
FOTH: Do you have a few favorite things that stick out in your mind like riding 3 wins on a card or bringing in a $100.00 horse, etc?

JM: Yes 3 wins in a day - Winning at 2 different tracks in 1 day and of course all the long shots.
FOTH: Do you ever get recognized outside the track at all?

JM: Yes, but I like to keep a low profile unless I'm with my mom she has to tell everyone I am a jockey! Ha
FOTH: Tell me now what a typical day is like for you?

JM: Well sometimes the days and nights seem to all run together sometimes. I usually get up around 4:15 or so when the track opens at 6 a.m. I have to drive 38 miles one way. Get to the track gallop 10 or more, go to the jocks room shower, rest, ride, and home to do Household chores, and take care of my daughter.

FOTH: When you 1st started out was it a lot harder as a female jockey that it is now?

JM: Oh I don't know it's like anything you have to be in the right place at right time and have a good reliable connections that won't stab you in the back.
FOTH: Looking back was becoming a jockey easier or harder than you thought and why?

JM: Oh I don't know it's like anything you have to be in the right place at right time and have a good reliable connections that won't stab you in the back
FOTH: I asked you this the 1st time and I'll ask it again. If a young boy or girl came up to you and said they wanted to become a jockey, what advice would you give them?

JM: Wow I could write a book about that. No really you must love horses and be reliable, dedicated, and have a good work ethic. After that winning and riding races is what makes it all worth while
FOTH: Do you think another female rider will ever win another Triple Crown Race?

JM: Yes, why not always keeping that positive feeling
FOTH: What were some of the hardest obstacles you have had to face over the years being a female rider?

JM: All my injuries and getting fit again and reselling yourself all over again. Many trainers think after you get hurt you lose you heart and desire. So you have to start over and prove yourself again.
FOTH: Have you ever gotten into a verbal shouting match with any of the male jockeys over the years?

JM: Oh yes, I don't take any S*%$ off of these pinheads. Ha!
FOTH: I know you ride mostly in Ohio and stuff and I have been to all 3 of those tracks. What do you think needs to be done to improve racing in Ohio?

JM: Get gaming, voted in, every where else around us has it.

FOTH: I have met you at the 2006 and 2007 Hoosier Park Female Jockey Challenges. What is the weekend like at Hoosier and tell me a bit about what you do that weekend? Would you recommend that any female jockey is asked participate in one of these and do you think more tracks should do an event like this.

JM: Oh its awesome its my working Vacation. Me & my family drive down in on Friday night, go to the pool, rest and then on Saturday I hook up with all the other jocketts and we go to the spa for facials, manicures or whatever you want plus we have food there and we all chit chat about our families. Then back to the hotel for a nap or swim and then we meet in the jocks room and go up in the grandstand for a Handicapping seminar and signing of autographs and pictures then off to the races. After that we all go out for food, drinks and cheer. It's a great time Tammy Knox is in charge and she does a great job. Yes, it is a great crowd pleaser, Hoosier has many give aways and with 12 females riding together they get a great crowd.
FOTH: Do you think after you retire that you will still stay involved in the sport of horse racing?

JM: I think so it would be hard to walk away.
FOTH: Do you have a favorite track that you have rode at and is there any track that you would like to maybe ride at one day?

JM: Tampa is my favorite and to ride at Saratoga. Even just galloping one there. Ha
FOTH: What are some of the injuries you have had and what was the worst one and was there any thoughts of retiring after one of these injuries?

JM: A lot of injuries, back, both of my hips have been broke, collar bone twice, ribs, broken leg, finger, knee injuries, many concussions, and busted teeth. Great occupation. Ha. I haven't thought about retiring but in 06 when I broke my hip in 3 places and my collar bone people kept saying your not getting any younger, No crap but I proved them wrong and come back again.
FOTH: What are some things you like to do or hobbies you have when you are away from racing in general?

JM: Hanging with my family, by my pool. Rest and relaxation is my hobby since I don't get a lot of it. Ha.
FOTH: For those who don't know would you tell people what a jockey agent does for you?

JM: An agent hustles a jockey for mounts, They cover the barn area and a lot of PR. They check you on your mounts and pick up more mounts at scratch time. Basically they handle all your business while you gallop and ride. But I haven't had one in a while. Many of the agents help me but I do it all on my own. They make 25% of your income. So, that is a good chunk of change if you have a good week or a bad week.
FOTH: Do you follow any of the sport teams in Ohio at all?

JM: Of course the Indians and Browns too.
FOTH: Have you ever been taken off a horse just because your a female rider?

JM: Duh, that's a dumb question. Laugh, of course, I always said I should write a book for all of the reasons they can't ride a female. I have some good ones.
FOTH: Is there least favorite track you have rode at and if there is why is that in your opinion?

JM: Mountaineer Park. Yes, the money is good but surface is always screwed up. They need a different surface
FOTH: How do you get ready for a race? Do you study the program or racing form?

JM: I look at the program but I am not a big handicapper, I always say when the gate opens it can be a different ballgame. Something I say is thank God horses can't read. Ha.
FOTH: Which do you prefer: night racing or day racing and why?

JM: Day racing, I like to sleep at night. Ha.
FOTH: (funny question of the interview) I have met you 3 times and every time I see you I ask for a picture of me and you and ask you to put your thumb up. Aren't you tired of me asking you to do that yet?

JM: No that is your logo and we all are having fun. It wouldn't be traditional if we all didn't do that.
FOTH: What do you think of the Beulah Twins?

JM: They are very nice met them in person they are funnier in person.
FOTH: Jane thanks for the interview and being part of my website a 2nd time and thumbs up for answering my questions. Any last words.

JM: Thank You!! Just good luck to all the future female riders out there. Love the horses and be dedicated.


Back to our main page