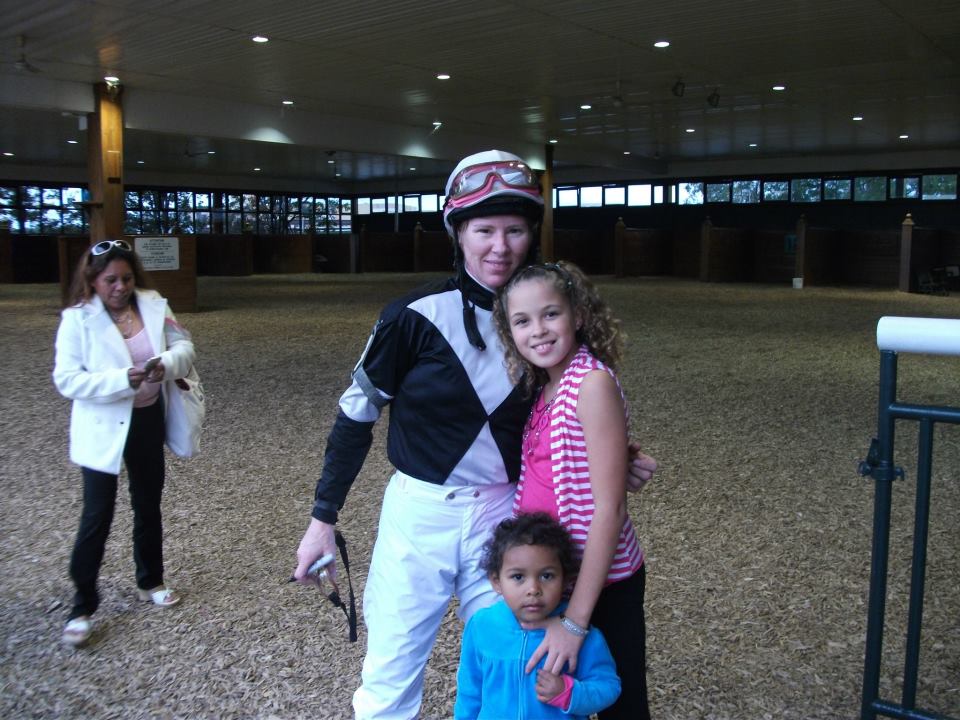 I have known Janice Blake for the last 2 years. The 2 years she rode at Garden State Park (where I worked) and also Philadelphia Park. When Jim and I were putting together this website it was only natural for us to include Janice. She is a nice and aggressive jockey. I should know, she used to whip me with her whip numerous times while I worked the jock's room. I still have the marks to prove it on my hand.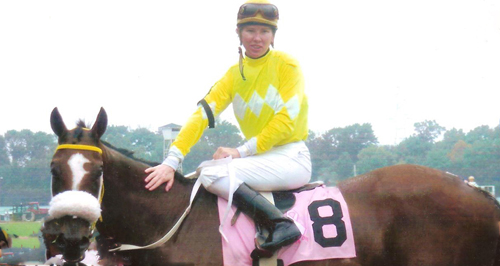 Janice L. Blake at Philadelphia Park, September,2001
CF: Where were you born? Do you have any brothers or sisters?
Janice: I was born in Michigan City, Indiana. I have four brothers and one sister.
CF: What did you want to be when you were growing up and what jobs did you have before becoming a jockey?
Janice: I always wanted to be a jockey. I've had several jobs on my way to becoming a jockey. I worked at Starbucks. I was a Laboratory Technician in a Blood Gas Lab. I was a Clerk in a True Value hardware store. I was a Research Assistant at the University of Chicago. I waited tables at the Hilton. I drove a limousine in Chicago for two years. I canvassed for an environmental group. I exercised race horses, ad infinitum. I was a trail guide and general barn mucker as a kid. I worked at Taco Bell briefly. I was a short order cook at a Wag's Restaurant. I was assistant trainer for a Dressage Instructor in Ontario. I worked at a tack shop. Suffice it to say, I'm well-rounded in the job arena.
CF: What was the first track you ever went to? What did you think of horse racing and jockeys while you were there?
Janice: The first track I ever went to was Hawthorne in Chicago. I was completely overwhelmed by the sights of the horses and jockeys and all the excitement.
CF: What events led you to becoming a jockey, and what was it like getting up on a horse the first time?
Janice: When I was five, my brother took me for a trail ride in Frugality, Pennsylvania. He wanted to gallop, but the guide wouldn't let him because I was too little and on the horse by myself. My brother took off anyway and my horse ran after his all the way back to the barn, under the trees, around the corners and everything. I was only five but I stayed on and thereafter I was hooked on being a race rider.
CF: Who taught you how to ride? Did you ask many owners/trainers/jockey's for advice? What did they tell you, and what advice would you have for a young jockey?
Janice: Basically, my friends at the Stables taught me how to ride, then after that I took some lessons. The other exercise riders helped me enormously when I began galloping race horses. At the beginning, I asked trainers and jockeys for advice, but then after receiving too many conflicting opinions, I decided to rely on my own instincts. The advice I would give a young jockey is to keep your ears open and your mouth shut. Loose lips sink ships.
CF: What made you come to the East Coast?
Janice: The East Coast has the best racing in the country. I have a good friend that lives in San Jose, CA and would love to live out there close to her, but female jockeys don't go over too well in the West.
CF: Where did you ride your first race? Describe the race for us.
Janice: I rode my first race at Tampa Bay. I think we beat a couple of horses. I was on the outside. We broke and I saved ground but didn't finish anywhere.
CF: Where did you get your first win? What were your feelings as you crossed the finish line? Did you get bombarded with stuff after the race?
Janice: I also won my first race at Tampa. It was thrilling to win, as it was something I had worked so hard for so long. Yes, I got creamed with eggs, water, and shaving cream. I'm thankful that it was in Tampa where it was warm. Dodie Duys shmooshed an egg on top of my head.
CF: Do you think you have a certain style of racing?
Janice: I feel I have an aggressive style of riding.
CF: What are some of the tracks at which you have ridden? Tracks you want to ride, and do you have a favorite?
Janice: I've ridden at Tampa, Pimlico, Laurel, Philadelphia, Penn National, Delaware, Monmouth, Garden State, Atlantic City, Meadowlands, Aqueduct and Belmont. I would like to ride at Ascot and Longchamps. My favorite track is Belmont. If a horseman died and went to Race Track Heaven, I'm sure it would look like Belmont.
CF: What was the biggest win you ever had? How about longest shot horse you rode to win?
Janice: My first winner in New York at Aqueduct paid $111.00. Touche.
CF: Any other female riders you like out there?
Janice: I like all female riders and I am happy when they do well.
CF: Would you say looking back now being a jockey is tougher than you thought?
Janice: The lifestyle of a jockey is not so tough. Getting on the best horse in the race is the tough thing.
CF: Any hobbies you have? What do you do in your spare time?
Janice: Don't have any hobbies to think of. I enjoy reading and spending time with my friends.
CF: Do you do anything special to stay in shape or take any supplements?
Janice: I gallop horses in the mornings to stay in shape. If I don't gallop on a regular basis, then I go to the gym to jog and lift weights.
CF: How long would you like to ride?
Janice: I'd like to ride another 15-20 years.
CF: Any favorite horses you have ridden?
Janice: My favorite horse I rode was named True Coyotie. He was a sprinting specialist, and we had a beautiful understanding together.
CF: What would you like to accomplish as a rider before you hang up your whip?
Janice: I want to change the world. Come to think of it, I already have. I want to change it some more.
CF: Any last words?
Janice: My last words are those of encouragement to other women wanting to ride races or do anything else athletic for that matter: Go for it! No one can stop you but yourself. Do it!