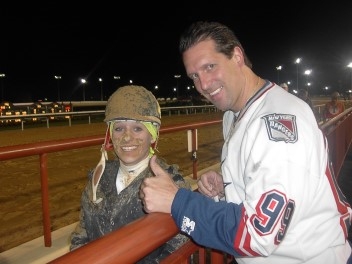 Jessica Rice
Jessica Rice is a 2nd generation jockey (he mother was one for over 20 years) who is riding down at Charlestown, WV. I recently got Jessica on the phone and here is what was said:

FOTH: Where were you born and where did you grow up?
JR: I was born in Charlestown, WV at Jefferson County hospital. When I was eight my family moved to a farm in Virginia where I stayed until last year when I moved back here.

FOTH: Do you have any brothers or sisters?
JR: I have one older brother.

FOTH: I know when I met you down at Charlestown, you told me your mom was a jockey. Did you know when you were young that you wanted to follow in your moms footsteps so to speak?
JR: When I was younger I really didn't want anything to do with horses. Because both my parents were with the horses all the time, I resented horses until I was about 10. My mom then taking me for riding lessons, so I started getting
into it more.

FOTH: Did it feel natural getting up on a horse?
JR: Oh yeah, definitely. My parents always told me I was just a natural. I had a pony when I was like 4, I rode him a little, but I was into horses then.

FOTH: Looking back now, do you feel with your mom being an ex-jockey that, that helped you out a lot?
JR: Oh yeah. definelty. It opened a lot of doors for me. She told me of her learning how to ride and she couldn't have anybody help her and it worked to my benefit that she was a jockey.

FOTH: Does your mom watch all your races and give you advice on what you did right and wrong during a race?
JR: At first she was pretty stern telling me what I need to do this and that. Now, it's just more or less encouragement and telling me I'm going good. I'm a fast learner and caught on pretty quick. Now it's just more positive advice.

FOTH: Now what event or events actually led to you becoming a jockey?
JR: When I was 12 or 13, showing horses kinda got boring to me. Pete Aller (hope that is right-chris), he is a trainer at Charlestown, he had race pony's and I got into pony racing and that is what really got me started toward my career. Then I started galloping and exercising riding for my parents and one thing led to another and I got my license.

FOTH: Tell us a bit about your 1st race.
JR: Actually my 1st race was in 2001. I was riding a 11 year old mare for my parents at Charlestown, it was her 1st race back in a year. I led the whole way and she got tired and I finished 4th.

FOTH: How nervous were you going out into the paddock area?
JR: Yeah it was my moms horse and I just remember we had to ship from Virginia and she was a lot more nervous than me. I remember before going out to the paddock in the jock's room like the jockeys had to help me put the rubber bands on my silks and I really didn't know how to put my number on and I put it on the wrong side. I was most nervous going to the gate.

FOTH: How was it in-between your 1st race and when you started riding all the time?
JR: I just graduated last June (2004) and when I was riding in 2001 it was only 1 horse like every other weekend. I won my 1st race in 2002 and then took a complete year off to finish my last year of high school and I only rode about 80-100 races till this past Janaury (2005). I am now just getting into full time riding.

FOTH: Tell us about your 1st win.
JR: It was a maiden race and it was my parents horse. It was the 1st time I had ever rode him. I could never gallop the horse because he is just kinda crazy. The horses name was "Next September" and in the race she got the lead really easy and she lead the whole way going 7 furlongs and coming around the last turn jockey Nilo Perez he cut me off really, really bad, broke my stride. One thing my parents told me to was not to use the stick on a horse if he didn't like it and after that happened I used the stuck and I guess my horse hit another gear and blew past the horse that cut me off and Nilo Perez actually ended up getting suspended 7 riding days for it after it happened. It was kinda cool that I won.

FOTH: What was going through your mind when you were heading back toward the winner's circle?
JR: I was like "I can't believe this just happened" and I was more angry that I cut off and I think that was why I rode so hard. After the race I was kinds kinda relieved.

FOTH: Did you get pelted with stuff from the other jockeys after the race?
JR: Yes I did. Eggs, grease, ketchup, mustard, and everything. It was gross. (laughs)

FOTH: Have you rode anywhere else besides Charlestown?
JR: I have rode at Colonial, Penn National and Delaware.

FOTH: How would you compare those tracks to Charlestown?
JR: The style of riding is a lot different. The jockeys at the bigger tracks will kinda just let you go to the lead and wear yourself out. Nobody really starts riding till the last 1/4 of a mile. You have to adjust to that.

FOTH: Do you have any problems getting a lot of mounts down at Charlestown?
JR: Being a girl, just naturally is gonna be tough. The girl riders here have made it a little easier for me as I know from them what trainers to go to and he will give me a shot. I have an advantage cause I am 95 pounds and the weights here are really light, so I am one of the only bug riders that can do that weight. 105 and below, so that works for my benefit.

FOTH: How long would you like to ride for?
JR: Well my mom rode for 25 years and I want to go to college and pursue other things, so depending on how good I get, I just might ride my apprentice year.

FOTH: Take us through what you do in a day.
JR: Well, I get up at 6:00 am and I usually give myself an hour to drink some coffee and get dressed. Then I go out to the track and meet with my agent. I usually get on 3-6 horses every morning. I then come home, take a shower, sleep and eat and then I go to the jocks room and ride.

FOTH: If a young girl wanted to become a jockey, what advice would you give her?
JR: Just to find an outfit that does race horses and start from the bottom up. Learn how to groom and clean the stalls and work with them in the shred row. Race horses are different that any other horses your going to have to work with.

FOTH: What are some things and hobbies you like to do when your away from the racetrack?
JR: I started going to art school, but I don't really have the time, so I kinda put that on the backburner. I am really into design and I paint, write, read a lot.

FOTH: Is there any tracks you want to ride at one day?
JR: New York or California. The one thing about the job that would make me stick with it, is that you can travel anywhere to ride. I like to go places.

FOTH: Have you had any injuries yet?
JR: Not race related. I have had spills, but I have been fortunate enough not to get hurt.

FOTH: Do you pretty much get along with all the jockeys?
JR: Yeah Shannon Campbell and I are really close and Natasha and I are really close. The guys are really fun and I hang out with some of them. I get along with everyone in the room.

FOTH: Do you have a "special" horse you have rode?
JR: Not one I can pick out.

FOTH: Is there any other female jockeys or athletes that you admire?
JR: There is a female jockey, I haven't kept up much of where she is, Helen Vanek. Do you know who she is.

FOTH: Yeah she is down at Tampa Bay Downs now.

JR: She is really good. I watch her ride and I would say she is an idol, but not an idol.

FOTH: Do you feel with each race that your improving more as a jockey?
JR: Oh yeah, I learn something new every single race I ride.

FOTH: Do you study the racing form and stuff before you ride?
JR: No, I'll see the horses past performance and I'll look to see who else is in the race, but I won't study. The horses can't read the racing form.

FOTH: Is your mom proud of you being a jockey and does she worry your going to get hurt at all?
JR: Oh she is really proud of me. She never came to any of my volleyball games in high school and being a jockey is something she really wanted to see me do. She knows I am gonna get hurt, it just happens and she went though it. She is not really worried, she just wants me not to get on anything too tough in the morning or anything that is gonna hurt me.

FOTH: DO you ever see yourself becoming a trainer like her one day?
JR: I don't see myself training. (laughs)

FOTH: I am all out of questions. Anything you want to add or say to wrap this up?
JR: No, but thanks for the interview.


Back to our main page