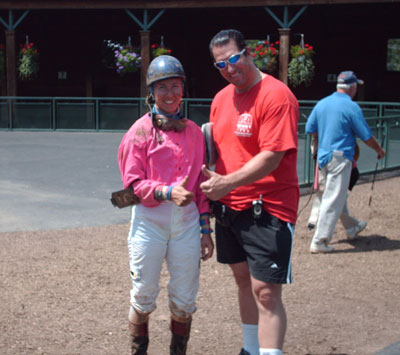 Chris & Jessica over at River Downs
Jessica Endres
Jessica Endres is a jockey that mostly rides in Ohio. I recently got her on the phone and here is what she said:
FOTH: Where were you born and where did you grow up?
JE: I was born in Columbus, Ohio and I actually grew up in Grove City, Ohio.
FOTH: Do you have any brothers or sisters?
JE: I have 2 brothers and my youngest brother is 18 years older than I am.
FOTH: What do they and your parents think about you being a jockey?
JE: At first they hated it. They did not want me around the racetrack at all.
FOTH: Are they supportive of it now?
JE: It took them awhile, but yeah they are supportive. My father passed away and he never got to see me ride, but my mom is supportive and comes and sees me ride. She always bugs me about going back to college, but I don't see that happening anytime soon. (laughs)
FOTH: When you were a young girl growing up, did you know you wanted to become a jockey?
JE: I used to watch a lot of The Black Stallion series and I was supposed to go to vet school. My older brother and my best friend are both vets and I was supposed to go to vet school and I ended up getting a job out of high school galloping horses for Darby Dan and as I got older I wanted to become a jockey, but I thought I was too tall to be a rider, because I am pretty tall for a jockey. I would say after I got out of high school is when I wanted to become a jockey. I used to cut class to go ponying. (laughs)
FOTH: What sort of girl were you growing up?
JE: I was kind of a tomboy. All I did when I was growing up was horses. I ended up doing English and hunter jumper horses and things like that. All I wanted to do every day was go to horse shows. When I was in high school I had 3 horses of my own and when I go home from school all I did was ride.
FOTH: Did you ever go to any of the tracks in Ohio before you became a jockey?
JE: I remember my mom taking me to Beulah Park one time cause my older brother works security there. My 4-H adviser her husband trained horses at Beulah and she got me a horse off the track which was to be my 4-H horse and I actually taught her how to jump and she was awesome and that was my 1st exposure to horse racing.
FOTH: What event or events actually led to you becoming a jockey?
JE: I started galloping like I said and I wanted to race ride and I actually rode a few races at Beulah and then I went and visited my brother in Arizona at Christmas and it was cold in Ohio and I ended up riding in Tuczon, AZ and I ended up breaking my leg out there. I didn't get to ride for a year and I had to start all over again. It took my a long time to get back to riding.
FOTH: Tell us what you remember about your 1st race.
JE: My 1st race, one of my best friends Jody put me on a horse. It was her only horse, her pet and his name was "Exsadran" (hope that is right-chris) and he was a funny little horse to ride and he is a pretty cool horse and he is a speedball so I rode him and I am not sure where I finished. It was great and my mom went with me to River Downs and made a big deal of it.
FOTH: Tell us about your 1st win.
JE: I remember it was a very, very cold day in February at Beulah Park and I thought it was taking me forever to win my 1st race because I started racing in August and didn't win my 1st race till February. It was on a filly named "Olive Drape," they dropped her down and she did claimed that day. I remember I came from off the pace and after the race they got me with a bucket of water and they egged me and everything else after I got back to the jock's room.
FOTH: I was gonna ask you about that. What was it like jogging the horse back to the winner's circle?
JE: I don't remember that part of it. I think I was so excited and happy. I had heard all these horror stories that they do to you after you win so I think I was thinking to myself what the heck are they gonna do to me when I get back there.
FOTH: Describe a little bit about River Downs is like.
JE: River Downs is a pretty nice track. It is deep there so horses have to be pretty fit to run there. I like the turf course there. I had a pretty nasty spill in the hedges there when I had the "bug" and I think everybody thought I would be nervous riding on the turf there again, but it doesn't both me. I remember the spill, my horse only had like 5 or 6 starts and he was a maiden coming out of the one hole on the turf and he made a left hand turn and he went right into the hedges and the horse somersaulted and I took the horses bridle with me. (laughs) My next race back I actually I got the one hole again on a maiden and I think everyone was shocked that I rode down by the hedges and stayed along the rail the whole time.
FOTH: Has that been your only injury so far?
JE: I have had a lot of minor ones. I went down in the Michael Rowland (he later unfortunately passed away from injuries to this accident) spill at Turfway. I was the 3rd jock that went down in that spill and I got lucky and didn't break anything. I was lucky that night and it was a horrible, horrible night. I have had several horses break down and several have had heart attacks underneath me and I have hit head a few times and I few cracked ribs and minor stuff like that. I have been really lucky and I think my mom prays a lot.
FOTH: What tracks have you rode at besides Ellis Park, Beulah and River Downs and do you have a favorite track to ride at?
JE: Picking a favorite is hard. I have rode at Thisteldowns, Great Lake Downs, Kentucky Downs and I have had my last 2 winners at Oaklawn Park and that track was pretty cool. Last year I rode at Indiana Downs and Hoosier and also Fairmount Park. I couldn't pick a favorite.
FOTH: At Hoosier Park were you part of the female jockey challenge?
JE: Yes I did.
FOTH: How was that?
JE: It was fun, I actually won a race. It was a alot of fun.
FOTH: What did you think of riding at Great Lake Downs?
JE: It was a little different because it was a bull ring. I went up to ride a stakes, but the horse didn't run any good. I liked it and it was different.
FOTH: How long would you like to ride for?
JE: As long as I possibly can. I couldn't imagine doing anything else. I'll ride till I am too beat up to ride anymore.
FOTH: Do you have nay hobbies or things you like to do when your away from the racetrack?
JE: I like to ride horses and show horses off the track. I try to save horses off the track by finding them new homes cause I still like to show. People give me a hard time by saying "you go home and ride" and I am like, "but I love it." I do like to read, do poetry and play tennis.
FOTH: Did you feel when you were an apprentice rider that you were a good one?
JE: I thought I was ok. I mean in the situation I was in, I had nobody helping me, I learned everything on my own. So I think when I was an apprentice rider that I wasn't very good and I wasn't a strong rider and I still have a lot to learn. Going to Oaklawn helped me out a lot.
FOTH: At most of the tracks you ride at, do you feel female riders get a fair shake?
JE: Beulah and River are like my home tracks and people give me more of shot here. Being a girl makes it hard and a lot harder than people really realize I'm sure. For girls I think Oaklawn is the hardest track.
FOTH: If some young girl came up to you said she wanted to become a jockey, what advice would you give her?
JE: Honestly I would tell her to go to school and say in school. Otherwise I would tell her to find a big stable and start galloping for somebody who can really help you. I learned things the hard way and have found out a lot of things about horses and I don't know what kind of shape I'll be in when I get older. I've actually been asked to speak at several career days and things like that and I haven't done it because I can't tell somebody to go through what I have gone through to get to where I am today.
FOTH: Is there any track you would like to ride at one day that you have seen on TV?
JE: I'd like to go to Saratoga or Delmar and Woodbine would be all right.
FOTH: Do you think another female jockey will ever win one of the Triple Crown Races again?
JE: I hope so and I hope it's me.
FOTH: Ever have any problems with your weight?
JE: No not really. Last year I didn't ride a lot I was working for a friend on the farm helping him out and I got a lot heavy, but for the most part no.
FOTH: Do you get along with most of the jockeys?
JE: Yeah, I have a lot of jockey friends. I don't like to fight. (laughs)
FOTH: I am out of questions, anything you want to say to wrap this up?
JE: No, I think you covered everything.