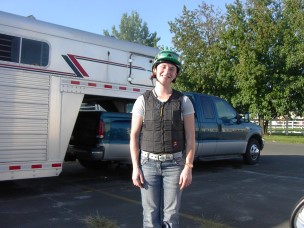 Joan McDaid
Joan McDaid is an apprentice rider who recently came down to Philadelphia Park to ride and I got together with her one morning for this chat.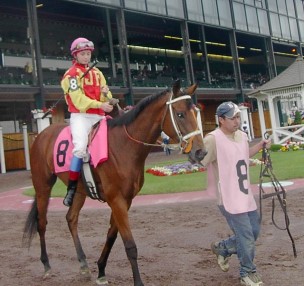 FOTH: Where were you born and where did you grow up?
JM: I was born in Ireland and I grew up there as well.

FOTH: When did you come to the United States?
JM: I moved over here in December of 2003. I worked over at Belmont Park for Leo O'brien and I had my 1st 6 rides there and then I went to Sufflok Downs in May and I rode 7 while I was there and now I'm here at Philadelphia Park.

FOTH: What made you make the move to come to the US? Was it something that you were planning as a child?
JM: No. I just knew there was a lot of horses here and it was sort of a spur of the moment type of thing.

FOTH: Do you have any brothers or sisters and what sort of girl were you growing up?
JM: I have 3 older sisters. I grew up like any normal kid. Just going out and having fun ya know.

FOTH: What do your parents think about you being a jockey and have they ever seen you ride?
JM: Yes they have seen me ride. They don't know much about horses. If I'm happy they are happy.

FOTH: Did you always known you wanted to be a jockey?
JM: No not really. I didn't even get on my first racehorse till I was 18.

FOTH: What event or events actually led you to becoming a jockey?
JM: I went to the race school in Ireland and I rode and won a race and that was the start of it. They teach you everything.

FOTH: Tell us about your feelings when you came over to the US.
JM: Oh yeah it's crazy. The cars and trucks are just different. I like it.

FOTH; Now your down here at Philadelphia Park. Do you notice any differences between this track and say Suffolk Downs and Belmont Park?
JM: Suffolk is a lot smaller than Philadelphia, but Belmont is a lot bigger than Philadelphia. (laughs) You have the same kind of people here and you might and go and meet some of the same people from the different tracks.

FOTH: Tell us about your 1st race and were you nervous at all?
JM: Yeah I was nervous, but my best friend also had her 1st race on the same day so at least we were nervous together. That was over in Ireland.

FOTH: Tell us about your 1st win. Was that at Suffolk Downs?
JM: Yeah my 1st win in AMerica was there and I did a double on the 1st day.

FOTH: Did the jockeys cream you with stuff after the race?
JM: Yeah. I go eggs, baby oil, water, everything.

FOTH: Since your an apprentice rider, do you ask any of the other jockeys for advice and have any been extra helpful?
JM: Yeah a lot of them are extra helpful and I always ask them for advice cause if if you don't ask you'll never learn.

FOTH: What made you decide to go ride at Suffolk Downs and leave N.Y.?
JM: I friend of mine thought it would be good for me to go to a smaller track to get some experience, cause you really can't make any mistakes at Aquedect or Belmont, so he felt it would be best for me to go to a smaller track, so I did.

FOTH: So what made you decide to leave Suffolk to come down here and ride at Philadelphia Park?
JM: Max Hall (not sure if that is right or not) son in law was my agent and Max used to have Stewart Elliott and he knew Joe (her current agent) and he knew the bug was dead at Suffolk and he got me hooked up with Joe and I came here.

FOTH: Do you have any goals for yourself as a jockey?
JM: To get better and improve with every race I ride. I still have a lot to learn, but that comes with experience.

FOTH: Do you plan on pretty much staying here at Philadelphia Park?
JM: Yeah if i do well.

FOTH: Looking back, was becoming a jockey easier or harder and why?
JM: It is always gonna be tougher cause your a girl.

FOTH: Take us through what you do in a typical day.
JM: I get up at 4;30 am and eat breakfast. Get washed and come to work and get on some horses and go to the jock's room and then ride. Go home and get something to eat and maybe go for a run and then that's it really.

FOTH: If a young girl wanted to become a jockey, what advice would you give to her?
JM: Just stay strong. You can't let the guys walk all over ya cause it is a man's sport and we have to be strong.

FOTH: Any other female jockeys or athletes you admire?
JM: A female jockey up at Suffolk named Tammi Piermarrini is a really good rider. Always looks good and photo finishes. Tony Black I know is a good rider and up in N.Y. I like Aaron Gryder.

FOTH: So far do you think you have been treated fairly well being a female jockey?
JM: Yeah, I think I've been treated fairly. The guys will try and help if you ask them.

FOTH; Is there any hobbies or things you like to do when your away from the race track?
JM: I like Mtv, but I am not really into the soap operas over here. I like adventure parks and things like that.

FOTH: Is there any special places you might want to try and visit here in the US that you have heard of?
JM: I'd like to see where the "Rocky" movie was made and all those steps. (laughs) Niagara Falls, I've never been there.

FOTH: How long would you like to ride for?
JM: For as long as I can.

FOTH: Any plans on going back to Ireland at all?
JM: I haven't really thought much about it and I am happy right now where I am so I'll probably stay right here.

FOTH: What do you miss most about Ireland?
JM: Probably my family and my friends.

FOTH: Is there any track you might have seen on TV that you would like to ride at one day?
JM: Saratoga (giggles)

FOTH: Joanne. I am out of questions. Any last words and good luck down here at Philadelphia Park.
JM: Thanks very much for the interview.