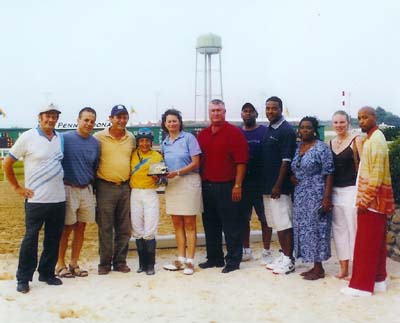 Kathy in the winner's circle at Penn National
Kathy Pellegrino
Kathy Pellegrino is a female jockey currently riding up at Penn National and has recently come out fo retirement after 17 years! I recently caught up to Kathy and here is her story:

FOTH: Kathy where were you born and where did you grow up?
KP: I was born in Forest Hills, NY and I grew up on Long Island, NY.

FOTH: What sort of girl were you growing up?
KP: I was a tom boy pretty much.

FOTH: DO you have any brothers or sisters?
KP: I had 2 sisters, one passed away a few years ago and I have 2 brothers.

FOTH: When you were younger did you know you wanted to become a jockey?
KP: I didn't know I wanted to be a jockey, but I knew that I loved horses more than anyone else in the world loved them (laughs) I was also afraid of them as well. I just knew that I had a strong attraction to them.

FOTH: Did you go to any of the NY tracks much when you were younger before you became a jockey?
KP: No, not as a young girl. I used to go to high school in West Hempstead and that is about 2 towns away from Belmont, which is irrelevant, because at the time I didn't know I was gonna ride races. I used to cut classes and go to a little stable that was near my high school and I walked up to the stable manager one day and said "I would like to rent a thoroughbred." I don't know where that even came from. I said that to them and they let me take out the only thoroughbred that they had. I rode him all around this great big lake and I was sacred to death. It was so thrilling to me, so I cut more classes and then I would go and take the horse out several more times (laughs).

FOTH: What event or events led to you actually becoming a jockey?
KP: Well they started pressuring me in the 10th grade as to what I wanted to be or do with the rest of my life and I have always been athletic and pretty competitive and with the love of horses and I just kind of put it all together and I don't even know where that came from when I said I wanted to be a jockey. I wasn't even sure how to go about doing it at the time, but I had made up my mind at that point and I knew I didn't need to or want to go to college and I just decided that is what I wanted to do. I had absolutely no support, but that probably put more of a fire under me than anything. People were saying "Don't be ridiculous" and that made me want to do it even more I guess.

FOTH: Where did you end up riding your 1st race at?
KP: Saratoga.

FOTH: Where you nervous at all? Where did you finish in the race?
KP: I was very nervous. My 1st race was one of the few races that will go down in history. There was a horse in front of me that jumped over the inside rail and the horse ended up in the lake in the middle of the infield. Another horse bolted to the outside and my horse went extremely wide and I later found out she had a back problem. It was on the turf course. I was not used to riding on the grass and I more or less blew the turn, along with her having a back problem. It was a horrendous race. I remember like 4 different things going on in that race. I was pretty far back there and I was like "oh my god you never see any of this stuff on the monitor watching races" to later find out it was one of the craziest races that there ever was.

FOTH: Tell us what you remember about your 1st win.
KP: It was at Monmouth Park. I had ridden about a dozen races in NY and I realized I wasn't going to get a good chance to ride any good horses so I went to Monmouth Park and I believe it was my 2nd mount. I won easily. I had ridden him before and got 2nd and when I rode him back I won by like 12 lengths. I remember being thrown in the pool after the race, boots and all. That was a lot of fun. I remember there was a girl riding there the year before. Her name was Karen Rogers and she had made a pretty good name for herself the summer before. SO when I got there an agent just scooped me up and pegged me as the next Karen Rogers and I just caught on like fire and I started doing really well. I got very lucky that way.

FOTH: Looking back now, do you think you were a good apprentice rider?
KP: The 2nd half of my apprenticeship I was much better than the 1st half. My 1st half I was learning a lot and kinda had to make my own mistakes and learn from them because there were not a whole lot of people out there to help me. I would say the 2nd half of my apprenticeship I was more polished.

FOTH: Take us a little bit through your career.
KP: I went from Monmouth to the Meadowlands, and I would ride there at night and Phila Park during the day. Then when the Meadowlands ended, I would ride Penn National at night and Phila Park during the day. Then I went to Atlantic City and had a good meet there. I pretty much ended up riding up and down the whole East Coast.

FOTH: Did you have a favorite or least favorite track you have ridden at?
KP: There are about 4 or 5 tracks that I think of fondly...Hialeah, Belmont, Saratoga, Monmouth.

FOTH: How long did you ride for before you retired.
KP: About 10 years.

FOTH: Do you have any day or event that stands out in your mind.
KP: I guess my 1st triple was very memorable. I was only named on 3 horses and they were 1st, 2nd and 3rd races of the night and I won all 3. This was at Atlantic City.

FOTH: What led to you retiring the 1st time?
KP: I had gotten injured and broke an ankle and the business aspect was getting to me. I also wanted to settle down and start a family. I made the decision to quit riding while my leg was in a cast. I just decided this is it.

FOTH: How long did you stay retired for before you began riding again?
KP: Almost 18 years.

FOTH: Wow, that is a long time. What led to you deciding to come back to race riding?
KP: My father went and bought a couple race horses out of the blue, I really didn't have anything to do with that and I had watched them run and of course that sparked my interest. One little colt that he had, he had him up at Monmouth, I asked and if I go and get on him. The horse had just gotten gelded, so he was just jogging at the time. I drove up to Monmouth and I took him up on the track with no license, completely unfit. I know I stuck out like a sore thumb because I know how fit I am now and I know what I felt like then. The outrider tried to throw me off the track the 1st time around and I told the trainer "you know they want to throw me off the track I don't have a license" and he said 'ah go around again" (we both laugh). My dad still owns that horse and he is here at Penn National. He is getting ready to run again and owns a place in my heart.

FOTH: When you retired the 1st time, was there any thought of riding again?
KP: Not the slightest thought ever crossed my mind that I ever would do this again. Even when I came back and even when I got on that horse I never thought I would ride again. It totally took me by surprise.

FOTH: How hard was it getting back into riding shape?
KP: Nope. It was painful and my muscles were sore, but it came back to me so naturally, so quickly. I only worked one horse before I rode my 1st race back. I wasn't racing fit and I really had no business even riding. People just started naming me on horses and I was getting named on like 5 a night before I knew it. It was amazing. It all came back so easily, but I was way too light when I came back and I really had to work hard to put on 10 pounds. I'm still very light now, but I'm much, much more solid and strong and I don't look light 'cause I'm only 4' 11."

FOTH: What was it like winning your 1st race back the 2nd time around? It was up at Penn National right?
KP: Yes it was. As a matter of fact I am named on that horse tonight. It was great, I was very frustrated cause I had ridden not quite a month. I had a few 2nds and 3rds and I was knocking on the door, knocking on the door. I was getting really frustrated wondering when I was gonna win one and when I finally won I was really relieved that I finally won.

FOTH: How long do you plan on riding this time around?
KP: I made no plans to start in the 1st place, so I have no plans on quitting. I'm just taking things day by day as it comes. I'm making a good living at it and I'll just keep doing it.

FOTH: Did you have anybody tell you you're too old to ride and to try and discourage you from riding again?
KP: Not one.

FOTH: Are you excited at all about Penn National getting slot machines soon?
KP: I am looking forward to it. I am looking forward to getting paid more money for doing what I do.

FOTH: If some young girl wanted to become a jockey, what advice would you give her?
KP: I would tell to try to expose herself to as many different situations as she could. Breaking babies is one aspect, galloping is another aspect, working horses out of the gate. Just get as much experience as she possibly could.

FOTH: Any track you would like to ride at one day?
KP: I wouldn't mind riding at Santa Anita, it looks really beautiful out there. It is nothing I really think of, but now that you mentioned it California would be nice.

FOTH: How do you stay in shape and do you have any hobbies or things you like to do when you're away from the track?
KP: To stay in shape all I do is go out in the morning and work horses. I can't afford to lose anymore weight so I don't jog or anything like that. I just get on horses in the morning and ride at night. The track does take up a lot of my time, but I make time to go skiing in the winter. I belong to a ski club and a bike club, but I haven't been on my bicycle in a long time because when we go out on our bikes we average 25 miles and that is very time consuming.

FOTH: Take us through a typical day.
KP: I get up and one thing I never did before in my life before until 2 years ago was eat breakfast. So the first thing I do is get up and eat breakfast and I get dressed and go out. I don't have an agent so I have to be the agent, the exercise rider, and he jock. I work very hard in the morning and I see a lot of people and take calls and help people out getting on horses. I wait around for the overnight and then I usually come home and throw in a load of wash or maybe do some food shopping and try to take a nap. I try to take a nap every night there is racing. Then I pay my bills or cook a meal and go out at night and ride. The nights I don't have to ride I usually spend time with my kids or my husband and then I just drop dead (laughs)


FOTH: Do you get any of the other girl riders up at Penn asking for advice at all?
KP: Maria Charles and Katie Lee; whether they ask or not sometimes I'll give them advice in a way I think they appreciate it. Maria has told me several times that she appreciates that I give her advice. Sometimes they will ask a specific question and I will tell them what I think.

FOTH: Kathy I am out of questions anything you want to say to wrap this up?
KP: Nothing I can thing of, just thank you for the interview.


Back to our main page