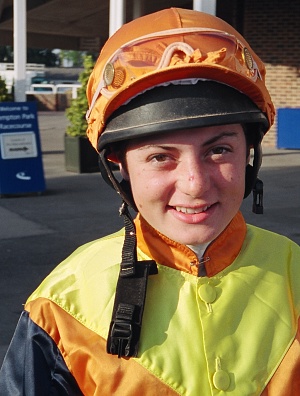 Lisa Jones
Lisa Jones is a female rider over in the U.K. and I recently got the chance to email her an interview and here is what was said.


FOTH: Where were you born and where did you grow up?
LJ: was born and grew up in South Africa.

FOTH: Any brothers or sisters? What do your parents think of you being a jockey?
LJ: No I am an only child. I grew up around horses and my parents always knew I would make a career out of horses. They always told me to follow my dreams and they where 100% behind me when I told them I wanted to be a jockey. They love horse racing and my mum even has a little scrap book that she puts all my achievements in.

FOTH: What sort of girl were you growing up?
LJ: I was very sporty and competitive I did very well in athletics at school. I also loved being outdoors and was forever getting up to all sorts of mischief with my ponies sunshine and flaggi.

FOTH: When you were young did you always know you wanted to become a jockey?
LJ: yes since I was about nine my mum got an ex racehorse to train for show jumping and we got a couple of video tapes when she raced. I remember sitting down and watching them saying that is what I want to be a jockey!

FOTH: I know you ride in the uk. How hard or easy is it to become a jockey over there?
LJ: It is hard work, but I never thought it was going to be easy it helps when you get support of owners and trainers and you need a good agent.

FOTH: What event or events led to you becoming a jockey? Did you ride for many years before becoming a jockey?
LJ: As I grew up with horses and sat on my first horse when I was three I did show jumping, etc. When I heard there was a jockeys academy in south Africa I applied and got accepted at 14 . It was great experience. We had to get up at 4.30 am every morning do track, work sometimes taking 16 horses a morning then we had to go to school in the afternoon. I had my first ride in a race about a year and a half later.

FOTH: Are there many tracks to ride in over in the UK? Are there many female riders and how long to you retain your apprentice for over there?
LJ: There are a lot of tracks over here in the summer season there is sometimes as many as five meeting s a day but it involves a lot of traveling there are day and night meetings so sometimes we do as many as three meetings a day so a lot of time is spent in a car or plane, if the time is tight. sometimes we have to travel three hours to a meeting. during the winter there are only three all-weather tracks as the flat jockeys do not have turf meetings during the winter. apprentices claim 7 pounds till they ride 20 winners ; 5 pounds till they ride 50 winners and 3 pounds till they ride 95 winners. Then they are fully fledged jockeys, or up to the age of 25 then you are no longer allowed to claim. (weight allowance) I was very lucky as i am 1 of only three lady jockeys to manage to ride out there claim in England i was also the youngest of the three. i rode mine out last year at 21 years of age. There are a few female riders riding in England and they are all doing pretty well.

FOTH: Tell us what u remember about your 1st race?
LJ: My first race was in south Africa at scottsville. it was very exciting and was just over so quickly it was such a blur it was on a horse called socialite over 1000m we finished fifth but it was a great day.
FOTH: Tell us about your 1st win and did you get creamed after the race?
LJ: My first win was at Southwell in England on the all-weather on a horse called "Dulzie" it was a great feeling coming over that line first. We don't have that tradition of creaming over here but we did celebrate it that night and there was a few sore heads the next morning!

FOTH: Are there many different riding styles over there?
LJ: Well i think most jockeys adapt to a style the suites them and works the best for them.

FOTH: Do you think you are a good jockey?
LJ: I have always been told to have faith in my own ability, but I do know there is always a lot of room for improvement. I just keep practicing on my mechanical horse and working on my strength and stick work.
FOTH: How long would you like to ride for?
LJ: For as long as my health allows me to and as long as I keep getting support from trainers and owners.
FOTH: Would you like to come to the US and ride one day?
LJ: Most definitely YES. It would be a dream come true and a great experience.

FOTH: Are there many young girls or boys into wanting to become jockeys? Is horse racing popular over there?
LJ: Yes they have two racing schools in England and there a lot of up and coming young riders. Flat and jump racing is very popular over here. We get good crowds at our race meetings.

FOTH: What do you do for fun when your away from the race track?
LJ: Relax with my boyfriend Dean and spend time with my dogs Buddy and Milo. I also like to swim.

FOTH: Is being a jockey easier or harder than you thought and why?
LJ: Its hard work but if you work hard the more you get. the more you put in the more you get out! the rewards make up for it and it is great to feel you have achieved something when a horse runs well for you or wins.
FOTH: Do you feel you get treated fairly being a female jockey over in the UK?
LJ: I get a fair bit of support but it is ten times harder for a girl here you have to work twice as hard as the lads to get noticed. the strength factor comes into it but it is not all about strength its being at the right place at the right time and making the horse run you. A lot of trainers are warming round to female jockeys here now and there are more and more females getting chances.

FOTH: Do you have any set goals for yourself?
LJ: I would like to ride some group race winners and establish myself in the states one day providing the opportunities come up. But I am also a firm believer of taking every day at a time.

FOTH: What was your proudest day as a jockey so far and do you have a favorite trainer or horse that you have rode?
LJ: It would have to be my double at Epsom, (where our derby is held) as I was the first ever girl to ride a double there and one of the winners on "Lord of the East" came second in ride of the year voted by the public, what made it even more special was that my mum and dad where there to cheer me on. Also my biggest win on Pagan prince at ascot in the $50,000 mail on Sunday handicap final was a very proud moment. That was for James Toller and he is one of my main trainers i ride for. My favorite horse would have to be "Classic Millennium" whom i won seven races on and has only ever won for a girl she woo a total of 8 races i won 7 and another girl apprentice in the yard i was at won 1 on her. it was quite funny cause the trainer used to put all the top jockeys on her but could not even run a place with her i think she only ran for girls !
FOTH: Lisa any last words. Thanks for the interview.
LJ: Always have faith in your own ability. Thanks really enjoyed the interview.


Back to our main page