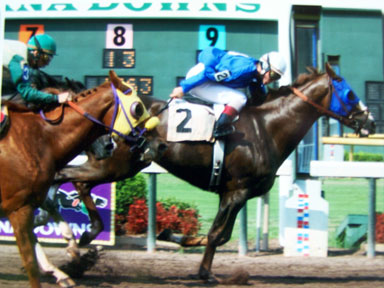 Lucy crossing the finish line with horse "Mean Demand" @ Louisiana Downs
Lucy Buch
Lucy Buch was a jockey who saw the site and emailed me asking to be part of it. A phone call later I got Lucy on the phone and here is her story:

FOTH: Lucy where were you born and where did you grow up?
LB: I was born on October 22, 1978, and I was born in Birmingham, Alabama.
FOTH: Do you have any brothers or sisters?
LB: I have one half brother and one half sister, but I have not seen my half sister since I was like 2.
FOTH: What did your parents think when you 1st became a jockey?
LB: My parents, my mother was totally supportive and my dad was totally against it.
FOTH: Have they ever seen you ride live?
LB: No my aprents have never seen me ride, but my grandmother saw me recently ride for the 1st time.
FOTH: Oh that is nice. What sort of girl were you growing up?
LB: I was a tomboy. I did some pageants and some volleyball, but I stuck with the horses. I have been riding pretty much my whole life.
FOTH: When did you get start to get serious about wanting to become an actual
jockey?
LB: Not until I was 20 or 21. My mother and I were a show jumping team in Alabama and I got rebellious and I moved to California and I hadn't been on a horse in 2 or 3 years and I missed it so bad that I went out to Pleasanton Racetrack and just started getting on horses.
FOTH: Was it very natural for you to go and get up on race horses?
LB: It was very natural.
FOTH: Before you actually became a jockey did you exercise horses a lot before you rode?
LB: Actually I did that for about 6 months and then went right into race riding. Galloping and working horses just wasn't competitive enough.
FOTH: Did you have people teaching you how to ride or did you do it all on your own?
LB: No not really. I got a little bit of advice, but mostly I learned everything on my own. I just learned from Russell Base and other jockeys riding races. There was quite a few trainers against me riding in races and they didn't think I was gonna make and I have certainly proved them wrong.
FOTH: Tell me a bit about what you remember about your 1st race.
LB: My 1st race was in Boise, Idaho. I had ridden some bush track 2 weeks before in a small place called Red Bluff Downs and it is a completely unrecognized track and I won a couple races there and went straight to Idaho. I started working horses for about a month and a half and then went into race riding and I won my 1st 4 races out back to back races. My first horse I won on was from California and he was a big chestnut and the race I believe was 7 furlongs. The horse broke out of the gate and I stayed down riding the whole was until I hit the quarter pole and then my legs got really tired and I kinda had to stand up and then I got back down and then my legs got tired again and I stood up and sat back down and the horses started coming after me cause we were like 12 lengths in front. The horse just re broke and took off and we were 3 abroad when we came across the wire and my horse stuck his nose out to win the race. I was so exhilarated I couldn't believe it and I got the bug then and rode my next race the next day and won it and for 3 or 4 days I kept winning races.
FOTH: Did you get initiated after the race?
LC: Yeah they got me with a bucket of ice water and the girls had paint set up, but they were riding in so many races they didn't have time to get me. I kinda got lucky with the paint. I gone through an accident up in Washington and it took me after that, I broke 7 ribs, it took me 3 years to win another race, which I just did recently back in November up at Remington Park and they re initiated me again with the baby powder and water and everything else so that was neat. I have been initiated 2 times.
FOTH: After you got that rib injury you didn't ride for almost 3 years?
LB: No after the rib injury I didn't ride for about 8 months. It happened at a small bush track in Washington and they have 3 weekend meet and won the 1st 2 races and both were longshots and the watertruck driver opened the barn gates and when I pulled up from winning the race. The horse bolted and threw me into the fence post and the guy slammed the gate into the horse's chest as he was coming out of the gate and the horse spun around and ran over top of me and broke 7 ribs and narrowly missed my head and 3 of the ribs broken were in 2 different places, one was splintered and i couldn't ride for 8 months and after that I went to Oaklawn Park and worked some sales and in between at Keeneland and that just wasn't enough as I was sitting there watch them train in the morning while I was working for Lane's End at the Keeneland sale and I just couldn't stay away from it.
FOTH: How long have you been riding professionally?
LB: I have riding since 2001.
FOTH: When you were an apprentice rider do you think you were a pretty good one?
LB: Yeah I thought I was a pretty good apprentice rider. The apprentice weight was kinda tough for me to make and eventually I dropped the weight. Now I got my journeyman's license
FOTH: What are some of the tracks you have ridden at?
LB: I rode in Boise, Idaho, a few bush tracks in Oregon and Washington. I rode up in Minnesota and Lone Star and Remington Park.
FOTH: I know your at Louisiana Downs right now. How is that going for you so far?
LB: I really like it here. It took me a little while to break in, but I am having a really good year this year and I kinda like the heat down here.
FOTH: Take us through what you do in a typical day.
LB: I get up at 4:30 am and got up and get dressed and get my coffee. I have a 25 minute drive to the track and soon as I get there I start galloping and working horses and usually I am done about 9:30 am if I am lucky. Then I leave and go to the jock's kitchen and discuss business with my agent and try to have some breakfast if I am not riding and if I am riding I will eat some soup. If I am riding I'll go in and take a nap for a couple hours and then prepare to ride the races. If I am not riding that day I'll go and spend time with my grandmother.
FOTH: What are some hobbies or things you like to do when your not riding races?
LB: I like to go to restaurants and go to the movies. I do spend a lot of time taking care of my grandmother. She is 84 years old and lives in a nursing home. That kinda really keeps me busy and I don't really get days off and I just took my 1st day off and went to Six Flags Great Adventure. Whenever I get some free time I just try and relax. I also like to play on my computer.
FOTH: At the tracks you have rode at are the owners/trainers pretty fair to female jockeys and stuff?
LB: Some of the tracks have been pretty good, but Louisiana Downs and Oaklawn Park have been the 2 toughest tracks of woman that I know of. Minnesota likes girls and Remington Park I just shipped in to ride there and they seemed to like girls, Lone Star seems to give girls a shot. Right now I am striving and riding as hard as I can to prove everybody wrong about girls.
FOTH: Do you think another female jockey will ever win another Triple Crown Race?
LB: Yes I do and I hope I am one of them.
FOTH: Do you ever get recognized outside the racetrack much?
LB: I have had quite a few people recognize me outside the track. I take my helmet off in the winner's circle and shake down my hair down and get a neat reaction when they see I'm a girl. So sometimes they recognise me from that and I like to see kids come out and support us and I try and give away a pair of goggles or 2.
FOTH: The jockey colony do you pretty much get along with everybody down at Louisiana Downs?
LB: Pretty much everybody loves me. Yeah it is pretty easy for me to get along with everybody and there is only 3 girl riders down there, me, Stephaniy Judkins and Monica Stanley. I usually I am in the room by myself and the guys pretty much don't bother me.
FOTH: Have you ever been in the slot are over at the track?
LB: I won $ 250 on the Wheel of Fortune. I don't play very often and I have too many other things to spend my money on like horses, I still have show jumpers and trucks and trailers and fixing my house up and stuff like that.
FOTH: How much longer would you like to ride for and do you have any goals you would like to accomplish as a rider?
LB: As long as my body will allow me to ride. My biggest goal to become a Triple Crown winner or at least be riding in it. My smaller goals is to win my 1st stakes race and I rode in my 1st stakes race this year.
FOTH: Is weight ever a problem for you at all?
LB: I don't have having to make anything under 116 pounds. It is really tough on me and I can make it, but it really tough on me. 116 and over is not a problem.
FOTH: Are you pretty much gonna stay down in the Louisiana area or are you going to branch out and say do some riding at Remington Park again?
LB: Yeah I have rode some at Evangeline Downs I forgot to tell ya, but I think I am going to go to Sam Houston and also ride some at Delta Downs. My agent is still deciding whether to go to Oaklawn Park or not.
FOTH: Tell me a bit about this business venture we were talking about earlier.
LB: It is called 'Auburn" (hope that is spelled right-chris) It sort of a Mary Kay thing, but they have all kinds of neat things like foot scrubs, body baths, make up and things for kids and children. It is just going to something I can make some money with in my spare time. I also have the modeling thing with commercials and movies. I was in Seabiscuit and I was in Ruffian. I just would like to see if I can some sponsorship or commercials for me and other jockeys. That is my goal with my talent agency right now. My goal is not to be a top rate model, but it is just things to get open for the jockey business.
FOTH: Who is your favorite horse?
LB: His name is "Mean Demand" He is awesome and I just won a special race on him and he is one of the classiest horses I have ever ridden.
FOTH: Lucy I am out of questions. Anything you want to say to wrap this up?
LB: Thanks for the interview Chris and to all the young girl riders never give up and always strive to achieve and do better. Thank you to my mother for everything she taught me in the horse world I know your up there with GOD and thank you to GOD for all the blessings and all the times you helped me out of sticky situations and GOD BLESS indeed.

Back to our main page