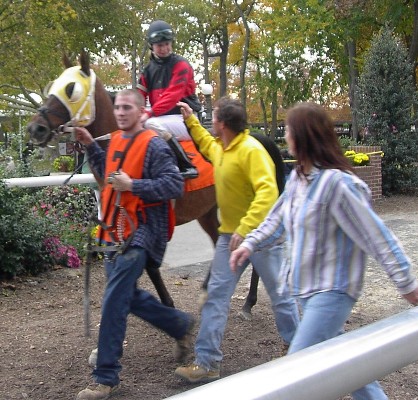 Maria Charles
Maria Charles is an apprentice rider who is current riding on the East Coast and I recently got her on the phone for this interview.

FOTH: Where were you born and where did you grow up?
MC: I was born in Newark, Delaware and I also grew up in Newark, Delaware.

FOTH: What sort of girl were you when you were growing up? Were you a tomboy like most other female riders?
MC: I was a tomboy. I was on the wrestling team in high school and all boy lacrosse team.

FOTH: How did your wrestling career go?
MC: I wrestled for 2 years and it went very well. My 2nd year I was 9 and 3 and they wanted my on varsity, but I didn't want to be on varsity. (laughs) My 1st year I was just playing around.

FOTH: When you were a kid, was being a jockey something you wanted to be or was it like the farthest thing from your mind?
MC: Actually I did know. I have always grown up around horses as I live on a farm and from day one my mom always had me on horses. I always had it in the back of my mind when I was running around saying 'I want to be a jockey, I want to be a jockey." I started out westernizing and barrel racing and all speed races. I started with the race horses about 4 years ago and ever since then I have just kept going.

FOTH: DO you have any brothers or sisters?
MC: There is 5 kids in my family. 1 older sister, 2 older brothers and a younger brother.

FOTH: Have they ever seen you ride do they support you riding. I know your parents do because your dad is your agent.
MC: Actually they have all seen me ride and my brothers, which I'm surprised, actually go to simulcasting to see my ride, which is shocking to me.

FOTH: What event or events actually led to you becoming a jockey?
MC: My dad actually had my on a horse at the age of 14 actually at Delaware, and actually I shouldn't be saying this, he told me and my brother and to put on our helmets and goggles and don't take them off till we were off the track. (laughs) That actually started it.

FOTH: How long did you exercise horses before becoming a jockey?
MC: I exercise rode for about 2 1/2 years.

FOTH: Was becoming a jockey easier or harder than you thought it would be?
MC: It was actually harder. I actually went to New Jersey, to Monmouth Park to get my jockey license. Everybody at Delaware knew who I was, but at Delaware Park you have to go through all these steps to get your license, so I actually went to New Jersey for my boss, Graham Motion and I got my license up there and then he put me on my 1st horse. At Delaware Park I had to take a couple tests and they had to see me coming out of the gate so I had to work toward it.

FOTH: What was your 1st race like?
MC: The jockeys up at Monmouth Park were very good o me and helped me out as much as they could before and after the race. During the race, it was a rush,but it wasn't totally mind blowing, but I enjoyed it a lot. The race is over a lot faster than you think it would be and I made a couple mistakes, but I learned from it.

FOTH: Were you nervous at all in the paddock over at Monmouth Park?
MC: I was a little nervous. I didn't think I would be too nervous, but I was a little. I was very glad it was out of the way afterwards. (laughs)

FOTH: I know you have rode at Monmouth Park Delaware Park, Phila Park and Penn National. Are they only 4 tracks you have rode at so far?
MC: I also rode at Pimlicio.

FOTH: Did you notice a difference at any of the 5 tracks you have rode at?
MC: There is actually a big difference. At Phila Park you cannot ride on the rail (giggles) because it is deep. Pimlicio the turns are very tight. Delaware is sort of like Phila except it depends on the weather. Penn National, that is my favorite track I have ridden at so far. Monmouth Park is also very nice.

FOTH: Did you get along pretty much with everybody at these tracks?
MC: Everybody welcomes you in and everybody was nice.

FOTH: I know you have a couple wins under your belt. How was it winning your 1st race? That was up at Penn National right?
MC: (giggling) Yeah, that was on a horse called "Senteck Sally" and I told everybody before I rode the horse that if this horse doesn't win I am never riding again. And then I got out there and actually winning the race was mind blowing. I was going down the stretch going "on my god" cause I knew I was in the lead.

FOTH; Did you win by a big margin?
MC: Yeah, by like 9 or 10 lengths.

FOTH: What was it like for you after the race was over and you slowed the horse down and you were jogging it back toward the winner's circle?
MC: Oh my gosh I just won my first race, was all I kept thinking about.

FOTH: Did the other jockeys get you after the race?
MC: Yes they did.

FOTH: What did they get you with?
MC: They didn't get me too bad. They got me with 3 buckets of water, shaving cream and powder and eggs.

FOTH: Do you have goals for yourself as a jockey either short term or long term?
MC: I do. I have a very, very high goal. I want to ride like Julie Krone.

FOTH: If some young girl, now I know your young ha ha, but if some girl say 13 or 14 came up to you and wanted to be a jockey, what would you tell her?
MC: I would tell her to take her time and to get everything accomplished that you want to get accomplished before you ride and to know what your doing when your out there and be strong. Take advice from everybody and listen to your peers.

FOTH: Do you have any idea how long you want to ride for?
MC: It depends on how my career goes. I right now plan on riding 5 years, but in 5 years I might want to ride longer.

FOTH: Take us what you do in a typical day.
MC: I wake up at 5:30 am in the morning and I go to work for my boss, who is Graham Motion. I get done about 11:00 am. Then I come home and take a shower and pack my clothes. My mom grabs my lunch cause she goes to every race with me, so she drives me to and from the track. We head off to the track and I go into the jock's room and check my weight, get dressed and check my weight for the clerk of scales and then I go out and I ride. I come back in to the jock's room, take another shower and go home. Get home, go to bed and do it all over again the next day.

FOTH: Is there any hobbies or things you like to do when your away from horse racing?
MC: Well I live on a farm and I have 2 puppies and I love my dogs. I hang out with my 2 dogs and my boyfriend. That is pretty much it.

FOTH: Is there any other female riders or athletes you admire?
MC: There is a couple. Tara Hemmings up at Penn National. Kathy Pelligrino who is also at Penn National. At Delaware I admired: Helen Vanek, Tracey Brown and Darci Rice.

FOTH: Maria I am out of questions. Anything you want to say to wrap this up?
MC: Thanks very much for the interview and if you need anything, just give me a call.


Back to our main page