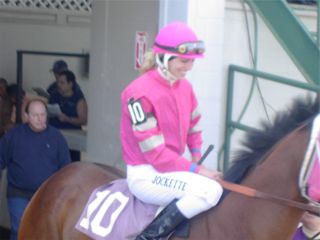 Natasha Bracaloni
Natasha Bracaloni recently began her riding career in the Mid-Atlantic circuit. She started out riding at Charles Town Races, and as of the time of this interview has become a regular on the Maryland circuit as well. A mutual friend put me in touch with Natasha and here is an interview we did with this up-and-coming jockey.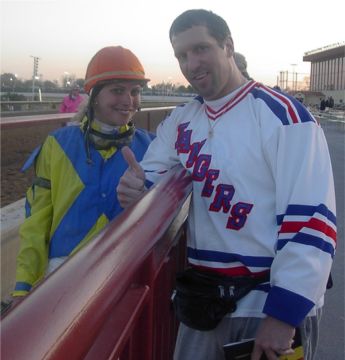 Chris with Natasha Bracaloni at Charles Town Races
FOTH: Where were you born and where did you grow up?
NB: I was born in Frederick, Md. Which is where for the most part I grew up.

FOTH: Do you have any brothers or sisters? Are any of them involved with horses or racing?
NB: I had 3 brothers growing up with my dad and 2 sisters that lived with my mom.... I was the only one that was really into horses as we were all growing up.

FOTH: Describe your childhood, what were you like growing up?
NB: Growing up horses were my life... I would go riding everyday for hours... When I wasn't riding I was being a little tomboy playing football and getting dirty with my brothers.

FOTH: When did you know that you wanted to become a jockey?
NB: I wanted to become a jockey probably around October/November of 2000.

FOTH: How long did you exercise horses before starting your race-riding career?
NB: I galloped for about a year and a half.

FOTH: Did any particular jockeys or trainers help you out when you started working horses?
NB: A lot of people helped me as I was starting but the ones that helped the most were John D. Mckee of Charles Town (trainer)---and then my boyfriend at the time was James Vail and he helped me out a lot. When I stopped riding in Charles Town and started riding in Maryland the jock that has helped me out the most would be Mark Johnston. And I'm very thankful for that.

FOTH: Tell us about your first race. Do you remember the name of the horse and how you did?
NB: My first race... well my horse was Aye Trouble for Cindy Obannon and we ran second... For the most part it was a good race... I got myself in a little trouble at the 1/4 pole but I also got myself out of it. The race it self went by so fast. It felt like as soon as the gate opened the race was over.

FOTH: When you rode your first race, was it easier or harder than you thought it would be?
NB: My first race was easier than I thought it would be.

FOTH: How long was it before you scored your first win?
NB: It took me a while to get my first win... I rode my first race in March and I didn't win my first race until May.

FOTH: What was it like going into the winner's circle the first time?
NB: It was GREAT!

FOTH: What tracks have you ridden? Is there a track you'd like to get to someday?
NB: 've ridden at Charles Town, Pimlico, Laurel, Timonium, Mountaineer, Penn National, Philadelphia, and Delaware... I would like to ride in New York and Kentucky some day!

FOTH: I know you've ridden at Charles Town, a small track, and also at larger tracks such as Laurel. Do you do anything differently when going from one to the other, and which kind of track do you prefer?
NB: At Charles Town you have to watch what everyone is doing... If you're in a tight spot you need to get out, the riders at Charles Town are cut throat... They are only out there for themselves... Laurel is great the riders and the horses have such class. Charles Town has some classy riders... but they also ride in Maryland.

FOTH: Describe a typical day's routine.
NB: Well I wake up at 4:30 am and drive to which ever race track I have to work horses at... which the shortest drive is about an hour... I do all the morning work that I have lined up, and usually a couple of extra's. After galloping I go to the jockeys' room and relax and wait to ride. After my races I come home and relax and chill with my girls.

FOTH: Does your family go to the track to watch you ride and what do they think of your decision to become a jockey?
NB: My dad comes to the races whenever he can... My dad is happy just as long as I'm happy.

FOTH: What other riders do you admire?
NB: Well I admire the way Jerry Bailey rides, and Mario Pino. I like to watch everyone cause everyone has their own style of riding and I want to find the one that best fits me.

FOTH: What do you think needs to be done to give female jockeys more respect in the sport?
NB: Yeah I don't know the answer to this question... But I do know that what has taken me this far is my determination and ambition.

FOTH: Have you set any goals for your riding career?
NB: To be a successful girl rider... and I will do it.

FOTH: What advice would you give to an aspiring female jockey?
NB: It's hard work playing with the boys...You have to work twice as hard to get half as much.

FOTH: What do you think needs to be done to improve the sport of horse racing, in terms of attracting more fans to the track and making them want to come back?
NB: Lots of promotions.

FOTH: What do you enjoy doing with your free time? (I realize it isn't that much!)
NB: Well when I have the energy and the free time I love to go to the clubs and dance with all of my friends. Other then that really its just sit on my couch then go to sleep.

FOTH: Is there anything else you'd like to say to the fans out there who are visiting this website?
NB: Being a Jockey is the most exciting thing I have ever done in my life. It's a challenge... No matter how much you think you know you never know it all. It's hard work, and I love it!

FOTH: Thanks for the interview and best of luck with your riding career!