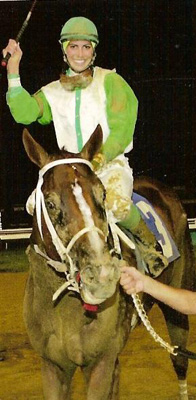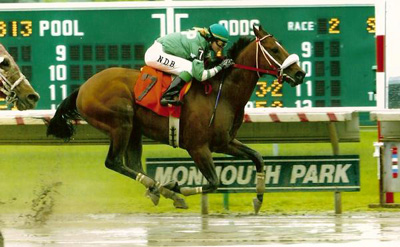 Natasha Bracaloni
Natasha Bracaloni was interviewed many moons ago when this website originally started and I thought it was time for a follow up interview to see what she has been up too, so I got her on the phone and here is what was said:
FOTH: This is the 2nd interview I am doing with you so I am not going to get into all the start of your career, but what have you been up to as far as riding goes the past couple years? I know you are riding at Charlestown now. Is that where you plan on staying at now for the future?

NB: Well in the past couple of years I've traveled the east coast, from Tampa Bay Downs to Suffolk Downs. In this game doors open all the time, but I am happy where I am at now with my business at Charles Town. I feel like I'm riding for strong connections so I am not really planning on leaving, but who knows.
FOTH: Looking back was becoming a jockey harder or easier than you thought it would be?

NB: Oh of course it was harder. (laughs) There are a lot of factors to learn in this business. From the outside looking in, it seems easy.
FOTH: Looking back do you feel you were a good apprentice rider?

NB: No, I think I needed a better clock in my head, and a stronger finish.
FOTH: I know you rode up at Monmouth Park for one summer, looking back was that a good learning experience for you?

NB: I would do that all over again for sure.
FOTH: Now your down at Charlestown. For those who don't know tell me a bit about the track and it is more difficult to ride around a smaller based track than a mile surface like most tracks are?

NB: At Charlestown the horses are closer together and contact is a lot closer. When you go to a mile track, riders pretty much ride their course, but at Charlestown it is very aggressive, you got to get position and intimidate other riders, the turns are sharper and as the stewards say at Charlestown, you are either in their or your outta there when it comes the turn. At any other racetrack, you wanna protect the rider on your inside. Charlestown is a little bit different, but the money is good. I seem to get along with everyone here and really it feels like home.
FOTH: Have you been over to the slots area at Charlestown yet?

NB: No not really. I have walked through there a couple times and one time I put $20.00 in a machine and didn't get anything back so that was the end of that.
FOTH: If I am not mistaken you rode up at Suffolk Downs for 1 year not too long ago right?

NB: Yes I had a very strong summer there in 06.
FOTH: Tell me a bit about that and what made you decide to go head up that way to ride?

NB: Well I decided to go up there when I was down at Tampa (Tampa Bay Downs-chris) when I hooked up with my agent Mike Mazinski (a jockey agent-chris) and he asked me to go to Suffolk Downs. All the people that I was riding for at Tampa, were Suffolk Downs people, so it seemed like the right thing for me to do. Tammi Piermarini was pregnant and she was one of the top riders at Suffolk, with that door opening, I figured that was the thing for me to do.
FOTH: Is there any track you have seen on TV that you might like to ride at one day?

NB: Oh of course. Santa Anita, Churchill Downs, Saratoga, but I did ride up there once, but it was a 1st time starter and it was a great experience.
FOTH: Do you know how much longer you would like to ride for or are you just taking things day by day now?

NB: I don't see myself turning in the tack anytime soon. It seems the longer your in this game and the more you learn, the better you get. And I don't feel like I've reached the highlights of my career.
FOTH: What are some of the injuries you have had so far and were there any serious ones you have had so far?

NB: I've fractured my T-9 vertebrae, I have been knocked out a couple times, fractured my right pinkie knuckle, I have been kicked in the stomach, stepped on. Everything has been a long way from the heart. It's nothing that
is gonna keep me from trying again.
FOTH: If some young girl or boy came up to you and said they wanted to become a jockey, what advice would you give them?

NB: It is a lot harder than they think it is gonna be. I recommend going to a jockey school if possible. They have to be dedicated and determined. I would try not to discourage them; as hard as a life is being a jockey, I feel like I am having the time of my life.
FOTH: Is you winning a race and jogging a horse back to the winner's circle the greatest adrenaline rush you can ever have in your opinion?

NB: Yes. I have to agree with it.
FOTH: Yeah I have heard that from a few other riders as well. Now take me through what you do in a typical day?

NB: On a race day I try to get to the track between 7:00 am and 7:30 am, which means I wake up between 6:00 am and 6:30 am and I get to the track and I usually get on anywhere from 3 to 9 horses. My agent tries not to over use me, but at the same time business is good so we have to try to please everybody. Then when I get home from morning training it is usually around 11:30 am so I try to eat something and then take a nap because I try to get to the room around 5:30 pm and if I am riding in the last usually doesn't run till 11pm or 11:30 pm. If I have a good night I usually don't get to sleep till 2:30 am or 3:00 am and I have to wake up at 6:00 am and do it all over again the next day. So there is usually a nap time and that is usually the weekly schedule unless I have to go to Laurel and then I ended up doing a 20 hour day.
FOTH: Which do you prefer, day or night racing or it doesn't matter to you?

NB: It doesn't really matter to me.
FOTH: What are some things you like to do when your away from the track? Like tonight as we are talking it is a dark night so do you like to go to the movies, watch TV or just relax?

NB: The past couple days I have just had some quiet days, just watching old race replays and watching movies. On some nights a bunch of us play a board came called "Cranium" and we play that about once a week and have the laughs of our lives. That is pretty much it. Monday nights is usually the quiet night for me.
FOTH: Now does racing in the cold bother you or do you just bundle up and go out there and do what you have to do?

NB: I just bundle up and do what I got to do.
FOTH: Have you ever had any problems with weight and do you go to the gym at all or does doing all this working out with the horses in the morning keep you fit enough?

NB: When I had the "bug" I had a problem with my weight and when I was in Boston I had a problem with my weight, that was because the food was so good. (laughs) Here at Charlestown I am 112 or 113, which is perfect.
FOTH: Are you and Janice Blake the only 2 girl riders down there currently?

NB: There is a bug girl named Katie Crews is riding here as well.

FOTH: Do you try and watch your race replays to see if you did anything wrong and stuff?

NB: Oh yeah. I wanna always stay on top of things, constructive criticism is never a bad thing. You only have a split second to make a decision and if I made a wrong move I want to think about what I should have done instead.
FOTH: Now how do you prepare for a race in the room? Do you look at the program etc?

NB: I have an idea who is gonna be where and what they are gonna do, I mean I notice the speed horses and the horses that have cheap speed. (Which are the ones that go to the front and then stop.) I like to have an idea where the horses are usually running. If a speed horses is not up front that is one I am gonna be expecting to come from behind that day. I also like to notice riders. Every rider has a style that they like to ride, so you can get a better idea of how the race will set up. You need to know who the horse to beat is and you might want to take a step of action to intimidate him.
FOTH: When you were becoming a jockey, did you have people teach you how to ride and stuff or were you self-taught a lot and did a lot of it on your own?

NB: I had several people help me with the steps of galloping and working. When it came to racing I always tried to focused on Ramon Dominguez, I would watch him and Mark Johnson cause they were both tall and I felt I could relate to them because I am tall. I still love Ramon Dominquez, I mean if Aqueduct is on and he is riding I will watch him. When I had the "bug" and I was doing something wrong, Ramon and Mark would tell me. Maryland's jocks room was really good in trying to teach. As the traveling has happened, some riders have tried to mislead me, but I'm one that will listen to what the "elders" have to say, but what works for some may not work for others. I always try to do what feels right.
FOTH: Do you feel when you retire that you will stay involved in racing?

NB: I definitely thing it has left an impression on my heart. I will probably always follow the Triple Crown. When I get older I don't know if horse racing will be my main thing, I am not exactly sure as that is the future.
FOTH: Is there any days that stick out in your mind as far as racing goes like winning 3 races in one day, winning on a $100 horse, winning a stakes race and do you have a favorite horse that you have ridden?

NB: One of my favorite horses is "Ms Dazzler" I won 7 races on her. 2 at Charlestown and 5 at Suffolk. She was my little money maker.
FOTH: Out of all the tracks you have rode at is there a favorite track and a least favorite?

NB: I guess Monmouth would be my favorite. I wouldn't go back unless I had quality horses to ride there. I don't have a least favorite.
FOTH: Tell me a bit about the race at Saratoga, what that for you a really cool experience for you?

NB: Almost. The pouring down rain that started as I walked out into the paddock kind of dampened the experience. But It was a beautiful track and was like an amusement park.
FOTH: Do you follow any other sports like football, baseball, etc?

NB: Well I was rooting for New England on an undefeated season. The Giants played a great game. The Redskins would be my favorite team, even though they are not the best right now. Baseball, Fenway Park and the Red Sox have won my heart.
FOTH: Natasha I am all out of questions and I appreciate you letting me interview you a 2nd time and thumbs up for that and anything you would like to add the floor is yours?

NB: Thanks, for having me.

Back to our main page