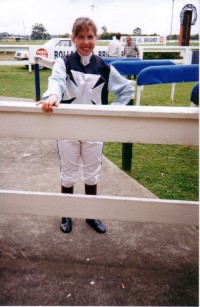 Paula Heath

Paula Heath is an overseas jockey that found our site and sent us an email about it. We asked if we could interview for the page and she said yes. Below is an email interview we conducted with her.


FOTH: Where were you born and where did you grow up?
PH: I was born Aug 1979 Griffith (New South Wales). Then grew up out west at a place called Ivanhoe for 13 years then shifted to Tamworth in 1993.

FOTH: What sort of girl were you growing up?
PH: I was a real Daddy's girl I guess a real rough nut not afraid of anything. I was a real little tom boy all my mates were boys.

FOTH: What did your parents think about you becoming a jockey?
PH: Mum wasn't real keen & Dad just told me to have a good long think about it & warned me how hard it is for a woman compared to a bloke. They had their doubts, thinking I would be home shortly after I left. They are really proud of me (always had been) & come to the races every chance they get especially my mum, They where there for my 1st winner & winning double.

FOTH: Did you always know you wanted to be a jockey?
PH: I always wanted to be a jockey from a very young age, Every year I would watch the Melbourne Cup & tell every one that I was going to end up doing that when I grow up, I always loved horses ever since I could remember. Also my family had a history of being involved in the racing industry. I still have 2nd cousins riding & training in New Zealand.

FOTH: Is becoming a jockey easier or harder than you thought?
PH: To tell the truth before I started I thought it would be easy if you could ride. It was very hard at first getting started finding a trainer to start an apprenticeship with, someone who wants to give you a go. After my apprenticeship finished it was very hard to get on good horses every one wanted the best & male jockeys on. When I was still an apprentice it was easy getting rides with a claim to take weight off their backs but when I lost the claim it got hard. It got easy when you rode winners people sat up & took notice & it is easy when you team up with a good stable who is willing to give you a go specially getting on some handy livestock. There's always plenty of bad days but there's ALWAYS good days around the corner.

FOTH: Tell us what you remember about your 1st race.
PH: I remember my 1st race like it was yesterday, It was at Atherton in the tablelands of far north Queensland for my master Glen Baker on a horse called "Friendly Wager". I was very nervous for this being the real deal not a barrier trial. He was Top weight (56.5kg) in the class 1 hcp over 1200 meters 2nd race of the day. I only weighed 44kg's at the time so the poor feller had to carry so much dead weight. The day started out hot & sunny (Typical of the tropics) then when we all got legged up & did our prelim to the gates it started to sprinkle rain. Well, when the starter let the gates go down came the rain. I couldn't even see past my horses ears that's how heavy it came down. I finished 2nd last it was a huge relief finally getting my first race over & done with. After we got back to the room they decided to abandon the rest of the meeting due to it being unsafe after that sudden storm. That was a good introduction to the racing game.

FOTH: Tell us about your 1st win.
PH: My first win was in the Tamworth Country Music Cup open hcp over 1200 meters on an old horse called Steel Switch Trained by Merve Corliss who was a local trainer who I rode a lot of work for at the time. The morning of the race there was an article in the sports page of the paper with the head line "PAULA STEELED FOR MAIDEN WIN". I said to mum that morning ''knowing my luck I'll fall in to 2nd place or last after the paper writing that article". At the races you could have fired a gun off & not hit any one but as we were being lead around the enclosure a huge crowd flooded in to catch the cup. We won the race by half a length. It felt like a daze of a dream after returning to the winners stall I had heaps of people crowded around & my parents were there I felt like a hero. It took me well over 50 race rides to get to the winners stall.

FOTH: Did you get creamed after the race?
PH: I'm not sure if I was creamed after the race I had a lot of attention every one congratulating me & having a full page color photo on back of the paper. I also received more race opportunities. I was told after the 1st win it gets easier. I didn't expect it.

FOTH: How long have you been riding for?
PH: I have rode most my life but in the racing industry it would be going on 9 years (7 years race riding ) . Not sure when I'll stop riding probably when my body has enough or if I ever be unlucky enough to have a bad race fall that can finish my career.

FOTH: What are some tracks you have rode at?
PH: I rode at heaps of country tracks around New South Wales & Queensland. I've been to two Provincial tracks (Canberra & New Castle) never rode at any Metropolitan tracks yet.

FOTH: Would you like to ride in the US some day?
PH: One day I would love to ride in the States, I'd be there in a heart beat if the opportunity came up.

FOTH: Is it hard being a female jockey in Australia?
PH: It is hard being a female jockey in Australia. The race industry is still very old school male dominated. From day one a female has to work very hard to get some where twice as hard then any male rider would experience. My dad was very right when he told me before I packed my bag to leave home for my chosen career.

FOTH: What was your proudest moment as a jockey?
PH: My proudest moment as a jockey was riding my Mum's first race horse (Evasive Lass) to victory in her 1st race start at Coffs Harbour in a maiden plt over 800 meters. She won by three & a quarter lengths a huge effort by a little pony sized 3 year old (by Eagle eye) Also I'm pretty proud of myself after booting home long shots that pay 100 to 1 or getting a winner for the little trainers who work really hard for that next winner. I'm also pretty proud of my clean riding record I only had two suspensions out of the 7 years race riding.

FOTH: Take us through what you do in a typical day?
PH: My typical day starts at 4 am I would get up have a cuppa, have a wash, etc & then drive to Gladstone (45 minutes) to ride track work for Peter Ball. Gladstone doesn't use the race track for race days so we just use it as a training track also there is cattle that wander around it so the horses are used to doing some cattle work now & then. At the moment I'm riding 8 horses over there for this one bloke. After I finish there I would help Peter & his wife feed them up then drive to Bowraville & ride a couple more. Then I would catch up with some trainers I know & talk about the weeks racing. I would return home around lunch time (if I'm not racing that day) & just do the typical stuff about the house pay bills, etc., On a Monday I would get on the computer to get the weeks racing nominations then get on the phone & ring for rides. But if I'm racing that day I would be home early have my bag packed, shower then get on the road to where I have to race. As a rule you have to be on course an hour before your race. Then in the evenings I go down to the beach (where I live its nice & close) & run 5 - 10 km's to keep fit & weight down. After that I would have dinner then have a quiet & early night so I can get up for the next day.

Pretty exciting.........

FOTH: Are there any other female riders where you ride?
PH: I'm the only female rider in the Mid North Coast. I do ride against other females that come from other areas.
FOTH: What are hobbies and things you like to do when away from the track?
PH: Ahhhhh lets see Hobbies I like to draw when I'm in the mood, when I get time I like reading.

FOTH: What advice would you give to a young girl wanting to become a jockey?
PH: The advice I would give would have to be that you'll have to have the 3 D's Dedication, Determination, & Desire if your missing one of the D's it would be harder to achieve any thing in this game. Also I feel that in this industry the female rider has to show that she has self respect for herself being a male dominated sport people bag you out if you look like doing the wrong thing. Don't let your personal life get mixed up in your Career.

FOTH: Any other jockeys you admire?
PH: I admire Bernadette Cooper who is a jockey in the Metropolitan area.

FOTH: Have you had any injuries so far?
PH: I've been real lucky I only had one race fall as an apprentice at Grafton on Mothers day. I only did cartilage damage on my left side of my rib cage. At Tamworth I had a horse flip over on top of me behind the barriers busting the ligaments in my back & spraining my right ankle. In Verell I was thrown after leaving the mounting enclosure I ended up with bad concussion & sprained neck. The worst injury I had was a broken left collar bone at Track work at Tamworth in my 2nd month of being a fully fledged rider when a horse I was galloping broke his leading leg & crashed into the out side rail the poor bugger had to be destroyed that hurt but also what hurt I was booked at Deepwater that day & had to be replaced.

FOTH: Are the tracks nice where you ride at?
PH: There's a hand full of nice tracks where I ride at. I have plenty of luck at Coffs Harbour, which are nice open tracks then there are some really pokie little tracks (specially the ones that races once a year) they are very tight. We all race on turf but there is some tracks that are dirt. The crowds are not real big (out in the bush/country) some of the tracks that race once a year they always get a huge turn out. In the city they seem to get good crowds specially for the carnivals. I guess the tracks here are different to the States I could imagine that your tracks over there are much more open & don't have to race real tight.

FOTH: Paula, thanks for being part of our site. Any last words?
PH: Your welcome. I'm have to say I never regret becoming a jockey. I made it through the hard part of getting started & proving my doubters wrong I can do it & get better as the years come & go. I love the horses & I have loads of respect for the animal. GOOD LUCK to the girls who want to be jockeys in the future.