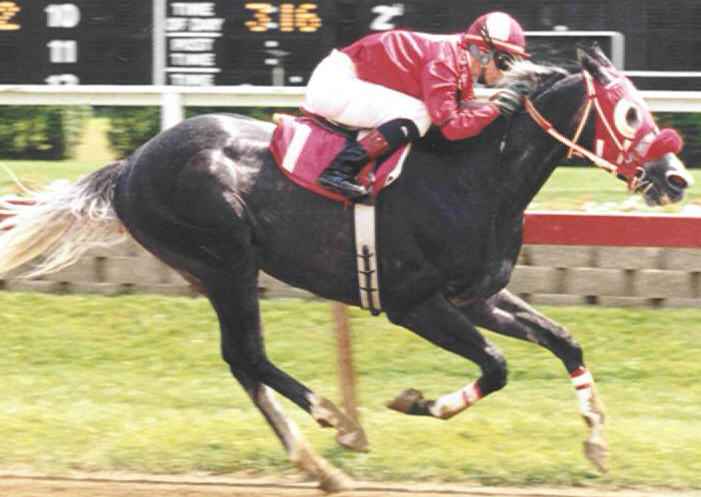 Rhonda Collins
I have watched Rhonda Collins ride a few hundred races on television. (In fact, the night that this interview was done, I watched her ride a horse to a seven-length win at Turfway Park, thanks to the wonder of cable TV racing channels.) Rhonda is unlike several jockeys in that she wasn't riding horses before she could walk. In fact, having spent a good portion of her childhood in Hawaii, she wasn't heavily exposed to horse racing while growing up. But once she decided that racing was for her, she's gone on to be one of the better riders in the sport. Enjoy this interview with Rhonda Collins, the winner of the first Hoosier Park Female Jockey Challenge in 2001.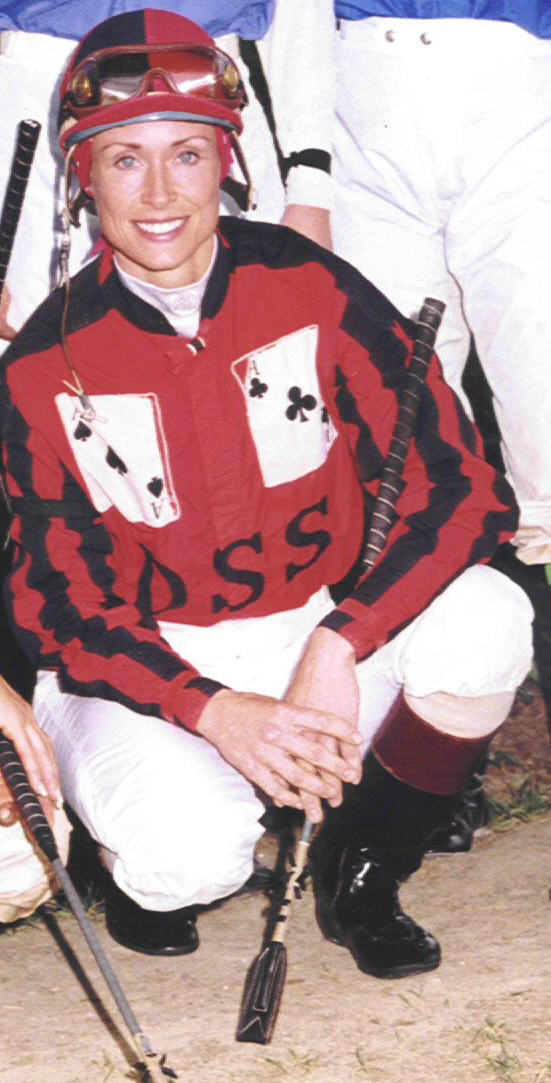 FOTH: Where were you born and where did you grow up?
RC: I was born in Arlington, Virginia. I spent my early years in Scotland and relocated to Honolulu, Hawaii (the island of Oahu ). I was a Navy child.
FOTH: Do you have any brothers or sisters?
RC: I am adopted and while I do not have any blood related siblings I am lucky enough to have some people that are 'just like' brothers and sisters to me. And a few special people that have been 'just like' Moms and Dads to me.
FOTH: Describe your childhood. Were you a wild child, a tomboy, or did you keep to yourself?
RC: I was super-hyperactive and independent as a child. I was not really outgoing and I spent most of my free time at skating practice as I competed in Artistic Roller Skating and Speed Skating. The rest of my extra time was spent studying. I was always wanting to find out more about something and I was taught to find the answers myself.
FOTH: When did you first climb aboard a horse? Do you remember anything special about the experience?
RC: The very first time I rode a horse was at Girl Scout camp in Hawaii. I had always wanted to ride a horse and I was SO excited. It was great, but I kept getting in trouble for leaving with my horse, Shoes, and wandering off of the trail. I thought that everyone was going WAY to slow.
FOTH: When did you decide to become a jockey?
RC: A trainer had been telling me that I should be a jockey (I was 13 at the time and very tiny, as I had always been growing up) and that is how I got into race horses. I had not ridden since Girl Scout camp several years earlier ... and boy did I have a LOT to learn!
FOTH: How long did you exercise/gallop horses before you took out your jockey's license?
RC: Over ten years! After my first year or so working with horses I went from 5 foot tall and 100 pounds to 5 foot 7 inches and 123 pounds! I never wanted to put for the effort to get my weight where it needed to be to ride. I LOVED to eat WAY to much! But as I got older (and luckily more mature)! I became thinner and motivated. All it took was one mount and I was HOOKED!
FOTH: When and where was the first race you ever rode? How did you and your horse do?
RC: I rode my first race on November 18, 1993, at Churchill Downs in Louisville, Kentucky. It was a Maiden Special Weight going 1 mile and 1/16. It was awesome. All of my friends came out and my horse, Dawn D'or took good care of me!
FOTH: When and where did you win your first race? Is there anything notable about that day that you'll remember for the rest of your life?
RC: I won my first TWO races back to back for the same trainer, Ralph Biamonte on Taylor's Star and Save the Fiddle. It was at Fort Erie in Canada and my agent at the time, Ian Watson told me that Mr. Biamonte wanted to let me hang on to one and get my first winner. Well, I got to hang onto two of them and completed the early exacta! I will ALWAYS remember the kindness of Ian Watson and Ralph Biamonte. It was wonderful to have someone give you a chance! But to be honest that extends to a majority of the trainers at Fort Erie. I had a great time riding there and the people were incredible. I would love to go back someday.
FOTH: What tracks have you ridden at during your career? Do you have a favorite track?
RC: I started at Churchill and went to Canada before returning to Ellis Park. After my bug (apprenticeship) started with my 5th winner I went out East and was based at Philadelphia Park, which was and still is my favorite track to ride at. It is a place where if you work hard you are rewarded. It was great riding there also due to the fact that you could ride two tracks a day since there are so many tracks in quick driving distance. I rode at Atlantic City, Monmouth Park, The Meadowlands, Delaware, Aqueduct and Garden State all while living in Philadelphia (which is an AWESOME town)!
FOTH: Of the tracks where you have not raced, which would be the one you'd most want to ride?
RC: I would love to live in New York and ride the circuit.
FOTH: Has the need to maintain a low weight been a problem for you at any time in your career? Do you do anything special to make weight for a race?
RC: With my height my weight has always been an issue. I do not engage in some of the common jockey practices for maintaining weight. I eat a lowfat high protein diet and I work out everyday. I run (even in road races from 5k's to marathons), do yoga and kickboxing. I like to treat my body well so that it treats me well. I do have a weakness for ice cream, though!
FOTH: Have you been told by any trainers that they won't ride you because you're a female?
RC: NO. I am sure that there are people who still feel that way, but thanks to trailblazers such as Patti Barton, Robyn Smith, PJ Cooksey, Julie Krone and Donna Barton, as female riders today we do not face the adversity of our predecessors. God Bless them!
FOTH: Recently, you took part in a female jockey challenge at Hoosier Park. Was this the first event of its kind in which you've been involved?
RC: I had been involved in one before, but it was handled as a publicity stunt with one race and not really that fun. Hoosier Park based a whole day around females in the sport ... from Jockeys to Handicappers to Fillies and Mares in a highlighted Stake for the day. It was a ton of fun! Tammy Knox of Hooiser Park's Publicity Department and Liza Markle Bell, The Director of Marketing Services at Hooiser Park did an incredible job pulling together an event such as that one in a very limited amount of time. It was exciting to meet Caton Bredar, Debra Giglio, Betsy Berns as well as the Beulah Park Twins, Katie and Jenna!
FOTH: Do you have any riders that you look up to?
RC: Yes, Angel Cordero was a brilliant rider. He rode his own horse as well as 3 others in the race it seemed. He is also an inspiration as a human being. He is a true fighter and a class act. Michael McCarthy is my hero. He is tall, like I am and he has a wonderful way of putting everything into perspective. He does not believe in limits-he believes in the possibilities being limitless. I swear, he has ice water in his veins he is SO cool. And what a gifted rider he is.
FOTH: Do you have any specific goals for your career?
RC: As far as riding is concerned I want to improve as a rider everyday. There is always something you can learn and I want to keep doing so. When I am done riding I hope to work in Horse or Sports related broadcasting. I have done television work for Turfway Park and Ellis Park and really enjoyed working on camera. Perhaps TVG will expand in the future...
FOTH: Do you have anything else you'd like to say to the fans out there?
RC: To the fans of racing: THANK YOU. Racing's success is directly linked to Fan support and participation and without you I would not have a job.
FOTH: Thank you for the interview and best of luck in your racing career!
RC: Thank you, Jim!