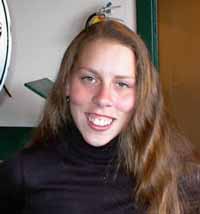 Shannon Beauregard
Shannon Beauregard is an apprentice jockey riding up in Canada. An owner up in Canada emailed me and told me I should interview Shannon for the site. I got Shannon on the phone and here is what was said. A speical thanks to horse owner Pierre Gagne for the hook up.
FOTH: Shannon, where were you born and where did you grow up?
SB: I was born in Quebec, Canada and I grew up in Montreal.
FOTH: Were you a tom boy growing up as a little girl?
SB: Yes, I was a tom boy.
FOTH: Do you have any brothers or sisters?
SB: I have 2 older sisters and 2 younger, step brothers.
FOTH: What do they think of you being a jockey?
SB: They think it is amazing. That it is really cool that I am doing something I've always wanted to do. Cause I always wanted to be a jockey. It is my dream come true.
FOTH: What do your parents think of you being a jockey and have they seen you ride?
SB: They support me. My mom is really proud of me. My father is also very proud of me. My mom watches me ride on simulcasting. My whole family has gone and it was really cool cause I won a couple races.
FOTH: What event or events actually led to you becoming a jockey?
SB: Well, I always wanted to ride. When me and my mom moved I was near a race track and when I was breaking in my horse, a baby, and there was people there that asked me if I was interested in galloping, so I was like ok and I went and started galloping on the reserve.
FOTH: Tell us all you can remember about your 1st race.
SB: My first race there was 6 horses in the field. My horses name was Princess Regina. It was in Kamloops. One of the horses got scratched and for me it was like a morning work cause it wasn't a big field or anything. I ended up getting 3rd.
FOTH: Tell us what you can remember about your 1st win.
SB: My 1st win was last year (2003), in Winnipeg and it was around May of last year and the horses name was B-Trap and I won by 5 lengths or so.
FOTH: What track was this at?
SB: That was at Assiniboia Downs.
FOTH: Did you creamed with stuff after the race and did you know that was coming?
SB: No they held off till the end of the meet. At the end of the meet the guys grabbed me and duct taped me and tarred and feathered me with corn syrup and big bags of colored feathers. (laughs)
FOTH; Do you have any set goals for yourself?
SB: I'd like to be leading rider. I think that is everybody's goal. I want to do well and go to bigger tracks and keep on improving as best I can.
FOTH: What tracks have you rode at so far?
SB: When I started I rode at Kamloops and then at Grand Prairie. I rode a little bit Lupica Downs (hope that is right) I also rode at Hastings Park and Assiniboia Downs, Northlands.
FOTH: Are there many female jockeys that ride in Canada? Any female jockeys you admire?
SB: There isn't many female jockeys. Everybody always admires Julie Krone. In Northlands, the other female rider is Leanne Painter (hope that is right) and she is really cool and gives good advice.
FOTH: Is hard for you being an apprentice rider earning respect of your male counterparts?
SB: No, I don't think it's really tough. The only thing is maybe I hear "oh the big girl won't be able to do that" I have had some pretty good luck with my races so far and I have always hung around guys so it's no big deal.
FOTH: Have you had a proudest moment as a jockey yet?
SB: Well I rode this one horse Artic Sonic and he was claimed for $4,000 by the guy that told you to call me and I ended winning 5 races on him this year all the way up to an allowance race.
FOTH: If a young girl came up to you and wanted to be a jockey, what advice would you give her?
SB: To listen to what her peers have to say and to take all the advice. It takes a lot a lot of hard work and dedication. Show up and time and be polite.
FOTH: Take us through a typical day.
SB: I would get up around 4:30am or cause I like to get there early. I get up on an average of 18 horses a day, galloping. Just got to the track and work.
FOTH: Do you do any special exercises or eat any special foods to keep in shape.
SB: I do a little big of jogging and I try to watch what I eat, but I can pretty much eat anything I want.
FOTH: What are some things you like to do when your away from the track?
SB: I like to watch the races (laughs) I am always at the track. I love sports and I like to dance.
FOTH: Any track you have seen on TV that you would like to ride at one day?
SB: I would like to ride in Australia.

FOTH: How long would you like to ride for?
SB: As long as I can last. Till I am old and decrepit (laughs)
FOTH: Is your broken finger you have now your only injury so far?
SB: Last June I came off on a horse coming out the gate, cause her whole hind quarters hit the gate and I had both legs on the right hand side and I flipped my left leg over and she ducked so I had both legs on the left hand side and I came off and horse stepped on my ankle and broke it. I rode all year with and only took one day off.
FOTH: Are plans on ever trying to ride in the US or are you gonna stay in Canada?
SB: I'd love to ride in the states, but is very hard to get a Visa. That was one of my goals was to try to ride in the states. I also want to go to Woodbine. Hopefully if everything works out that is where I'll be.
FOTH: Do you ever get nervous before the race or are you just ready to go?
SB: I think about the race before the race, but once I'm up on the horse I am ready to go.
FOTH: Shannon, thanks a lot for the interview. Any last words to say before we wrap this up?
SB: Thanks very much for the interview. Thanks to all the people that have supported me and helped me out, given me a shot and given me mounts.