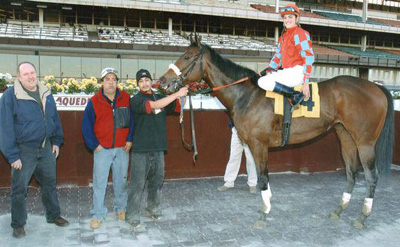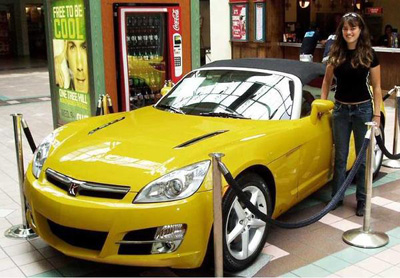 Shannon Uske
Shannon Uske is a jockey I know quite well and when she started riding at Phila Park for a 2nd time I decided it was time to do another interview with her and I got her on the phone and this is what was said:
FOTH: Shannon this will be the 2nd time I have interviewed you so we won't go
into all the stuff that was in the 1st interview, but when you won your 1st
race you were featured in USA Today cause she were 16 when you won that race,
do you still get people that recognize you from that article?
SU: Oh yeah. I don't know if it still due to that article cause I had been
riding in NY and winning a few races up there.
FOTH: OK, now you have been riding a few years now. Do you feel your at the
point now that you are a good journeyman rider and do you watch yourself after
each race on TV and stuff like that?

SU: I still watch and I still think I am improving and I think I have gotten
a lot better since my bug and I got hurt earlier this year and it tough to get
going again, but that's alright.
FOTH: Now that it has been a couple years, how do you feel you did as a "bug"
rider?

SU: It was OK, I won some really nice races up in NY for Allen Jerkens and I
didn't ride as much as most apprentice riders, but I got to ride good quality
horses with some really great riders, so I think that helped me a lot too.
FOTH: Now I know you rode the NY circuit (Aqueduct, Belmont, Saratoga). Now
what was it like for you, being a girl no less, running in some races up at
Saratoga, which in my eyes is one of the 3 best tracks in the country.

SU: That place is really beautiful. It is amazing cause there is always a big
crowd there and the fans are happy and they are just there for the racing and
I have never been to a place like that before. I don't know if there is any
other place like it, it is amazing.
(I have been to Saratoga 3 times and if any of you reading this get a chance
to go there, do yourself a favor and make the trip, you will have an amazing
time-chris)
FOTH: Was that your favorite track to ride at or is it Monmouth cause that is
like your backyard track since you live near it?

SU: I actually love Belmont.
FOTH: Does your family come out and see you ride much now that your riding at
Phila and were riding at Monmouth last summer.

SU: My mom comes down every weekend when she is not working. She works in NYC
during the week and if she is not working she will come down to see me ride.
If she is not there in person she is watching me on the computer.
FOTH: Phila Park, you are riding there now and you rode there briefly for a
few months ago a couple years back. What made you decide to come back to Phila
Park? Do you plan on doing the Phila Park/Monmouth Park circuit now?

SU: Yeah cause Phila is really easy to get to from my house. It is 45 min
from my house and there is no traffic in the morning and it is a good spot for
the winter, I mean no matter where you go there is a lot of riders, so I figured
I'd take a shot there and the money is good (the purses) and hopefully get on
a few good horses and get ready for Monmouth again this summer.
FOTH: Take me through right now what you do in a typical day?

SU: I get up at 5:30 am and in the summertime it only takes me 20 minutes to
get to Monmouth, but now it takes me 45 min to get to Phila and when I get
there I walk around with my agent and talk to people and get on however many
horses I have to get on that day and I go home if it is a non race and I like
to run, but it is too cold now so I'll go to the gym and run and if it is the
summer I'd go run outside, but if it a race day I'll go and ride and
sometimes I like to jog even then and I also have my own horses I ride too, ones I
train to jump. I do that every evening after the races.
FOTH: ( I decide to have a little fun with Shannon and I ask her) Now is it
fun having me bother you every day at the track now that your at Phila Park?

SU: (sounding stunned) What!
FOTH: Yeah you know having to see me and me bothering you all the time (I am
holding back big time as to not to laugh-chris)

SU: No.
FOTH: I am just busting your chops.

SU: (laughing and getting the fact that I was ribbing her) You don't bother
me.
FOTH: A couple years ago (2005) you went out to Canterbury Park and I
actually got to see you ride when I went out there for the 2005 Claiming Crown and I
also didn't bet you and your brought in a $60.00 plus winner on the card that
day. What made you decide to go out there and head out to Minnesota for the
summer? Did somebody tell you that would be a good place to go?

SU: I heard it was a place if you work hard they will give you a shot. I
don't mind working hard in the morning to get a shot to ride live horses in the
afternoon, I saw some girls had ridden out there and had some success, so I
figured I'd give it a shot cause I wanted to ride more since I lost the bug and as
a journey man it is hard to give your business going. Allen Jerkens would
have stood behind me, but I was trying to expand my business and I got a lot of
opportunities out there, but the Mid-West lifestyle is not for me
FOTH: So what was it like going out there. I will guess you were living by
yourself and was like a growing up experience so to speak?

SU: Yeah. I lived by myself and I have been by myself since I was 16 so that
wasn't a big deal.
FOTH: I know you also rode at Hoosier Park briefly as well.

SU: Yeah that is what kinda made want to stick with the East Coast. I went
there with my agent and he really worked hard, I mean he got me a lot of winners
at Canterbury and he told me to go to Hoosier, cause that is where he goes,
but it just didn't work out for me there so I headed back home.
FOTH: Did you ride at Indiana Downs or any of the other tracks out there?

SU: No just those 2 tracks.
FOTH: Did you manage to ride any quarter horses while you were out there?

SU: No I didn't ride any quarter horse races. I never really was into them.
At Canterbury a trainer had one of those horses bolt on my and put me over the rail
and the a**hole trainer didn't tell me he was scared of the gate, that is why he bolted.
I watched one of those races and it just didn't interest me.
FOTH: For a young girl, you have had a few injuries, what was the worst one
you have had and I know last time you were at Phila, you told me you had a knee
injury. Has that totally healed and is it 100%?

SU: What happened with my knee was I grew a lot really fast, I went from
being 4" 10 to 5' "8 within a year in a half and it was just when I was starting
to ride and my ligaments didn't stretch right and it was messing up my bones
and my messing up my kneecaps. My shoulder, I had surgery on my shoulder cause
it kept dislocating. I fell off a horse and got dropped one morning and the
horse ran into the rail and my shoulder came out bad and after that it just kept
coming out so I had surgery on that. It is good now and it is no big deal and
I think I have been pretty lucky. At Monmouth this past summer (2007) I
cracked 3 vertebrae in my neck, but I got really lucky as they told me if you
break your neck that was the place to do it. (laughs)
FOTH: Shannon your one tough girl let me tell ya. Most people might have quit
riding by now after getting a neck injury. Is the adrenaline rush still
there? Is it still the most unbelievable feeling when you win a race?

SU: Winning, that is what keeps you going. Obviously bas horses you just want
to pull them up, when you have a nice horse and you win, that is the main
thing. I think it is the biggest adrenaline rush you can ever have.
FOTH: I know your still a young girl, but how long would you like to ride for?

SU: I want to ride as long as I can. I don't see myself doing anything else.
I will always work with horses.
FOTH: Now would you ever want to become a trainer, ex-rider or a horse vet
someday?

SU: Right now I just want to concentrate on being a jockey. I have a lot of
experience with show horses too. Maybe one day I would want to be a trainer as
you to get to work with the horses and bring them along and winning as a
trainer has to be exciting too.
FOTH: I know you mentioned to me before you went down to Florida, did you
ride all the tracks down there? I know you rode Gulfstream?

SU: I rode one race at Tampa Bay Downs on the grass as a bug and Gulfstream I
rode every year since I was 16 and the same with Calder.
FOTH: Looking back how was it riding in Florida. Are the quality of the
horses down there really good?

SU: It is decent for winter racing. You do find nice horses down there as at
Gulfstream they have horses that are trying to get ready for the Triple Crown
so you get to really watch some nice 3 yr. olds progress and I mean I was
riding for Allen Jerkens down there and 2 Canada trainers gave me a shot and I
rode nice horses down there.

FOTH: Have you ever seen a track on TV that you would like to maybe go out
and ride just one race there?

SU: I'd like to ride the downhill turf course at Santa Anita.
FOTH: Would you ever ride an Arabian horse as they run those races down at
Delaware Park.

SU: I got asked to ride an Arabian, but those horses are so slow.
FOTH: Now when you go to gym what sort of weight lifting exercises do you do
and do you do any cardio besides running?

SU: I go on the treadmill a lot and do the Elliptical a lot cause I remember
when I had the knee problem and they sent me to physical therapy, they said
that using that is better than running cause it is like running with no
pressure. I also like to swim and I think it is good and works your muscle and it
doesn't strain you cause you don't want to get to bulky. You don't want to get to
bulky cause muscle weighs a lot.
FOTH: I know I have seen you working some show horses on what looks to be a
farm. Those are your horses right?

SU: Yeah. I keep them on a farm.
FOTH: How many do you own?

SU: I have 3 right now. Normally I have 2, I actually am going to sell one
and the reason I have 3 is that Allen Jerkens asked me to take one 2 months ago
cause he wanted to retire him and I couldn't say no cause he was my 1st stakes
winner and so I took him.
FOTH: Now do you have any short term or long term goals for yourself as a
rider or are you sort of just taking things day by day right now?

SU: I honestly would like to win some nice races, some Grade 1 races. I think
that would be any jockey's goal. Hopefully one day I'll get to ride a caliber
horse one day.
FOTH: Now what are some things you like to do when your away from the track?
Do you like to shop?

SU: Yes. I love clothes and I really do.
FOTH: Are you like a mall rat, like the Monmouth Mall.

SU: Freehold Mall is better than Monmouth, better stores. (we both laugh). I
like to go out to clubs and dance with my friends and the summer time I like
to go to the beach and work on my tan. I wish I was in Florida on the beach
right now.
FOTH: Do you follow any of the local sport teams at all?

SU: I like the NY Yankees (I knew why I liked you Shannon he he-chris) and
the Dallas Cowboys (oh shannon your a perfect 2 for 2-chris). I don't follow
hockey and I used to follow basketball and I liked the NY Knicks (a trifecta 3
for 3 in my book shannon-chris), but I haven't followed it much lately. I
always know what the Yankees and Cowboys are doing.
FOTH: Have you ever been up to Yankee stadium?

SU: Yeah. I went to a game last year and it was fun and crazy and the NY fans
are crazy no matter where you go. It was a Yankees/Red Sox game too.
FOTH: Did the Yankees win?

SU: Yeah.
FOTH: I am all out of questions and thumbs up for the interview and I am sure
I'll see you around and do you have any last words to wrap this up?

SU: Thanks for the interview Chris and I'll see you around the track and if
your lucky I'll give you a thumbs up. (laughs)

Back to our main page