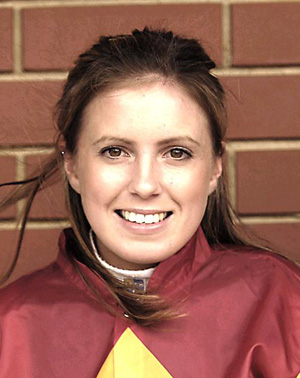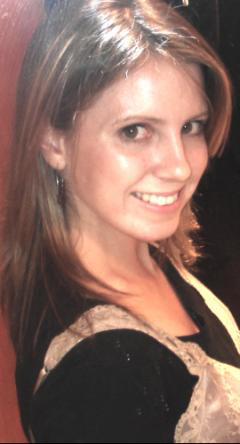 Stacey Rawiller
Stacey Rawiller is another Australian jockey I found on MySpace and I emailed her some questions (same as aj's) and here is what she said to them:
FOTH: Where were you born and where did you grow up?

SR: I was born in Bendigo, Victoria in 1988 and have lived here my whole life.
FOTH: Any brothers or sisters?

SR: Yes, I have 3 older brothers, two are top jockeys Nash and Brad Rawiller, and the other is Todd and he trains but he was a jockey as a teenager. I'm apprenticed to Todd.
FOTH: What do your parents think of you being a jockey?

SR: Dad was a jockey and jumps jockey also, so both him and mum have not known any different having my brothers all ride. They are extremely supportive and I'm lucky to come from such a knowledgeable family.
FOTH: What event or events led to you becoming a jockey?

SR: I have always wanted to be a jockey and I have been working in the stables for my brother Todd for years, since I was about 11. He did everything he could to try to put me off the idea and to stay at school, because he knows how hard the sport is, but I just kept turning up at the stables as keen as ever! Eventually he gave in and said he would sign me up as his apprentice when I started riding better trackwork.
FOTH: Tell us what you remember about your first race.

SR: HA HA I was out the back of the field and I thought I was almost getting onto heels but I was about 2 and a half lengths last! It was all over pretty quick, but I definitely didn't know where I was!
FOTH: Tell us what you remember about your 1st win. Did you get creamed after the race?

SR: My first winner was on a horse called Norm's Boy at Mildura, we led the whole way and won by 3 lengths. He was a really good horse, he was a 4 year old and had already won 9 races before I rode him. I ended up riding my first 3 winners on him at the same track.
FOTH: Looking back was becoming a jockey easier or harder than you thought?

SR: I always knew how hard it was going to be because I grew up in the industry, but I guess I wasn't prepared for how hard it is for female jockeys to get a go. I am lucky because I come from such a respected family and I've been given a bit of a go, but there are times when you are taken off horses or people won't put you on because you're a girl. I see how hard some of the other girls do it.
FOTH: What are some of the tracks you rode at so far?

SR: There are about 58 tracks in Victoria alone, and I have ridden on about 35 of them, but I have also ridden in New South Wales and South Australia. Victoria is no doubt the Racing Capital of Australia.
FOTH: Any funny jockey stories to tell?

SR: There are always funny things happening, but I am out with a broken collarbone at the moment and the fall I had when I did that was hilarious. I put on a bit of a circus stunt out of the barriers in a race at Warracknabeal and unfortunately came to grief, but the video has had a few laughs!
FOTH: Do you get along with pretty much all the jockeys?

SR: Yes, most of the jockeys all get along, especially all the girls. We spend most of the time at the races bitching and gossiping, we have lots of fun!
FOTH: Do you have a favorite horse/trainer/track that you rode at?

SR: My favorite horse would have to be Norm's Boy because I've had 3 rides for 3 wins on him, my favorite track would be Mildura because I've ridden 7 winners there, and my favorite trainers to ride for would be Wayne Nichols, Terry O'Sullivan and Darren Weir.
FOTH: Are there many girl riders and tracks to ride over in Australia?

SR: Yes there are a lot of girl jockeys now, it is not uncommon for 5-6 girls to be riding at a country meeting these days. And in Victoria there is no shortage of racetracks.
FOTH: What are some things you like to do for fun when your away from the track.

SR: I love hanging out with my friends and going out when I don't have rides coming up. Also love shopping. But if I could ride in races everyday I would!
FOTH: Have you ever seen a race in the US and would you like to come over and ride here one day?

SR: Yes I have watched a bit of your racing and I would definitely consider coming over if the opportunity arose one day!
FOTH: What advice would give somebody who wanted to become a jockey?

SR: Don't let anyone tell you that you can't do it because if you work hard and dedicate your life to being a jockey you can be one. But to get to the top you have to make a lot of sacrifices and always try to improve yourself.
FOTH: Do you think female jockeys will ever be given a fair shake in the sport?

SR: Yes, there are girls over here that have already proven themselves to be one of the best, and there are more female apprentices coming through these days than there are male ones, so I don't think there will be any other way around it!
FOTH: What was your proudest moment as a jockey so far?

SR: When my brothers and I all rode winners at our home track last year on cup day. My winner paid $77- even I was surprised!
FOTH: If someone was to visit Australia what would be some places you would tell them to go?

SR: Melbourne, Sydney and the Gold Coast are great places to visit, and there are races held regularly in each city.
FOTH: Do they have many tracks in Australia and have you rode at all of them?

SR: As I said earlier, there are a lot of tracks but I've only ridden in Victoria, South Australia and New South Wales.
FOTH: Do you have any goals for yourself?

SR: I want to outride my claim and get plenty of rides when I come out of my time. To win a group or listed race would be the icing on the cake!
FOTH: Do you like the dirt or the turf racing better and why?

SR: I have only raced on dirt a couple of times, but turf tracks are definitely better to ride on and the racing is known to be better. Dirt tracks in Australia are usually at really small country towns and the racing is for weaker horses.
FOTH: How long would you like to ride for and can you make a decent living being a rider?

SR: I hope I will ride until I am about 30. You certainly can make a decent living as a jockey over here, if you ride at a couple of race meetings a week.
FOTH: Any last words.

SR: Thank you very much for the interview.


Back to our main page