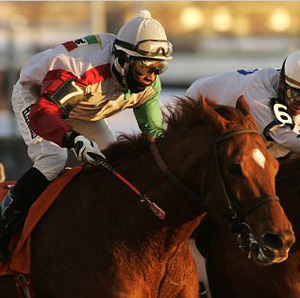 Sylvia Harris
Sylvia Harris just recently won her 1st race as a jockey and she is 40 yrs old and she is has had a long struggle to get to where she is at today. I got her on the phone for an interview and here is what she said and also she is a black female jockey, and she is not the 1st black female to win a race, but she is one of the few and this is her story.
FOTH: My 1st question is where were you born and where did you grow up?

SH: Actually my parents were in the military and I was born in over
Frankfurt, Germany. I grew up in Northern California.
FOTH: What sort of girl were you growing up? Were you a tomboy like most of
the other female jockeys I have interviewed?

SH: Yeah, but I loved my dolls and stuff don't get me wrong, but I ran track
and field and I was a star athlete in track and field and gymnastics and set
quite a few records in my hometown. I was pretty athletically involved as a kid
and I did piano lessons and I really had a fantastic career as a kid.
FOTH: Growing up did horse racing or being a jockey ever enter your mind or
was that something that you thought about years after that?

SH: Yeah I wanted to be a jockey from a very young age. I wanted something to
do with animals as I was animal crazy and wanted to be a vet and my dad did
play the horses here and there. He wasn't a big gambler, but when the horses
would be at the fair we would go watch the horses there or we would go to Bay
Meadows or Golden Gate Fields and the horses were just good for me. I was
absolute horse crazy. One of my most vivid memories was being a child at the races
and having my hands on the chain link fence and just watching the horses just
fly by. I think part of it was due to how fast they were going with me being a
runner. I didn't get beat from like 2nd grade to 11th grade and I remember
the girl that beat me, Loretta Aquistapace, but I never lost another race and I
think the connection was that the horses were runners and they were fast. I
wanted to do it, but my parents wouldn't let me. Now I know why: it's dangerous. I
didn't realize it and I held a grudge until the day I won, Nov 1st. The day
before 2 boys went down in a terrible spill and that was very eye opening to me
and that is probably why your parents didn't want you to ride.
FOTH: Your 40 years old now and you recently became a jockey, what stuff did
you do in the past before you actually became a jockey?

SH: You probably read I had a bi polar disorder when I was 19 and of course
it is a detriment and defiantly takes you on many detours in life. Now I
that I am where I am at I don't regret it, it has been a major part of where I am
at, but it does hurt me being 40. Looking back on what could have or should
have done 20 years ago, I do have 3 children so that was a major concern in my
life and I did go to beauty school. Most things in my life I have not
completed and this was probably the only thing I have completed to some degree. I
don't think I'll ever finish school, I think there is always something to learn
and I would like to take more equine courses and maybe have my own stable one
day or train for someone. I don't want to leave this business as it has given my
a sense of belonging.
FOTH: Let's hit the fast forward button for a minute and I am not going to
be like the media blowing this up that you won your 1st race as a 40 yr old
jockey, but what event or events, like let's go back like 2 years, like I
remember you posted on my message board about a year ago about how
tough it was for you out at Hawthorne, now did you start galloping and exercising horses
with the goal to be a jockey?

SH: When I first started galloping and got my ex-rider license it had been
pushed down and the more I got involved and the more I talked to people 9 out of
10 would tell me that I was too old and that nobody was going to help me and
that I was lucky that I even learned how to gallop and the guy that helped me
learn how to break babies died 6 months later. So I was just hitting walls and
I was saying to myself "just be happy your around the horses," but the goal
was to be a jockey, and when I got here I didn't expect to hit all the walls
that I did. Every jockey I talked to said the same thing as I was intimidated by
them. Here I was meeting all these famous jockeys and they are all telling me
"are you nuts I wouldn't do that if I was you, I would just continue to
gallop or to get a trainers license." On the other hand I would get that one person
telling me I looked good on a horse and that I should be a jockey. It peaks
your motivation and I don't believe a dream ever goes away out of one's heart
if it was meant to be.
FOTH: So you were going through all this bulls**t of people telling you not
to become a jockey etc, did that discourage you a lot and having the jockeys
being up in the room telling you not to become a jockey, what kept you going?
Was it screw them I'll show them up?

SH: Sometimes it was that, "who are you to tell me I can't do something" and
sometimes when people tell you no that is all the motivation that you need to
do something. Yeah there was times I got angry and yeah I knew it would be
hard and if I waited another 4 or 10 years I knew I couldn't do it, so there was
that and there is faith that comes into play. I wouldn't be here today if it
wasn't for faith and horses. I know I wouldn't. Most people will bi polar
disorder are dead by my age.
FOTH: Now when you were getting ready to ride did you have any problems with
your weight at all?

SH: No. I eat what I want to eat. This last week I had to do 109 for 3 days
in a row, I had to do 107 and the majority of the time I have to do 112. I stay
between 108 and 110 anyway. I eat whatever I want. Yesterday I ate chicken,
pasta, lollipops, Reeses Cup Bars. I don't like to skim on my food. Do I eat
healthy most of the time? Yes, I do. I don't jog and stuff. My metabolism has
always stayed high.
FOTH: What was it like for you when you actually, physically got your
jockey's license and you were holding it in your hand and it read "apprentice jockey"?

SH: (laughs) I was like, put it this way when I taken to Toys Are Us when I
was a kid and I ran through the aisles and grabbed everything I could possibly
fill up with, that is what I felt like. (laughs).
FOTH: Tell me a little bit about your 1st race, was that at Hawthorne or
Arlington?

SH: It was at Arlington.
FOTH: Were you nervous at all, getting dressed and stuff etc?

SH: That part I was completely nervous about. I didn't realize when you have
your weight that, that includes the saddle and all, so the weight I was
supposed to be was actually over (laughs). I thought you were that weight physically
and the tack went on top of that. So I was a nervous wreck basically. Once
we were in the gate I felt calm and had that focus and thank god I had a calm
horse, Manny Perez gave me that mount and he gave me my 1st two mounts, which
were approval mounts. Yes, we lost by quite a few football fields, were we
competitive, no, but that is OK and there was no problem and sure I would have
liked to be up in the pack more cause that is where all the excitement is. It
wasn't, the adrenaline rush wasn't there for the next few races, but it was safe
trip and that is what the stewards wanted.
FOTH: Lets fast forward to your 1st win, which wasn't too long ago. How many
races did you ride before you got this 1st win?

SH: It was like the 15th race.
FOTH: Was it on a long shot, a middle of the road horses or the favorite, the
race you won?

SH: Actually about 3 weeks prior I had gotten 3rd on this same horse and
actually he went off at pretty good odds and might have been one of the favorites.
It was beautiful and I had been getting on this horse every morning so they
was good communication. I think that is what helped to win. I had been getting
on him since October every morning (she won the race I believe Nov
3rd-chris) and I think that made a world of difference and to be honest with you,
quote, unquote, I probably have been on better horses, you know what I mean, more
sound horses, more live horses, but I think because he and I had established
a communication, he carried me across that line. there is no way in the
world, when I look at the tape now, i had no clue we were that far ahead. I had no
clue whatsoever. What is interesting that was a horse at Arlington Park and I
was working with another trainer and that was the horse he looked at that he
wanted to claim and I knew nothing about the horse, I wanted the horse cause I
liked his name. I like his sire. Of course we ended up claiming him and boom
I get my 1st win on him. It was beautiful and like time stood still. I was
happy after that win and I wasn't doing it for the money. Now I can go onto the
next chapter in my life. And I had another win on him 3 weeks later.
FOTH: What was it like jogging the horse back to the winners circle? Were you
totally blown away?

SH: I didn't even know where I was going. I was blind as a bat with
happiness.
FOTH: Did the jockeys get you up in the room after the race?

SH: Yeah a little bit. They threw some water on me that's it. I think they
thought I'd get mad. My valet had quit before the race so I think everybody
thought I'd be a little upset let's put it that way. (major laughter). He quit on
me right before I won. He didn't get his pay for that win now did he? (we
both laugh)
FOTH: Are you surprised at all this press you have been getting? I mean you
got an article in the NY Times, by the time this comes out you will have been
on Good Morning America, etc? I have had reporters emailing me asking for info
on you, etc.

SH: Yeah because I didn't foresee any of that. I didn't do it for that
reason. I mean there obviously comes a point in time where people alert you to the
fact that maybe there is an agenda here, you realize certain things you had to
overcome and start tying it together, but I don't want that to distract from
what I love to do whether that is in the morning or the afternoon. My favorite
place is on horseback. Even sometimes to the beggaring of my family, that is
where I have to be, it is not a matter of wanting, it is where I have to be. I
need to do that everyday. I don't want the other opportunities to distract
from that, so I can easily see how that can happen. I don't know how these other
jockeys do it and I am not Julie Krone or Mary Doser. It is just something in
the story that caught peoples heart, somebody asked me what took you so long,
why are you doing this at 40? I got distracted and that is what happened with
my life and then it just got snowballed from there.
FOTH: How long do you plan on riding for? Are you going to ride through your
apprenticeship or are you taking things day by day so to speak or whatever
happens, happens?

SH: I am kinda there right now cause right now I made my goal come true and
I don't want to get to focused as to where do I go from here and ruin it. i
love riding in the afternoons, but I don't want it to get to the point where I
am not getting any mounts and then disappointment will step in as I forget I
got fired a few years ago for now cleaning a stall fast enough. I am happy
where I am at and eventually I'd like to have my own stable.
FOTH: If some young girl came up to you and said she wanted to become a
jockey what would you tell her?

SH: Never give up and keep a smile on your face if that is what you love to
do cause the happier that you are, every day no matter what field you are in
and whatever your dreams or gals are that is going to bring it to you. Not
neglecting somebody else is trying to do or stop you, just go out there and find a
way to make it happen. Keep the negative people away.
FOTH: Do you think another female will win a Triple Crown race?

SH: Absolutely.
FOTH: Sylvia I am out of questions. Good luck with everything and thumbs up
for the interview. Any last words you want to say to wrap this up the floor is
yours.

SH: I just want to thank everybody for being an encouraging factor in this
industry whether it was for myself or somebody else. When you have been doing
this all your life and you have somebody that comes in and has no idea what they
are doing and shows them patience and understanding, that makes a difference,
and it does make a difference to a lot of people involved in it.

Back to our main page