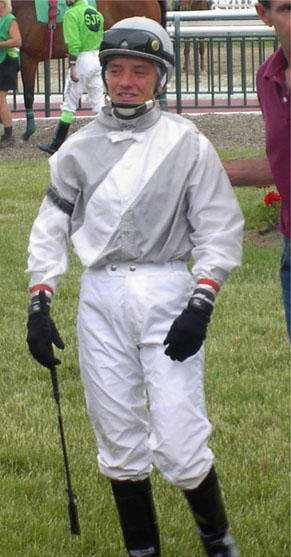 Tracey Brown
What a great double birthday present. I get to see Tracey Brown win 2 races and I talk to her later on that night as she is driving home and we both have known Tracey for about 2 years and it is our pleasure to have her up on our page.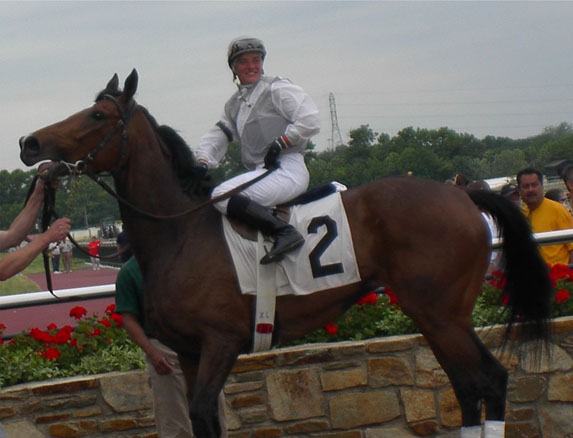 Tracey Brown in the Philadelphia Park winner's circle
FOTH: Where were you born and where did you grow up?
TB: I was born and raised in Richmond, Virginia for the first 23 years of my life.
FOTH: Do you have any brothers or sisters?
TB: I have one older brother, one older sister and a younger brother.
FOTH: Are you close with your parents and what do they think of you being a jockey?
TB: Very close with my parents. They are model parents and they love me riding. They don't have any complaints. They worry about me getting hurt, more so like most parents, but very supportive of me.
FOTH: What sort of girl were you growing up and did you have a lot of friends?
TB: I had a lot of friends, but from the age of 14 on I spent a lot of the times at the barn so I really didn't have a lot of close friends, most of my friends were horse related. I guess I was like a tomboy growing up more or less.
FOTH: Did you have any jobs before becoming a jockey?
TB: Yes. First of all when I got out of high school I was an administrative assistant and then I worked as a dental assistant while galloping horses on the farm at the same time I was doing all of this. I left Virginia and came to Maryland and became a jockey.
FOTH: What event or events led to you becoming a jockey?
TB: I started out with a 4-H Pony Club when I was really young. I am the only one in my family that had any interest in horses at all. My parents always made sure I had a pony or a horse or some sort of 4 legged creature so I was really active in 4-H, rodeos, barrel racing, etc. Then a guy that I was helping doing some farming, which he broke and trained thoroughbreds. I started working for him when I was 14 breaking babies and the rest is history. (laughs)
FOTH: Did anybody take you under there wing or try and talk you out of being a jockey?
TB: Everybody was real supportive and I never had anybody try and talk me out of it. I always pretty much wanted to be a jockey and fortunately, I'm small and short and light and have a natural ability so everybody stood by me pretty good.
FOTH: Did it feel natural getting up on a horse or did you have to adjust to it?
TB: I always felt very natural getting up on a horse. I always loved horses and always wanted to ride em so I just took to them right away. I never needed a lesson.
FOTH: Looking back is being a jockey easier or harder than you thought it would be?
TB: I think it is a little harder that I thought it would be. It has always been a little harder for the girls. We have to work twice as hard as the guys do just to keep our foot in the door. I paid my dues as a bug rider and my first 5 or 6 years as a journeyman, so now I'm kinda picking and choosing who I'm gonna ride for and the horses I'm gonna ride. It is a little easier now than it was back then, but that is cause I can be picky now.
FOTH: Tell us what you can remember about your first race.
TB: It was on a horse named 'Dale Vain." It was at Laurel Park. The trainerís name was Derek Allen and it was in the slop and it was a little scary because it was my first race. Everything worked out well and the jockeys there were excellent. The horse finished third and it was exciting and a fun day. The race went pretty smoothly.
FOTH: Tell us all about your first win.
TB: It was on the same horse on the third time I rode him. It was also at Laurel Park. I won by a length and a half and it was very exciting. The best part was that my horse was dead last till we got to the 1/4 pole and we just circled the field and drove away which was exciting.
FOTH: Did you get creamed after the race?
TB: Oh yeah. It was the last race of the day and I thought they would all be gone, but they weren't. They all waited around for me. They got me with eggs, having cream, shoe polish and all kinds of stuff everywhere.
FOTH: What tracks have you rode at and how long have you been riding?
TB: I started in 1993. I have been out twice with injuries so I have been riding for 9 years. I have rode in New Jersey, Pennsylvania, Delaware, Florida, Maryland, and once or twice at Charles Town and Virginia.
FOTH: You seem to be a part time rider now. Has it always been that way? If not what event or events led to you riding part time?
TB: When I started out I was pretty much full time, but I like I said now I can pick and choose who I want to ride for and the horses that I want to ride, so it makes it a little less stressful. I gallop horses full time for John Kimmel who has 3 divisions. One in New York, one at Monmouth and one at Fairhill, MD. I work for him at Fairhill and go to Gulfstream in the winter. It is a really good job. I get on some really, really nice horses and the pay is good. I just do the jockey thing as a part time job. I love it so much I can't give it up. I do it enough to satisfy the urges that I have.
FOTH: Do you find it tough finding mounts in Maryland?
TB: The people I ride for are based out of Fairhill so I have no problems. The people that I ride for are pretty loyal and they stick by me and I do well for them and they stay with me all summer till I leave for Florida.
FOTH: What injuries have you had and what was the worst one?
TB: I had a torn ACL, few concussions. Worst one was in 1999 I had a horse break down on me and I broke my ankle and foot. I have 6 screws and a plate still in there. That was probably my worst injury. I was supposed to be out 4-6 months and I was back in 3. Been lucky over the years. The only other injury I had, I was hospitalized, I got kicked in the stomach and I had a lacerated liver, other than that I have been pretty fortunate.
FOTH: Do you have a favorite horse, track and trainer you like to ride for?
TB: I can't say that I do. All the trainers I ride for are great people. They stand by me and they work hard. The horses I ride for I like them all evenly. They all seem to run hard for me and try. That is all I ask. I like to ride at just about any track.
FOTH: What advice would you give to a girl who wanted to become a jockey?
TB: I think the first thing is to get a lot of experience before you start riding. Galloping and doing lots of ground work. Also finding a trainer that has a respectable stable that will stand behind you. It is very hard for a girl rider anyway and to find a good trainer with a good horse stable is hard and you sometimes get discouraged riding a lot of bad horses that no one else wants to ride. I think you should take your time and not be in such a hurry and just work hard before you start and earn people's respect.
FOTH: Do you feel female riders don't get the respect they deserve in this industry?
TB: I think some of them don't. I think the bad riders that are girls stand out more than the bad guy riders cause they are girls. There are quite a few girl riders that don't get the respect that they deserve. I guess that is the way that it is in a lot of sports. Woman have to work twice as hard and they don't think we are strong or athletic. When it comes down to it, the best horse wins and getting the best trip. If your strong and smart your gonna win. If doesn't matter if your male or female.
FOTH: How much longer do you think you will ride for?
TB: It's hard to say. I miss it when I am in Florida for the 3 or 4 months I am down there. I am itching to get back into it when I come back up here. I guess whenever I don't feel like doing it anymore. I won't do it if I don't enjoy it and right now I love it. It is fun right now. When it's not fun anymore I won't ride anymore.
FOTH: What do you like to do when you are away from the track?
TB: I like the NFL. I am pretty into that. I spend a lot of time down the barn so there is not a lot of time for really anything. I enjoy volleyball, but I can't play much due to my ankle injury. Mostly horses is what I do.
FOTH: What do you remember about riding the very last meet of Garden State Park besides meeting me?
TB: (total laughter from Tracey) It was sad. I knew I'd be riding there for the last time. It was almost like leaving an old friend. I always did good there. It was a beautiful track. Real shame they could not keep it open. I remember it wasn't a big crowd. It was like going to a funeral almost.
FOTH: Well at least you won on the turf on a 22-1 shot in your last ride there and you flexed your muscles for me in the jock's room area ha ha. Any other female riders you like or admire?
TB: I get along with all the girls. Nobody I dislike. Alison Hershbell and I have been friends for years. We hit it off at Delaware. She I've known the longest. I get along with all the girls at the tracks I ride at.
FOTH: Any last words? We appreciate the interview Tracey.
TB: I hope this web page is a success. It is very exciting that finally someone is doing something for us girls. (it is our pleasure when we get to interview such nice jockeys as yourself) I hope everything works out and develops well so you have to keep me posted on how it goes. Hopefully I'll have a good year so you can write a lot about me. (giggles) Thanks for the interview Chris and happy birthday.