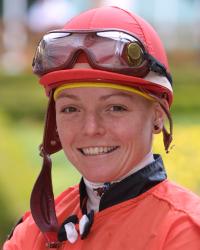 Zoe Cadman
When we started this website one of the jockeys I wanted to interview was Zoe Cadman. I followed Zoe via the world of simulcasting while working over at Garden State Park. After a few emails and phone calls I managed to get Zoe on the phone for this great interview with one of my favorite riders and a great personality to boot.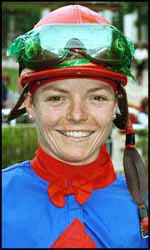 FOTH: I understand you were born in Africa. What part were you born in and how long did you live there? Did you come from a large family?
ZOE: I was born in Jahannesburg in South Africa and I lived there till I was 6. I have a twin brother who has nothing to do with horses, he hates horses and he still lives in England.
FOTH: How long did you live in England? Prior to moving to England, did you have any interest in horse racing?
ZOE: No, cause I moved to England when I was 6. As far as horses were concerned, I didn't even have a pony then. I might have sat on them occasionally, but that was about it. I basically lived in England till I came to the states in 1994. (cool the year the N.Y. Rangers won the cup)
FOTH: What sort of kid were you growing up?
ZOE: Oh God you name I probably did it. Some of which we don't really need to mention. (we both laugh) I mean I was more of a tomboy from till I was 13 or so, actually I still am. I had my ponies at home and I belonged to the pony club and show jumping. I really did a lot of horse stuff and I went out and partied and stuff with my friends. I was a member of The Young Farmers and I was from the country so that was the big thing to be into.
FOTH: What event or events led you to becoming a jockey?
ZOE: Well when I was going to school initially I wanted to be a 3-day eventer and then I did a work experience when I was 13 in a steeplechase yard and decided I wanted to go steeple chasing. I used to ride out in the morning before school when I was 15 and I left home and went down to Devon and I did work 3 day evening yard. But we also had young thoroughbreds to break and we used to do a lot of schooling with the steeplechasers. So I was there for about a year and upon leaving there I went to work in a Point to Point yard which is steeplechasing and we had flat horses as well and I just gradually worked my way into it. I was there for a couple of years and I moved to Newmarket which is the hub of horse racing in England and I got a job in a proper flat yard.
FOTH: What made you decide to come to the US? Ws it one person who talked you into it or at one point did you decide you wanted to become a jockey and you figured the US was the best place to be a jockey?
ZOE: Well I had been thinking I wanted to be a jockey for like 3 years by then. I was like "Well I know I had a lot to learn so I ended up in Newmarket" and I went through the ropes there and eventually decided I think at one point I decided I can't do it in England unless I'm related to someone or someone gives me a leg up which really wasn't gonna happen at that point so I figured I'd go to America and try my luck there. I really didn't know anyone. I just got a number off a friend of mine and told me to call Mike Dickinson who was in Maryland at the time. So I called him and he said 'Come on over" so I did.
FOTH: I know you didn't actually ride in England, but what difference do you see in horses/jockeys in England versus the US?
ZOE: Obviously it is the style. I never really adapted to the English/Irish style of jumping up and down. Thank god! (laughs) #2 a lot of it is pace. Jockeys over here are a lot more aware of pace which I found out when I got here. But you roughly have to know how fast your going.
FOTH: What made you go out and ride the Illinois (Arlington/Sportman's/Hawthorne) circuit? How come you didn't ride at Laurel/Pimlicio since you were already in Maryland?
ZOE: Well cause the East Coast seemed too girlie to start with. I didn't just want to be another girl starting out on the East Coast cause I knew it was easier. It didn't really appeal to me, the East Coast. I'd been to Arlington probably before 3 or 4 years before and I loved the place. I thought it was beautiful. The guy I was galloping for Mike Stamus was going there for the summer so I said "Oh why the hell not" so I got there and finally got my papers sorted out and he is like "When ya gonna ride?" and I said "Soon...soon" so I got my papers stamped and I was riding by next week and he put up on my first winner.
FOTH: Looking back now were you at all surprised at how well you did as an apprentice rider considering the circuit you rode on was the not the easiest?
ZOE: Well that was what they kept telling me. I guess I was a little surprised, the main reason why I got my papers sorted out was the fact that I wanted to do good off the bat and I didn't want anyone coming along and saying "You're illegally here" I had some pretty high hopes I would do good straight off the bat. Winning your first race kinda perked everyone's ears anyway. And they needed perking. (laughs)
FOTH: Out of the 3 tracks in the Illinois area what do you think is the easiest of the 3 and the hardest of the 3?
ZOE: I think to me it just really depends what kind of horse you're on. Sportman's has caught me out a lot and it catches a lot of people out cause you might start making your move at the head of the stretch, but it is a damn long stretch and your gonna get caught. The track teaches you a bit of patience to begin with and obviously I love Hawthorne cause I go good there (we both laugh) Arlington is right by my house, why wouldn't I love it? (laughs)
FOTH: After the Hawthorne meet ended in 2001 you decided to try your luck at the Fairgrounds in Louisiana. Looking back now did you think you made a good move going down there?
ZOE: Well when we came to Chicago, we planned on riding Arlington and then ride a bit at Hawthorne and leave early for the Fairgrounds meet, we knew we had to be there early to have any shot. Then I started doing so well at Hawthorne and I was like "I'm tied for leading rider I'd be crazy to leave now" so we stayed right to the end of the meet. Then I went to the Fairgrounds and it is tough breaking in there when your not there from the beginning. We did find it a little tough and that is just the way it is down there. There is like 30 jockeys in the room and they can have their pick of who they want. If they can get Robby Albarado then they are going to get him and I can't say I blame them.
FOTH: How did it feel to be the first female jockey to win a riding title at Hawthorne? Was it close or did you win the title by more than a few wins?
ZOE: It was close all the way through the meet, me and Chris Emigh. I think in the end I won by 3 wins. Some days I would win 3 wins and he would win 3 wins. It went like that throughout the meet. As far as being the first female, well I didn't know I was the first female, I just knew I won the riding title, which was just great cause that is all I wanted to do.
FOTH: You were also the first female rider to ride 3 winners in one day at Arlington Park. How was that accomplishment for you?
ZOE: I was just delighted to win 3. I was actually wanting to win 4 cause the next race I rode in ran second. I think it was just great. Anytime you win it is a wonderful feeling and to win 3 is just fantastic and I didn't know it was anything to write about cause Mark Guidy seems to do it all the time and nobody wrote speeches about it. It was great.
FOTH: How did it feel getting up on a horse for the first time here in the US? Are the horses much different from say the horses in England?
ZOE: Horses here tend to be, because they are trained on the race track and might come out of their stalls for 20 minutes on some days, are a lot more high strung than the horses in England. A young horse in England would be 3 or 4 years old and here when they are 4 they are tired and old. It's a whole different ballgame. They take everything a lot slower and horses don't even break out of the gate, they just come out and walk around cause they are gonna walk their 1st mile and then sprint home the last quarter. It is a completely different way of doing things. It's not bad. I think some of it is great.
FOTH: Tell us what you remember about your first race as it was also your first win. Did you get the first win race ritual and did you know it was sort of a tradition here in the US for jockeys to do that?
ZOE: I knew it was a tradition, but nobody was expecting me to win my first race. It was at Arlington Park and that was good. I didn't even have a whip, so I didn't even drop it. I did drop it the next day. It was for Mike Stidham and it was great and I couldn't wait to get back to the jocks' room and have a beer.
FOTH: Did they get you with anything after the race?
ZOE: They didn't have anything ready. I think they may have thrown in some shampoo in my hair which was fine by me cause it saved me from doing it. (we both laugh)
FOTH: That's funny.
ZOE: I was looking for conditioner, but they didn't have any.
FOTH: In the summer of 2001, in June, you came out to ride in a $150,000 stake race at Philadelphia Park. You only rode in that one race, but what did you think of East Coast riders?
ZOE: Most were friendly. I knew Todd Glasser and Kendrick Carmouche.
FOTH: Do you remember a certain somebody getting his picture with you and then asking you to hold up his magazine to take a picture of you holding it? (see pic with this interview-Chris)
ZOE: That would be you and I probably said "What is this?"
FOTH: Those were your words, but you were nice enough to hold up the magazine. (we both laugh) You also won a stakes race in 2001 over at Prairie Meadows spoiling the return of jockey Shane Sellers who went off 1-5 in that race. How was it riding at Prairie Meadows?
ZOE: Yes, that was the Prairie Meadows Oaks. He was on the favorite and I was on something that wasn't expected to run good at all and I really didn't want to be there that day (giggles) (Zoe was like 48-1 on that horse-Chris) It was a complete surprise and a nice one at that. It was actually the first race I won since I lost my "bug" as well. As far as Shane Sellers goes he has enough money. (giggles)
FOTH: Takes us through a typical day for you.
ZOE: Ok I'll take you what I did today. I woke up and it was a lovely 12 degrees outside. I got up on my first horse at 6:00 am as the track is only 5 minutes from my house. I got up on 5 or 6 horses then I went to the jock's room and I didn't have my dog with me like I usually do and I usually take him for a walk, but I left him home. I got to the jock's room around 9:45 am and I went for a run. I usually run about 3 miles on the treadmill. Then I got on the ski machine and I had a little sit-down and then a cup of tea and then it was time to ride. I rode 3 races, got caught in traffic for an hour driving home and I'm now talking to you. (laughs)
FOTH: How long do you think you will ride for?
ZOE: I don't really want to be riding when I am 50 to be honest unless I'm Pat Day or something. I really don't know, I think I got a good 10 years in me yet.
FOTH: What injuries have you had and have you had any bad ones?
ZOE: The day after my 5th winner at Arlington, the horse stiffed me at the gate and they had to cart me off in a stretcher as I broke my pelvis. That was the worst one. I have been pretty lucky so far, I've been down a few times, but only bumps and bruises.
FOTH: Do you have a favorite horse you like to ride?
ZOE: Anyhting that tries to win, win, win. (laughs) Horse I won on a stake race at Fairmount Park called Freeway Ticket, I won 4 on him and I just got beat a dirty nose with him the other day. He is probably one of my favorites. There was a little filly last year called J J Mac and I won a bunch on her. Anything that tries. I don't care if they don't win as long as they try.
FOTH: Now that is a good attitude to have. I read where you color your hair. What is your favorite color and how often do you color it and what color is it now?
ZOE: My hair is blonde right now. It has been red, but it didn't look terribly nice. It is kind of blonde with the roots coming through now. It is not an incredibly attractive color now.
FOTH: You told me before you are going to let it grow out as well.
ZOE: I am. I'm gonna let it grow down to the ass!
FOTH: Do you have any goals for yourself?
ZOE: Uh win the 3 I'm riding on tommorow. (we both laugh) Obviously everyone has the same goals and I'm not gonna bore you with all that. I mean everyone wants to win the Kentucky Derby and all that, which would be wonderful and I don't see why I couldn't do that.
FOTH: Any race track you want to ride at one day that you have not yet?
ZOE: I'd love to go to Oaklawn cause everyone talks about how nice it is there. I wouldn't mind going there and seeing for myself. Saratoga would be another, but I might have a hangover though and that might be the only problem. Belmont is a wonderful place, I'd love to go to Belmont too.
FOTH: Any other female riders you like or admire?
ZOE: I don't know a whole lot of them to be quite honest. I know Julie Krone when she was riding.
FOTH: Yes because you are the only female rider where you ride at.
ZOE: Yes I am, which is fine by me. I got my own room all to myself.
FOTH: Wasn't Mary Doser there they other day?
ZOE: Yes she was and she won and the horse also got claimed. I like Mary and she works hard. I like anyone that works hard and enjoys the game especially someone like her.
FOTH: What are some things you do in your spare time? Do you like to go to the movies or watch tv etc?
ZOE: Put Cindy Noll in there too cause she is cool too. Me I'll do anything and right now I'm not doing anything tonight cause it is too cold. I like to go to the movies or go out and have a few drinks, but I quit drinking for them. (laughs)
FOTH: Do you like any sports and have you ever got recognized by people when you are outside the track?
ZOE: There have been a few times and it is surprising actually. I like to play tennis in the summer, but I am not very good at it.
FOTH: You told me you went down to the Super Bowl down in Louisiana. I was there as well. What did you think of the whole thing?
ZOE: I have been to one before. This year security was unreal cause of the 9/11 thing. New Orleans is just a place to be recognized. Anyone who goes there either loves it or hates it. It's one of those places.
FOTH: Zoe, you didn't go down to Bourbon Street and collect beads did you?
ZOE: Oh me. Not me. (saying it very sarcastically)
FOTH: Any last words to wrap up this interview. Zoe thanks for the wonderful interview. I hope to get to meet you again sometime and your personality just shined throughout the interview.
ZOE: No, not really. Just thanks for the interview and until we meet again have a beer on me.