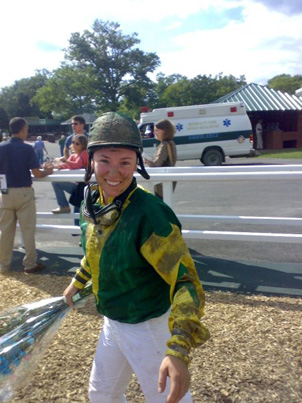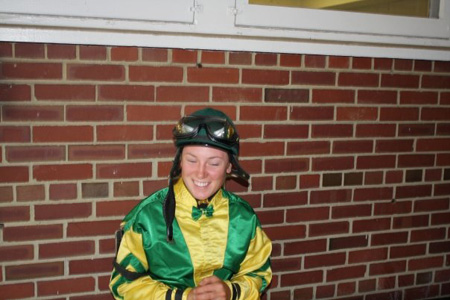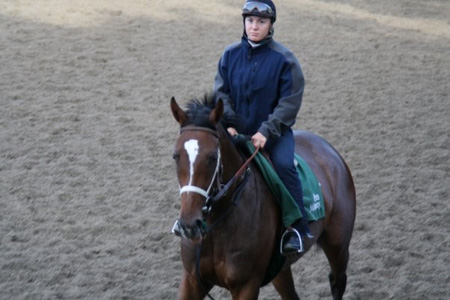 Alice Cartwright
Alice Cartwright is a young jockey from England that is currently riding on the East Coast. I got her on the phone recently for an interview and here is what she said to my questions that I asked her:
FOTH: Where were you born and where did you grow up?


AC: I was in born in England and grew up there.

FOTH: When you were over in England as a young girl were you into horses and things like that or that didn't happen until you came over here to the United States?


AC: I was galloping horses in England when I was 17 for about a year and then I came over here (the US).

FOTH: Now I am not too familiar with England, is there a lot of racetracks over there in England?


AC: No there is lots of tracks, but they are all turf tracks and not dirt tracks. There is like 2 or 3 dirt tracks over in England.

FOTH: Are there many female jockeys over in England?


AC: There are more female riders there now then there was when I wanted to ride. There is like 5 or 6. There is one really good rider there named Katie Turner she one of the main girl riders there.

FOTH: What led to you coming over here to the United States? Was that something that was planned when you were a young girl?


AC: No it was a spur of the moment thing. (laughs) I was working for a job trainer and they only have the winter season and the summer was free and me and my friend came over here for 3 months in the summer and that is how it started.

FOTH: When you were over in England did you have people teaching you how to ride and stuff and did it feel natural getting up on a horse?


AC: I could already ride as I had been riding since I was like 10 years old, but I did have a couple racetrack people teaching me a few things and I kinda picked things up as I went along.


FOTH: Now when you got here to the US how was it getting up on a horse here in the US and what was the biggest difference you noticed with horses in England and the US?


AC: The tracks over in England are 5 furlongs straight and you don't train on an oval track so coming here was a bit different.

FOTH: Have you rode in any turf races here in the US yet?


AC: No I haven't ridden on the turf and I can't until I lose my 10 pounds apprenticeship (which means she has to win 5 races-cf)

FOTH: I know you have rode at Phila Park, The Meadowlands and Monmouth Park. Have you rode anywhere else yet?


AC: No not yet.

FOTH: What was it like winning your 1st race and did you win by a lot or in a photo?


AC: I won by a nose and it was head and head down the stretch.

FOTH: What was it like jogging the horse into the winner's circle and getting your picture taken?


AC: It was overwhelming and something you couldn't take in. You couldn't believe it was real and when I got back to the jock's room is when it all began to sink in. It was a great feeling.

FOTH: Was this at Monmouth Park?


AC: No The Meadowlands.

FOTH: Did the jockeys get you after the race? Also did you know that was coming or did it take you completely by surprise?


AC: I had people tell me what they do, but when I got off the horse nothing happened and I forgotten about it and then they got me in the room.

FOTH: I saw that you were interviewed for The Meadowlands TV show a few weeks back. Is that something that your comfortable with being interviewed for TV?


AC: Not really. (we both laugh) They asked me to do it weeks ago and one day I was sleeping in the room before I had to go ride and they knocked on the door and I just woke up and I wasn't too happy about it.

FOTH: Have you ever ridden in the cold yet?


AC: Of course. I was born in the cold.

FOTH: Does that bother you or do you just bundle up and go out there and do what you got to do?


AC: If you know how to dress for the cold it's not that bad. You just have the right clothing and the right attitude.

FOTH: How do you prepare for a race? Do you look at the form or do listen to what the trainer says or a little bit of both?


AC: I will look at the form and see what my horse looks like and see how I can improve the horse and I will see if the trainer wants me to do something different than I will do what he/she says. I try and plan it out, but things don't always work out that way.

FOTH: Are you planning on taking the winter off and starting to ride again when Monmouth opens again in 2010?


AC: No I have a few rides at Phila Park and Penn National. I obviously won't be riding as much as I was at Monmouth and The Meadowlands. I also will be going home in January for a week for my birthday.

FOTH: Did you get a chance to visit the Jersey shore at all last summer?


AC: I didn't live far from there and I went down there. I liked playing volleyball on the beach on Monday and Tuesdays, which were my days off. All the jockeys and my friends we did that. I did some stuff in NY as well.

FOTH: Would you like to ride for a long time?


AC: Yes I want to ride for a long time as this is the only thing I have ever wanted to do.

FOTH: If a young girl came up to you and said she wanted to become a jockey what advice would you give her?


AC: Get as much experience as you can and ride as many bad horses as you can and don't get disheartened and just keep trying.

FOTH: Looking back was becoming a jockey harder or easier than you thought it was gonna be?


AC: It was a lot harder than I thought it was gonna be.

FOTH: No problems with you weight?


AC: No I have no problems with my weight so far.

FOTH: Is there any track you have seen on TV that you would like to ride at one day?


AC: I would like to ride at Santa Anita, that would be a place I would like to ride. It looks beautiful.

FOTH: Have you ever seen the Jockeys show and if you have and they did something like that at Monmouth Park would that be something you would be part of or is TV not for you?


AC: Yeah, but the one thing I think they didn't concentrate was the backside (I agree-cf). How hard it is to start riding and what you have to do, they just concentrated on the big jockeys, not the small ones.

FOTH: Alice I am out of questions and I am sure I will see you soon and thumbs up for the interview, do you have any last words?


AC: Thanks for the interview.