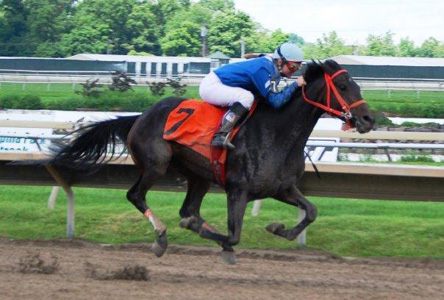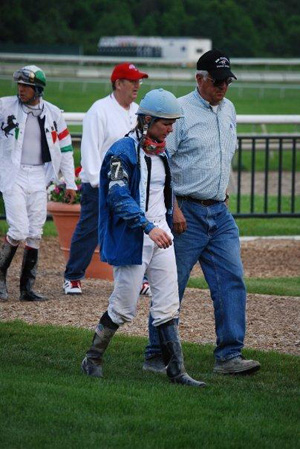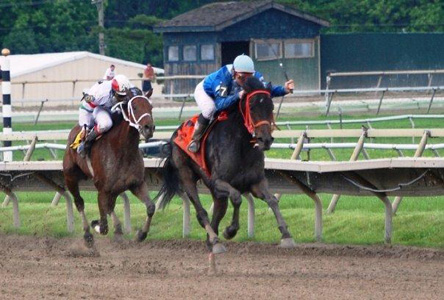 Amanda Han
Amanda Han is an ex-rider/ameture jockey that I interviewed a few years back and recently she came into Phila Park to ride in an amateur race and a few days after the event I emailed her an interview and here is what she said to my questions:
FOTH: Well it has been a few years since I last interview you. What have you been up too these past few years?

AH: just galloping and ponying the races at penn and loving the family life.
FOTH: I know you rode recently at Phila Park in an amateur jockey race. About how many of them have you done now?

AH: That was my second. I rode one last year at Presque Isel Downs.
FOTH: Have you won any of them and what tracks have you rode at so far?
AH: Not yet. The fist one I ran dead last on a very long shot. I ran second at Philly and was happy with that.
FOTH: Where do you normally exercise horses at and were you self taught or did somebody help you along the way?

AH: I gallop at Penn National and I guess you could say both. I had so many people tell me different things to try and some worked and some didn't and I found things out on my own too.
FOTH: Would you ever want to become a professional rider or is that something that is not in the cards so to speak?

AH: I miss riding professionally so much but I don't miss fighting my weight for one or two so so mounts a night. It's really hard at Penn with all the new and old riders we have.
FOTH: Which do you prefer, the dirt or the turf and why?

AH: I love the turf because its more strategy then the dirt
FOTH: If a young girl came up to you and said she wanted to become a jockey, what advice would you give her?

AH: I would tell her not to be stupid and think that galloping at the track for six months is all you need. I think you should be galloping for a year or two and working horses from the gate for a year is the best way to do it. Ride amateur races and schooling races or even the jockey school. That will help you to stand out in your first race. Get in with a good trainer that has nice horses that could work with you from the start all the way to when your ready. I have seen to many riders get in a good spot like that and get inpatient with the trainer and start before there ready and miss out on having a good big outfit to back them up with there bug. And the most important thing is listen to EVERY thing that any one has to say. You don't have to us it just listen because it just might help latter down the road.
FOTH: Would you like to see more tracks do more amateur races and stuff like that?

AH: Yes!
FOTH: Would you ever consider doing a steeplechase race and if you have what was that like?

AH: God no that's the one thing I could never do. I don't have the guts for that.
FOTH: Is riding in these amateur races harder or easier than you thought?

AH: Easy in some ways because I know the almost always take the turns wide so I can save ground and go inside but harder because some of the riders are very green and don't look before drooping in or out so its a little nerve racking.
FOTH: What did you think of Phila Park while you were here? Wasn't the highlight meeting me again ha ha?

AH: YES it was! I just wish I had made it to the winners circle to give a thumbs up... hahaha .... I really like Philly. I have two seconds out of two starts so I cant say anything bad.
FOTH: Is there any track you would like to ride at one day?

AH: Saratoga ! Dirt grass I don't care I would just love to ride there.
FOTH: If you were asked to go overseas to ride in an all female amateur race would you go and do you know if they even do such a thing?

AH: I would love to go!I just asked that the other day and they said yes they do it every once in a while.
FOTH: Do you think another female rider will ever win a Triple Crown race?

AH: I hope so. It would be nice to see.
FOTH: How much longer to you plan on riding in these kind of races or you have no set time when you plan on stopping?

AH: I'm just having fun and as long as I keep on doing that then I see no reason to stop just yet.
FOTH: If you could change a few things about the sport of racing, what would they be any why?

AH: There are so many I don't no where to start... I wish they could restrict shock-wave treatment better. And I wish that people that have no clue what really goes into the care for MOST racehorses would not try to make racing look bad because of one single incident that they see.

FOTH: What has been your favorite and least favorite track you have rode at and why?

AH: Has far as riding races my favorite would be Philly and my least would be Charlestown. Every time I rode at CT I almost got dropped!! As far as galloping my favorite would be Keeneland and Churchill and I really don't have a least to gallop at.
FOTH: Do you think that racetracks need slot machines to stay in business?

AH: From what I have seen it's not hurting it that's for sure
FOTH: Tell people who don't know exactly what an amateur rider is.

AH: Ride races just like a pro but they don't get a jockeys mount or any of the purses.
FOTH: Tell people who don't know exactly what the job of an exercise rider is.

AH: I get on the horses in the morning at the crack of dawn and gallop or jog the horse depending on what theÊtrainer wants at a pace that the trainer wants. I need to tell the trainer if and where I fill and lameness in the horse and if they need special equipment like blinkers or bits.
FOTH: Do you think you will stay involved in horse racing doing one thing or another for the rest of your life?

AH: I would think so. I love this business.
FOTH: How exactly do you get involved or invited to these amateur races in case somebody else out there might want to be in one?
AH: You would need to get in touch with them at
http://www.amateurjockeys.org.
FOTH: Amanda thumbs up for the interview. I am out of questions any last words the floor is yours.

AH: Just keep up the good work and thanks for the good word with that trainer;)