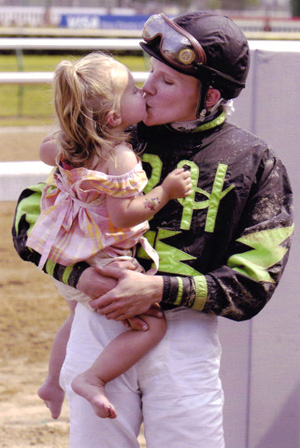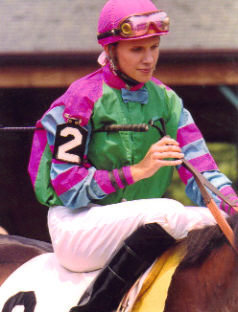 Angela Owens
Angela Owens is a retired jockey that I used to watch a lot via simulcast from Sam Houston when I was working nights at Garden State Park. I recently got in contact with her and sent her an email interview and here is what she said to my questions:
FOTH: Where were you born and where did you grow up?

AO: I was born in Euless, Texas and I grew up in Spring, Texas
FOTH: What sort of girl were you growing up?

AO: I was definitely the typical tomboy. I hated Barbies and girly stuff. I wanted to play sports, ride horses, and do everything my brother did.

FOTH: When you were riding were your parents supportive and did they ever get to see you ride live at all?

AO: My parents were very supportive and were able to watch me ride live on several occasions all over the country.

FOTH: What event or events led to you becoming a jockey and at what age did you seriously think about becoming a jockey?

AO: I would have to say what originated my desire to become a jockey was watching Shoemaker win the Kentucky Derby on Ferdinand when I was 5. Whenever I would visit my grandma we would always go to the nearest racetrack. She was a racing fanatic and just loved the ponies so I guess my love for it came from her. She was my biggest fan.
When I was 11 I knew for sure I was going to be a jockey no matter what and would ride my horse in a bareback pad, jack the irons up as high as they would go and race whoever I could.
Shortly after Sam Houston Race Park opened I would beg my parents to take me 3 or 4 times a week (they were great parents) where I got to know the trainers, jockeys, etc... That is what led me to a job on the backside as a groom and then as an exercise rider.
After that, I traveled all over the country galloping for a couple of years before I finally started riding races.

FOTH: When you were learning how to ride, were you self taught or did you have people helping you?

AO: Hmm... A little of both I would say. I never had one mentor who showed me what to do but there were many people along the way who gave me advice and showed me how it was done. Riding the schooling races at the Fairgrounds taught me a lot as well.
FOTH: When you first saw a live horse race, what were your thoughts and feelings?

AO: My first live horse race was at a very young age with my grandma, but it was definitely exciting and I knew I was going to be a jockey one day. Something about the power and magnificence of the horses took my breath away every time I watched a race. And still does.
FOTH: Looking back was becoming a jockey easier or harder than you thought?

AO: Looking back now I would say that it was a long and rocky road but at the time I never thought about it. I just knew being a jockey was what I wanted to do and made sure I did it.
FOTH: Tell me what you can remember about your 1st race?

AO: Everything! It was my best friend's birthday so she came in from Houston with my parents to watch along with everyone else wanting to get a look at the new bug rider. I rode a first time starter at the Fairgrounds for Wayne Lukas going 5 furlongs in the slop. And I mean slop! I had a blast and finished 5th. It was over so fast and all I could think was lets go again! When I unsaddled and headed back to the jocks room people were giving me high five's and my dad gave me a bouquet of red roses while my mother took ten zillion pictures in the background. That was one of the best days of my life and I will never forget it.
FOTH: What tracks did you ride at over your career and did you have a favorite and least favorite?

AO: I rode at the Fairgrounds, Louisiana Downs, Sam Houston, Lone Star, Tampa Bay, Hoosier Park, River Downs, Mountaineer, Colonial, Turfway, Keeneland, Churchill and I think that's it.
Least favorite hmmm...... I've never been as hot as I was on the dirt I mean turf at Louisiana Downs, and I've never been hit with bigger frozen clods than at Mountaineer.
My favorite is Churchill Downs because it's home and because I broke a record there with my daughter's horse. Also Colonial because I don't think I have met nicer people anywhere.

FOTH: Do you think you were treated pretty fairly as a jockey over the years?

AO: Trick question! No such thing as fair in anything :) But honestly, not really. I hate to sound pessimistic but its tough being a female jockey even though you pretty much know what you're up against before you ever start.
FOTH: Tell me about what you remember about your 1st win. Did you get soaked with water, soap, etc after the race and did you know it was coming?

AO: I won my first race at Hoosier Park on a big grey horse named Sacred Sky. I galloped him everyday so that I could ride him. The trainer was determined to get me my first win and knew he was it so that was pretty cool. After the race my valet, an old friend, got me first with the hose before the jocks busted out the shaving cream, eggs, powder and everything else that wasn't tied down in the jock's room. It wasn't too bad except for the greasy hair look I sported for a week due to a hand full of Vaseline to the head....thanks Sydney Lejune you're the best!
FOTH: What injuries did you get over the years and what was the worst one?

AO: I had all sorts of injuries just like everyone else but rather than the worst I'll give the most memorable which was at Mountaineer. We were going 6 furlongs and I was sitting behind the 3 front runners when all of the sudden a shoe shot up and caught me square in the jaw. I remember thinking who just hit me with a sledgehammer? I had to take my horse up and out a little because I was a tad loopy from the blow and thought I was going to black out. Guess that was what my filly wanted because once we got in the clear (or the middle of the racetrack whatever I was out of it), she took off and we ended up catching them at the wire and winning. Everyone thought the horse had bled till they saw my face, it was gross. I found out later that thanks to what could only have been an act of God, my jaw wasn't broken it just needed ten stitches-anything for a win!

FOTH: Did you have a favorite horse or trainer that you rode for when you were riding?

AO: I enjoyed riding for a lot of different trainers but to be specific, Richard Budge (I believe he is training for Winstar now) in the early days because I've never seen a better horseman who honestly cares about the horses and does what is best FOR THEM!
Also, I enjoyed riding for my ex-fiancŽ Joe Woodard because I knew all the horses and he liked to put them where they could win. Gotta love that!
My favorite horses would have to be Cat Tracker just because I started him out as a baby at Lone Star and then ended getting to break his maiden at Turfway and also win on him at Churchill.
I loved to ride my daughter's horse Quick Blend for obvious reasons and because I broke a record at Churchill on him. I also can't forget Quote Me Later, he was my buddy, we won a bunch of races together.

FOTH: What event or events led to you retiring?

AO: I wouldn't say that it was an event rather than one day it hit me that if something ever happened to me my daughter wouldn't have a mother anymore. I loved riding races and actually rode one this past summer just for the fun of it, but it isn't worth the risk when you have a child. I love my daughter more than anything in the world and would never forgive myself if something I did ever took me away from her. She deserves the best and more, and I am determined to give that to her.

FOTH: Did you ever ride in any quarter horse races and if you did what was it like riding in those very quick races?

AO: I never had the opportunity to ride any official quarter horse races although I rode a few match races and worked some at Sam Houston on the quarter horse days. They are definitely different and you better be tied on when they leave the gates or you'll get left behind. I had fun on the ones I got to ride but my true love will always be the thoroughbreds.
FOTH: When you were riding how did you prepare for a race?

AO: I definitely had my ritual like everyone else. I usually got to the jocks room really early so I could get in the whirlpool and relax with a book for a while. With the hectic jocks life it was one of my only ways to get away and relax. After that I would get out, get dressed and usually have something to eat and look at the form for a while. I would usually stretch starting an hour before mine so I had time to weigh in and get ready after. I always had to have 2 black rubber bands on each wrist, a black rubber band on my helmet, black leggings and all black boots...oh and usually black girths unless my valet used his, which at Churchill I could trust his so I did. I always read my dad's cards of encouragement and kissed my good luck charms before I went out and I always made sure to say a prayer before every race either before I went out or during the post parade for everyone since jockeys definitely need all the help they can get out there. I definitely had a routine and stuck to it no matter what race track I was riding at and I'm sure most every rider does.
FOTH: Are you still involved in horse racing like being an ex-rider or are you done with that part of your life?

AO: I am currently an exercise rider for Helen Pitts at Churchill but I am fixing to graduate college and apply to the Louisville Metro Police Department to become a police officer. Other than being a jockey I have always wanted to be a police officer so I now have a chance to fulfill another childhood dream, and I am very excited about it. I will always love the horses and definitely plan to stay involved in the racing industry and hopefully even gallop a little after I become a police officer. I guess when it's in the blood you just can't stay away!
FOTH: If a young girl came up to you and said she wanted to become a jockey what advice would you give her?

AO: I would tell her that before you do anything get an EDUCATION! That's one thing that no one can ever take away from you and the horses will always be there. After college, definitely follow your dreams but be prepared to work harder than you have ever worked before in your life because unfortunately as a female you have to work twice as hard as the guys to get half of what they do. (Anyone who wants to deny that is lying to themselves, sorry.) BUT, if you're willing to work that hard it is worth the extra effort to accomplish something that very few ever do......a dream! There will always be people who tell you that you can't do it but the truth of the matter is when your down people act like they feel sorry for you and when you're on you way up they try to bring you back down so trust yourself and do your best without compromising who you are along the way. Oh and good luck! If I can do it so can you!
FOTH: Did you prefer riding on the dirt or grass or it didn't matter to you?

AO: I liked to ride the turf because I think it takes a little more talent along with racing luck to win. The horses don't seem to get strung out as much, most all horses are kicking in the end and it makes you ride harder. Plus, the turf races are usually all nice horses and you can't throw out the one or two that don't belong because they usually all do. (Of course there are always exceptions to every rule)
FOTH: I have been to Sam Houston once when the Super Bowl was in Houston a few years back. Is the turf course there as nice as it looks on TV and in person?

AO: Yes, Yes, and Yes! It's the best I have ever ridden on.....but it's crazy they don't let the ponies on it. I bet if any one of their management could even sit on a racehorse much less get one on that turf and all the way down that chute in a jock saddle without falling off it would be a miracle. :)
FOTH: If you had the power to change some rules in the sport of horse racing, what rules would you change?

AO: Hmmm. For jockeys it would have to be a raise in the weight. In this day and time other than the Keebler elves on T.V., I don't see too many normal sized men that weigh 110 lbs., do you? It's kind of silly when the horse weighs 1000 lbs or more. I don't see how 5 extra pounds are really going to make that much difference if everyone ups the scale.
Hmmm. For the trainers, and vets I would like to see a universal medication rule. Every state has a different rule about what can and cannot be given. Once again, kind of silly as much as we ship horses state to state. If I had a dime for every horse I was named on that got scratched due to ridiculous medication violations (such as bute which is like taking Advil) I'd own an island in Fiji right now!

FOTH: Do you miss riding at all?

AO: Honestly, not really. I had a blast riding a race again last summer for Helen but afterward I was thinking, I had fun but that part of my life is over. I rode races for years and had a fun doing it but I am extremely excited to become a police officer and turn over a whole new leaf in my life. I look forward to meeting new people, and furthering my education in order to become a better role model for my daughter.
FOTH: When you rode your last race did you know at the time it was your last race?

AO: I knew because it was just for fun and I hadn't ridden for almost 2 years before that. Helen let me ride a filly at River Downs in Cincinnati that I galloped at Churchill everyday because I knew her better than anyone, and I loved her. I miss Gatorize she was our little Gatorbug.
FOTH: Angela I am out of questions. Thumbs up for doing this interview and do you have any last words or anything to add the floor is yours?

AO: Well.....I guess I'd have to say it's worth it if you really want it, but don't compromise who you are to get it. Work hard, stay straight, and enjoy every minute of it! To every lady out there who is currently riding or will be in the future good luck and my prayers are always with you, Go Baby Go!!!

Back to our main page