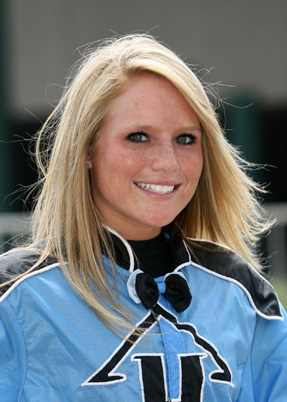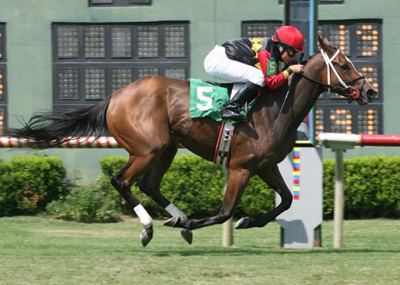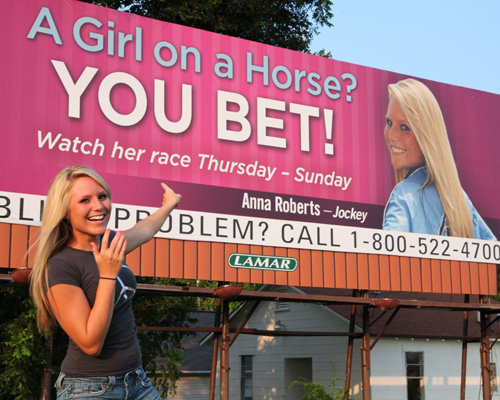 Anna Roberts

Anna Roberts is a young jockey that is currently riding down in the Louisiana area and I recently got her on the phone for an interview and here is what she said to the questions I posed to her:
FOTH: Anna the 1st question I have for you is where were you born and where did you grow up?

AR: I was born in Flowood, Miss and I lived in Mississippi until I was 9 in a little town called Belzonia.
FOTH: What sort of girl were you growing up? Were you a tom boy like most of the other female riders I have interviewed over the years?

AR: Yeah I was kinda rough and tough, but I was also a little bit of a girly girl too. I am a little bit of both. (laughs)
FOTH: What were your impressions the 1st time you went to a race track? Were you kinda blown away by the speed of the horses and stuff like that?

AR: I just loved the horses period. But the first time I saw Julie Krone ride was when I decided I was going to become a jockey.
FOTH: What event or events actually led to you becoming a jockey and what was your 1st job on a race track?

AR: You mean other than just seeing Julie ride and wanting to be like her. I learned to gallop horses at The Thoroughbred Training Center in Folsom, LA, but my first job on the track was galloping horses at Fair Grounds in New Orleans.
FOTH: At that point was the plan to exercise horses with the eventual goal to become a jockey?

AR: Oh yeah. I had been galloping since I was 16 and I went to a jockey school straight out of high school. So after I graduated from the North American Racing Academy (NARA) I went and I worked at the Fairgrounds.
FOTH: How did it feel getting up on a horse for the 1st time?

AR: I honestly don't remember the 1st time I got up on a horse. I had to be really little. I didn't start riding them regularly until we moved to New Orleans and I started taking riding lessons. I have always been very comfortable up on a horse.
FOTH: Tell me a little bit about your 1st race. Were you nervous and what was it like putting on the jockey silks for the 1st time and what track was it at?

AR: I have several 1st races. We had a graduation race for the jockey school (NARA), but that was on the steeplechase course at the Kentucky Horse Park. There was no starting gate so that was a little different. That was fun and exciting. At Turfway Park we had an amateur race to showcase NARA, but my real first race was at the Fairgrounds this past spring and it was awesome. It ended up being a pick up mount. I wasn't scheduled to ride, but was actually in the paddock with a trainer who had a horse running that day. It was announced that they needed a rider for the horse running in the next race. I had just gotten my jockey license and the trainer said "why don't you go see if you can pick it up." Plus Robbie Albarado encouraged me to take the mount. So I ended up picking up the mount and after leading a good bit of the race my horse tired in the stretch and finished 7th. So I found out just before the 6th race that I was riding in the 7th.
FOTH: What was it like being in the post parade and what was it like for you when they were loading the horse in the starting gate and the race was getting ready to go off?

AR: I was the last one to go in the gate (laughs). I was so excited. I guess I was a little bit nervous, but not in a bad way.
FOTH: What tracks have you rode at so far besides the Fairgrounds?

AR: I have ridden at Louisiana Downs, Evangeline Downs.
FOTH: Tell me a little bit about your 1st win. What track was it at and did you win by a little or a lot?

AR: My 1st win was at Evangeline Downs on April 29th, 2009 and the horse's name was "King Of Mardi Gras." I knew coming around the turn that I had it and that I had tons of horse left. We won by about 4 or 5 lengths and I never even had to cock my stick.
FOTH: Did the jockeys get you good after the race and did you know that it was coming?

AR: Yeah that's was what I was thinking about going back to the winner's circle. I was happy that I won, but I was nervous about what would happen to me when I got back to the room.
FOTH: What did they get you with?

AR: I got off pretty easy. They just got me with some nasty water and baby powder.
FOTH: Now have you had a chance to return the favor yet?

AR: No, not yet.
FOTH: Do you have any idea how long you would like to ride for or are you kinda just taking things month to month right now?

AR: I am just taking things month by month right now and I'd like to ride for as long as my body will let me.
FOTH: What are some things you like to do when your away from the racetrack? Do you like to shop or watch sports, etc.?

AR: I do like to shop a lot. (laughs) I might go to a lake with my friends and that is pretty much all I have time for right now.
FOTH: Take me through what you do in a typical day?

AR: I get up about 5:15 am and head to the track and get on a few horses. I also walk around with my agent and we are usually done about 10:00 am. Then I head home and I have a dog so I take her out and play with her for a little bit. Sometimes I might take a nap or go to the pool unless it is a race day, then I'll take a nap and head over to the track.
FOTH: How do you prepare for a race?

AR: If I have a form I'll look at a form. I look at the program a lot or talk to some of the other jockeys about the race. There is a valet who used to ride and he helps me out a lot and I will always listen to what the trainer says even if I don't think it's right. It is better to listen to the trainer then not listen and then you don't win. If you don't win it's their fault cause you listened to what they told you to do. (giggles).
FOTH: Do you watch your race replays to see what you did right and what you did wrong during a race?

AR: I watch them as much as I can.
FOTH: Do you plan on staying and riding in the area you are currently in now or would you maybe like to ride out on the East Coast or West Coast someday?

AR: I would love to go to Kentucky. I am not sure about a place like NY cause I am not a fan of the cold weather. Most likely I will ride the Fairgrounds and then I would love to go ride in Kentucky.
FOTH: Now for those who have never been to the Fairgrounds, now I have been there once, is the stretch as long as it looks on TV?

AR: Yes. (laughs). At the Fairgrounds I rode 3 races before the end of the meet and one was actually on the last day of the meet in the last race. All 3 races were on the turf so I have never actually ridden in a dirt race there yet. I worked horses on it for 2 years and it is a very long stretch.
FOTH: Have you ever had any injuries so far and does that worry you in the back of your mind at all?

AR: I broke my back 2 years ago galloping and it doesn't bother me. I know in this business it's not if you get hurt but when. I try not to think about it to much and I don't let it bother me even though I know it is a possibility.
FOTH: Have you ever had any problems with your weight at all or that is not an issue for you?

AR: It is not really an issue, but sometimes if I get in a race where it is really light weight like 110 then I have to watch it.
FOTH: Have you ever been recognized outside the racetrack by anybody?
AR: No not yet. (laughs)
FOTH: Do you feel you have been treated pretty fairly so far as a jockey?

AR: Yes very fairly.
FOTH: Anna I am out of questions and good luck with everything and thumbs up for letting me interview you for my site and do you have anything you would like to say to wrap this up?

AR: Thanks for the interview.

Back to our main page