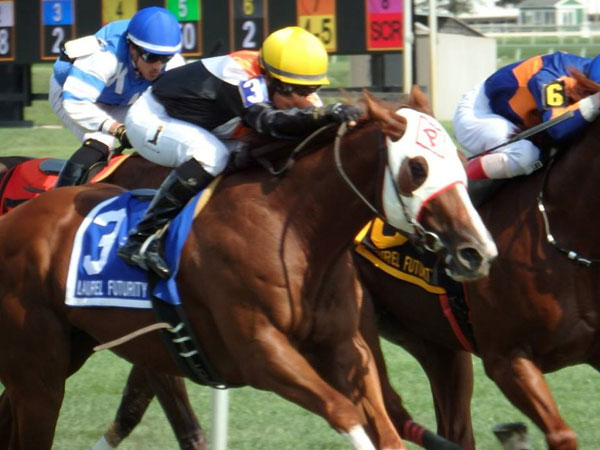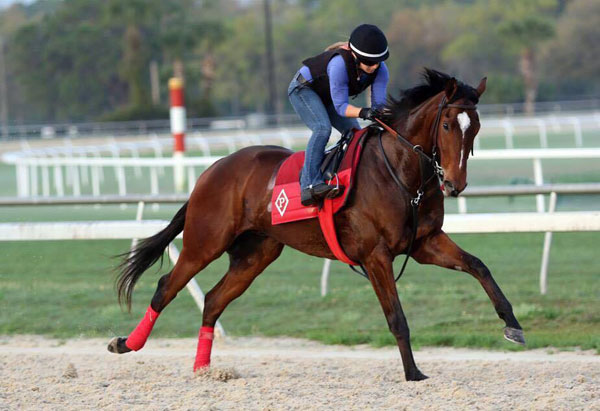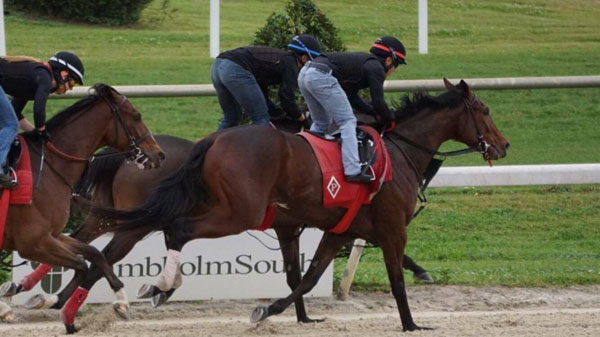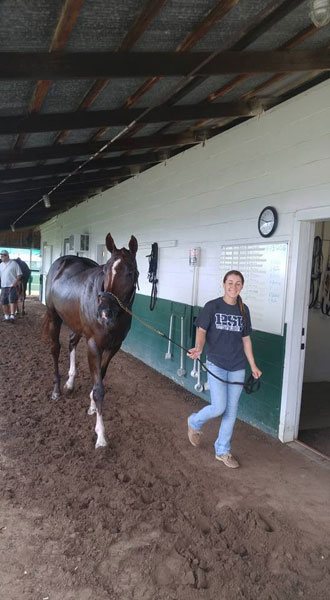 Ashley Castrenze
Ashley has the rare distinction of winning her first 4 races of her career and she is off to a great start so far and she is currently out with a rib injury and hopefully she will be back soon and here is her story:
FOTH: Where were you born and where did you grow up?
AC: I was born in Baltimore Maryland, but I grew up in Tampa, Florida.
FOTH: Now I know your mom was a jockey so were you interested in horses at a young age or did that come a bit later on?
AC: I always had ponies and horses growing up thanks to my mom, but I never thought that I wanted to ride races until I started galloping horses. Before then I actually wanted to train hunter/jumpers.
FOTH: Now did you ever get a chance to see you mom race in a live race and if so do the thought ever enter your mind during that time about being a jockey?
AC: I did see my mom ride at that time she was only riding her own horses, and I remember I would get very nervous watching her ride. I wasn't really too into the racehorses when she used to ride I was about 15 years old then and really focused on showing horses.
FOTH: So now were you a tomboy when you were growing up or not?
AC: I defiantly was when I was younger, but that all changed once I started high school.
FOTH: Yes that was my next question so when you were at the age of say 13 or 14 years old what did you want to be when you were growing up?
AC: A hunter/jumper trainer. I wanted to have my own stable and have sales horses/boarders.
FOTH: So now at what point did you decide you wanted to become a jockey and how did your mother react when you told her?
AC: I got my first job at Monmouth Park for trainer Doug Nunn when I was 17. I just hot walked and helped groom horses for a while until my mom and step dad convinced him that I could handle at least riding the pony around. So that lead to me starting to gallop and it was all over from there! From the first time I ever rode a racehorse my mom told me I wasn't allowed to ride races. Ha ha! She said it was too dangerous, and that I was going to put her in the hospital from all the stress. I think she always knew it was inevitable once I started getting better and working horses.
FOTH: So what was it like getting up on a horse for the 1st time? Were you very nervous at all or did things come together gradually and what advice did your mom give to you in the beginning?
AC: Well I always rode horses, since before I could walk. So I was never too nervous on a racehorse, they are very different from other horses. Much more dangerous and unpredictable. I caught on pretty quick though I was used to having naughty ponies and I helped retrain a lot off the track horses thanks to my mom. Little did she know what she was preparing me for! My mom gave me a lot of great advice that I can now appreciate, but you know as a young teenager I never wanted to listen to what my mom had to say.
FOTH: Now besides your mom did anyone else teach you how to ride and so far what has been the best piece of advice you have been given?
AC: Defiantly getting a job galloping for Tom Proctor was the best thing I ever did. He taught me so much while I worked for him, both galloping and rubbing horses. I was still pretty green when I started working for him, but he didn't care he still stuck with me and I learned something new every day. He put me on very nice horses, but very tough horses just to gallop and made me learn before I was ever allowed to start working horses. And once I got to that point he started having me work multiple horses every day and would give me set times he wanted them to go in so that I could get a good clock in my head. And if I messed up I would have to hand walk the horses after the work. He gave me a lot of practice breezing horses out of the gate. As well as working horses in behind, and getting dirt in my face. He did everything to get me ready. Not to mention put me on my first 2 mounts, and they both won! He has still stuck with me and put me on very nice horses in the very beginning of my career as a jockey. And I've made many mistakes that go with learning to ride races, but that never stopped him from riding me on his horses. He made sure I learned my lesson and that I wouldn't let it happen again. If I ride I bad race for him even now I still go back to the barn and walk my horse.
FOTH: So how long till you started to gallop horses did you actually ride in a race?
AC: A little over 2 years I worked for Doug Nunn for about 6 months before I started working for Tom Proctor and I worked for him for a year and a half before I rode my first race.
FOTH: So tell me all about your first race. What track was it at? Were you nervous in the jocks room? Was your mom there?
AC: It was at Tampa Bay Downs. Absolutely I was nervous, but I tried my best to keep it together. I didn't want anyone to see I was nervous! I used to pony the races so that defiantly helped my nerves in the post parade. Yes my mom was there, she helped me get all dressed in my jock clothes. I was on a horse I was very familiar with for Tom her name was Sister Pat. It was her second start and she was the favorite... that didn't help with my nerves! I was the number 8 of 8 horses, I just stayed clear to the outside of horses and let he go at the 1/8th pole and she opened up on the field. I think she won by 5 lengths. I was ecstatic to say the least, and I got the whole initiation. I was soaking wet and covered in shaving cream... and I still had to walk her after the race!
FOTH: Now you ended up winning your first 4 races that you rode in which to me has to be some kind of record. Now that has been a little bit does that kind of blow your mind so to speak when you think about that?
AC: Yes, of course! It was amazing and I had a lot of great people behind me that helped me get there. After that it wasn't so easy, I was still VERY green and I lost my 10lbs bug in the first 6 races I rode so I had to learn quick and I wasn't as experienced as most people are when they start their bug year.
FOTH: So besides winning those races what are some memories you have of that Tampa Bay Downs meet?
AC: Tampa is where I grew up, and my favorite track. I love it there. Lots of memories and great friends. It's also where I started working for Tom Proctor!
FOTH: Now take me through what a typical day is like on a racing day?
AC: I usually wake up about 5:30/6am and drive to the track to work horses for a few different trainers. I walk around and say hello to all the trainers I ride for and ask if they need any help working horses. Then once the track closes usually around 10am I go and get a small breakfast, then go to the jockey's room to shower and take a nap. I wake up around 12/12:30pm and do some stretches or ride the equalizer. Study the program and watch replays of my horses for that day, get ready and go out to the paddock to ride. If there is a day I don't ride at one track I'll do the same thing at another track. I usually ride 7 days a week between Delaware Park, Laurel Park, Penn National, Parx, Monmouth Park and anywhere else I have entries.
FOTH: So what are some things you like to do when you're not doing horse racing related things?
AC: Recently I haven't had much time to do anything. It's kind of an all-day everyday thing, but I wouldn't change it I love every minute of it. I do really miss having show horses though I would like to get back into doing that once I have time. I haven't really found much to do around this area (Delaware) but in Tampa I was always going out with friends going to Orlando, Universal, and Weeki Wachee.
FOTH: So what has your mom thought about everything so far in your career?
AC: You'd have to ask her! Lol I'm sure she's super proud of me, but she's a mom she would love to see me doing something much safer!
FOTH: If you were not a jockey what do think you would be doing in life?
AC: I would probably still be in school, but I think I would still ride, just show horses though. Maybe retrain and sell horses off the track.
FOTH: So what happened with this recent injury you suffered?
AC: Last race of the day at Laurel Park, I was on a 2 year old colt who only had 3 prior starts and fit well in the race. We got to about the 1/4 pole sitting second on the rail and he unfortunately broke down, causing 2 other horses and riders to fall. They were fine, but I broke 4 ribs on my left side, and have been sidelined since.
FOTH: I am sorry to hear that which leads to my next question, are jockeys one of the most if not the most under appreciated athletes in sports?
AC: I don't know if I would say that. I think there's a lot of people who love the sport and really appreciate all the risk we go through as jockeys, but I think most people just don't really understand what it is like unless they have experienced it. Like when I rode my first race I really thought I was ready and well prepared for it and once the gates opened... Nothing can prepare you for what it's like out there. One silly mistake and you can be putting yourself and all the other jockeys at risk.
FOTH: If you had the power and control what are some things you think should be changed going forward to promote the sport and not just rely on casino money for purses?
Ac: I'm really not too educated on that...So I don't think that is my place to say.
FOTH: If a young girl came up to you and said she wanted to become a jockey what advice would you give her?
AC: Make sure you get in with the right people, people with good reputations that want to help you and take your time learning. Learn to walk horses then groom and then ride. See all the sides of the sport so you can appreciate everyone and the work they do. And it teaches you great horsemanship skills. Riding is so much more than just being a good rider.
FOTH: Looking back was becoming a jockey what you thought it was going to be?
AC: Not at all, defiantly a lot more work than I could ever imagine. When I was galloping I use to see all the jockeys come in the barn get on the horse and leave... I thought hey that seems easy enough. I was always taking care of the horse after them and cleaning their tack. I never really knew that they travel all over the country riding 7 days a week and multiple tracks a day. It's defiantly a lot of work and much crazier than I expected it to be, but I still wouldn't go back and change a thing. I'm very happy with where I am right now.
FOTH: Speaking of riding is there any track or tracks that you would love to ride at one day?
AC: I would love to ride at Santa Anita and Gulfstream Park
FOTH: Could you see yourself ever becoming a trainer like your mother after you stop riding?
AC: Defiantly a thought, though I might try a few other things first after I stop riding.
FOTH: What was the feeling like winning the Laurel Futurity stakes and by a nose no less?
AC: Defiantly a relief because I had to ride 2 other Stakes that day for Proctor and really wanted to make him and the Glen Hill Farm proud. It's really amazing of them to even ride me in a stake since I don't get the bug weight. So it took a lot of pressure off the rest of the day! I wasn't even sure if I won the race that's how close it was. It was an amazing feeling and I'm so glad I could do it for Proctor and GHF because they have stuck by me through a lot!
FOTH: Ashley thumbs up for doing this interview and any last words to wrap this up?
AC: Thank you so much for taking the time and thinking of me for you interview!