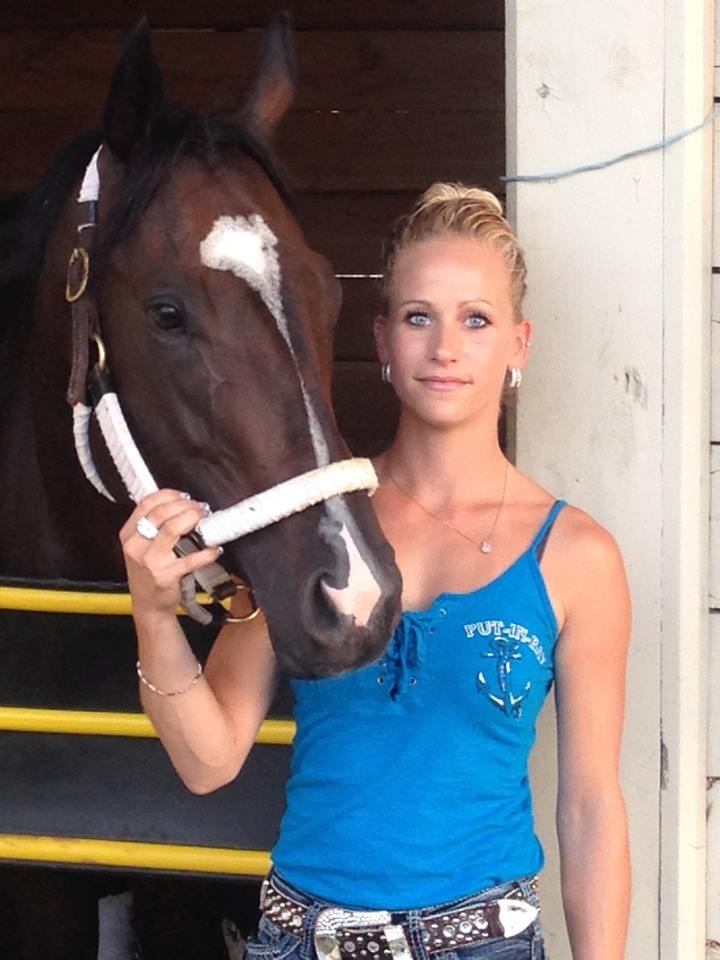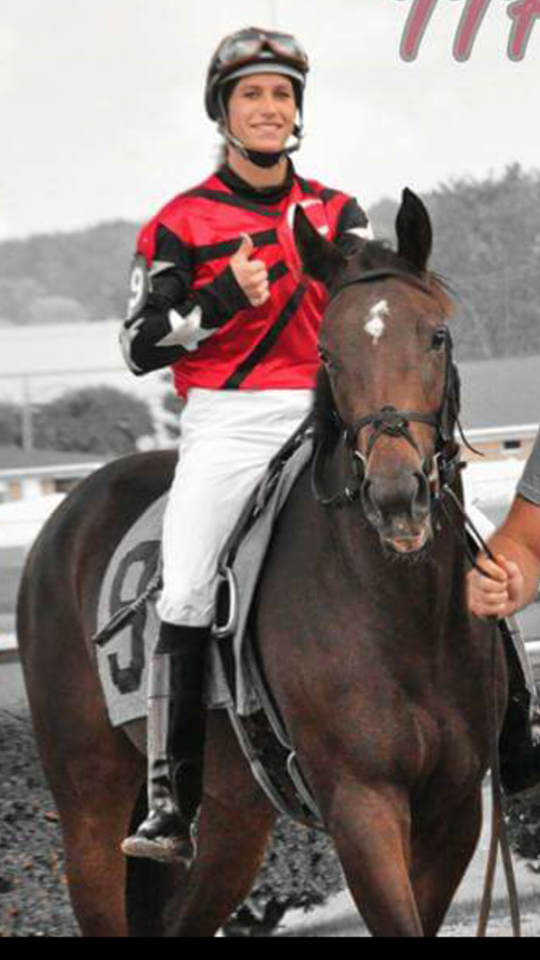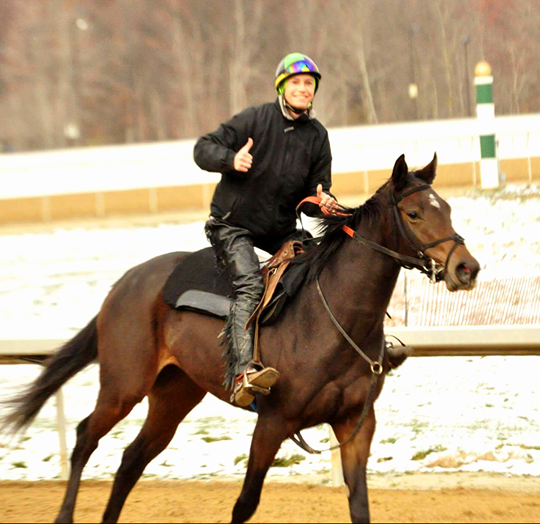 Ashley Kauffman
Ashley Kauffman is a young jockey that has been riding in the Ohio area and started riding races in 2015. Here is her story:
---
FOTH: Where were you born, and where did you grow up?
AK: Proudly born and raised in Lancaster County, Pennsylvania!
FOTH: What sort of kid were you growing up, and were you a tomboy like most of the other female riders I have interviewed?
AK: I was definitely the tomboy-type. I grew up with the boys and did a pretty good job at keeping up with them.
FOTH: What did you want to be when you were growing up?
AK: I always wanted to be involved with horses, primarily being a trainer for show horses and barrel horses. I also thought I could squeeze in being a professional snowmobile racer in my spare time. Which I have been lucky enough to do both.
FOTH: Did you always have a love for horses, or did that come later?
AK: I came from generations of horse trainers; my mom trains and shows horses, so I grew up with a love for them.
FOTH: What did you think the first time you saw a live horse race?
AK: I was pretty young when I experienced my first live horse race. It was a different experience than what I grew up with, but I do remember we would sometimes go to Penn National. One thing I remember is watching the horses walk around the paddock, and my dad would ask my mom and I who we thought was going to win so he could go bet on it for us. Until this day, my dad knows better than to listen to my choices, ha ha.
FOTH: So at what point in time did you know you wanted to become a jockey, and did you have any idea what you were going to have to do to be one?
AK: If you want something done right you gotta do it yourself! That's what made me decide to become a jockey. I had already been galloping for a few years, so I knew what I had to do from there.
FOTH: So tell me about your first job that involved horses.
AK: Since I grew up with my mom being a trainer, I always had chores around the farm, everything from cleaning stalls to working with the horses. My mom thought she could bribe me with a slushy from Turkey Hill to help her go bag shaving from the local saw mill. What a miserable job, but her bribes always worked. I knew better than to refuse! Ha ha.
FOTH: How long did you end up galloping horses before you took out your jockey's license?
AK: I received my gallop license when I turned 18 and only decided to start riding at 24.
FOTH: Was there any one person who helped you out a lot and who helped teach you how to ride, and what has been the best piece of advice you have been given?
AK: I was, and still am, very fortunate to have help from almost everyone I come across. The people here are wonderful and have been very good to me. There are two people that stand out Jevon Crumley and Jane Magrell. Jevon is a trainer based in Ohio and happens to be my boyfriend of three years. So needless to say it works perfectly! He has been the one to make all of this possible. He helped me buy all the equipment I would need to start. He even had Bobby make me a custom saddle. I used his horses to help me get an ok for my jockey license, and he puts me on winners. If it weren't for him I wouldn't have even attempted becoming a rider. If it wasn't for Jane I probably couldn't find my own head! She has been incredible to me and continues to be every day! Heck she even helps dress me, ha ha! She always looks so great and makes sure everything matches perfectly. She tried to help me do the same, but I think I'm a lost cause, ha ha! She has helped me a lot with my racing as well, from watching my replays to showing me examples of other races I should try to follow. I could never repay her for all the help she has given me. The best of all is she's a wonderful person and a great friend that you look forward to seeing in the room every day. The best piece of advice I've been given is that if I was up front I wouldn't have gotten so dirty!
FOTH: Now looking back, how long did it take from the time you wanted to become a jockey till you actually became one, and what was the hardest thing you had to do to become one?
AK: It actually didn't take much time for me to become a jockey since I had been galloping and on the track for a few years. I believe I rode my first race within just a couple months of my decision. The hardest part of getting my license was sitting on the gate. I dreaded that so bad, ha ha! All I wanted to do was get out there, so to sit on the gate and watch those guys load and break without me was almost torture! I was right there with all the excitement, but wasn't really a part of it.
FOTH: What did your parents think when you wanted to become a jockey?
AK: I don't think it came as too much of a surprise to my parents when I told them. They knew I was always out doing crazy stuff and of course was always very competitive, so I think they may have almost expected it.
FOTH: Now tell me all about your first race. Were you nervous in the jock's room? What track was it? What was the feeling like for you during the post parade and when you were being loaded in the gate? How about when the race was over?
AK: My first race! Ha ha, wow! Well, I was feeling pretty good in the jock's room; I was nervous, but more excited than anything. I had ponied races for a few years at Penn National, so I figured the post parade was no big deal since I was used to be out there...boy, was I wrong! Fortunately I got to ride one of my favorite horses for my first race, one that I had known for some time and galloped every morning. Even though I was confident in my horse taking care of me I was starting to wonder if it was too late to turn back. I literally couldn't feel my whole body. I was like in a different world and just completely zoned out. Then it was time to go to the gate. Now I'm really wondering what the heck I'm doing! Luckily my riding skills took over, because I think my brain was still in the gate by the time the race was over, ha ha! That 1mile 40yard race made me realize how terribly unfit I was! I tried to catch my breath and head back to be picked up by my groom, but I now had broken the ice and felt so much better.
FOTH: Now tell me about your 1st win. What track was this? Did you win by a lot, or a little? What was the feeling like jogging the horse back to the winner's circle and then getting your picture taken?
AK: I won my first race in the second start of my racing career on my favorite filly. That's an unexplainable feeling. I was at Thistledown Racino, and I won by a length. I literally have no words. It was just pure joy, and I don't think I ever smiled so big. Having your picture taken really makes you feel special, especially when you look up and see everyone standing around congratulating you.
FOTH: Did the jockey's get you good after the race, and what did they get you with? Did you know it was coming?
AK: Oh yeah, they got me good! I knew when I stepped off the scale and my valet was grabbing my saddle and running, that I was in trouble! My boyfriend was the first to throw a bucket of water on me, also being the trainer of my winner. Another fellow trainer/friend sprayed me with a hose! So I'm thinking ok I'm good, I'll walk back to the room while I clean off the mascara running down my cheeks...well that ended up just being a taste of what was coming. I got more buckets of water, baby powder, shaving cream and God only knows what else! Ha ha! I got the nickname Bucket Head for a while after that since I literally had a bucket on my head from someone dumping water on me!
FOTH: What tracks have you ridden at so far, and tell me about the track you are currently riding at now?
AK: I have ridden at Thistle, Mahoning, Presque Isle and Penn National.
FOTH: Take me through what a typical day is like for you.
AK: Since there's horses at both our farm and the track, the days are pretty long. I'm not a morning person at all, so I struggle to get out of bed while Jevon feeds and takes care of the horses here at the farm, then we head to the track which is a good hour drive from us. We train all the horses when we get there. I gallop and pony the horses in our barn with some help. Once all the horses have trained, it's time to feed. The groom(s) and I go through the whole barn and get all the horses groomed and care for their legs, ect. If we are racing that day, I normally go to the jock's room at this time. If we are not racing that day, I shoe the horses that are due to be done. I normally don't shoe more than two a day. Yes, I know I'm a wimp, but I'm a 100lb girl jockey, so I can get away with it, ha ha! Once we finish up at the track, we head home and take care of all the horses there. The horses at home need their stalls cleaned, possibly turned in or out. The ones in training need to be worked. I also trim and shoe all the horses here, and of course all other farm duties which we all know never ends.
FOTH: What are some things you like to do that are not horse related, and do you follow any other sports teams?
AK: I usually don't have spare time, but I do need to sometimes make time for myself. The thing I always make time for is snowmobiling. I also race snowmobiles on some weekends, which I love. If there's snow on the ground, I will take a weekend and get my group together, and we will all go to Potter County, PA. There's great trails up there that they keep groomed all winter and different places along the trail system to stop for a drink and a bite to eat and to fuel your sled up. Some of the other things I enjoy are getting together with my friends and going out line dancing or dropping a tail gate around a big fire. I do not follow any sports teams. Unless it's Team Arctic Cat!
FOTH: Do you feel jockeys as a whole are underappreciated as athletes?
AK: I definitely think jockeys are underappreciated. I think a lot of it though is the simple fact that most people don't have the slightest clue how tough of a job it is and how fit and how tough you have to be. We also don't get all kinds of special treatment; you get hurt in the 3rd race, smash your foot in the gate or maybe go down in a race, 90% of the time you're back up getting ready for the 4th race. There's no time to be hurt. You better put some tape on it and get back out there so you can support yourself and your family.
FOTH: Are there decent crowds for the races at all, or just so-so?
AK: Winter racing is tough on everyone. We still have some very supportive locals, but there's not much of a crowd in 10 degree weather. Summer racing is much better, family's come out to watch, local supporters, and many others. I feel we have a decent crowd over the summer at Thistle, especially if there's a special event.
FOTH: Is there any track you have seen on TV that you would maybe want to ride one day?
AK: I'm the type of person that loves adventure, but at the same time, I don't have much confidence in myself. I would love to ride at every track in the world just for experience, but not sure I would have the courage. If I ever had the chance to ride at Churchill, I think I would have to suck it up and take it and just not worry about looking dumb, ha ha, so I guess that's my answer, Churchill.
FOTH: If some young girl came up to you and said she wanted to become a jockey, what advice would you give her?
AK: My biggest piece of advice is that you need to take care of yourself. Look out for yourself because nobody else will. Try to find one good trainer that you can trust and only work with them until you gain experience and knowledge how to handle things on your own. The racetrack is a very demanding place. It's not an easy lifestyle, so you have to be strong and stand up for yourself, especially being a young girl.
FOTH: Do you have any goals for yourself, and do you ride with any other female riders at the moment?
AK: My goal is to just keep trying my best on every horse I ride and see where it takes me. I do not have any huge goals. I love what I do. It would be amazing to ride in some big races someday, but I'm not trying to make a living from it. There are 4 female riders at Mahoning, including me, and others that ship in from time to time.
FOTH: Ashley, I am out of questions. Thumbs up for the interview! Any last words? The floor is yours.
AK: I just want to thank everyone for all of their support and everyone who has helped me along the way. I hope everyone involved with these amazing animals stays safe, and best of luck to everyone! Thank you for taking the time to interview me. It's greatly appreciated. Being a jockey is a rough life sometimes. I've been there, but keep your head up, your time is coming. Thank you.