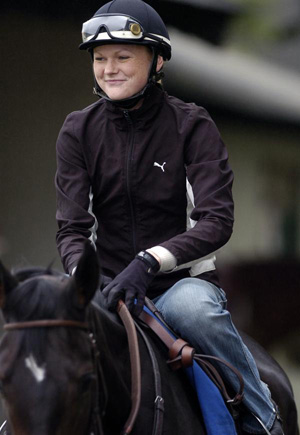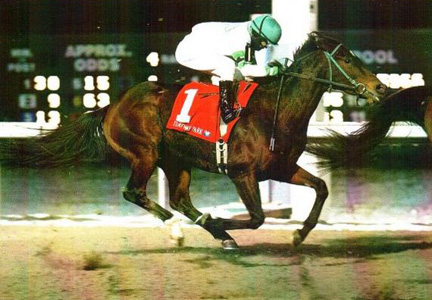 Ashlee Turner
Ashlee Turner is a young jockey who is currently out with an injury, but she should be back riding soon. I emailed her some questions and here is what she said to them.
FOTH: Where were you born and where did you grow up?

AT: I was born in Oregon. Grew up in Sweet Home, Oregon...small logging/farm town in the Mid Willamette Valley.
FOTH: What sort of girl were you growing up?

AT: I was a combination of a tom boy and an artist. I loved being out with the horses but I also liked painting/drawing (mostly horses!). I grew up riding pleasure and barrel racing/gaming stock horses then switched to jumping/dressage later in High School.
FOTH: Did you know at a young age that you wanted to become a jockey?

AT: I was 10 when my Uncle Gordon first took me to the racetrack. I was already a horse crazy girl, but I didn't know a thing about racing. I first fell in love with sales and pedigrees. I knew all the leading freshman sires before I knew what horses where on the derby trail. I think I was about 12 when I decided I wanted to be a jockey.
FOTH: Was your family supportive when you decided to actually become a jockey?

AT: Well I grew up wanting to be one. I remember asking when I was 16 if I could drop out and go to Kentucky like Krone did. They didn't let me. I graduated with honors and some scholarships so I decided to go to college. I went to OSU for 2 years, made great grades but my heart wasn't in it. I wanted to ride. They where shocked when I left and moved to Canada to break babies at Windfield's Farm. My parents have been supportive throughout the passed 3 years, but they don't like it when I get hurt. My older sister Jennifer is my biggest fan.
FOTH: Looking back, was becoming a jockey easier or harder than you thought and what was some of the toughest things you had to do to get your jockey license?

AT: Things have been both harder and easier than I expected. I have been
fortunate to land some great jobs. I started at Windfield's Farm, then galloped for Dickie Small for a summer. From there I went to Randy Bradshaw at Adena Springs and broke babies for another winter. He was a huge part in my career, he even got me a job with D. Wayne Lukas at Churchill the following spring. I went to Churchill and went after it. I got my gate card there and went to Turfway to ride my first few races. I hadn't gotten my apprentice license yet (they make you ride a few first), and went on to Oaklawn Park last December with Wayne. They where a bit difficult there. The starter actually told me they hadn't licensed a first time apprentice in 35 years, (since 1973) and "weren't about to start now". I had a few people go to bat for me, and eventually they let me ride. I did have to ride an additional 5 races at Oaklawn for the stewards there before though. So I felt like I was breaking a record just getting the badge! Riding at the large tracks like Keeneland, Churchill, etc. is way hard. You might be a super star in the morning, but chances are they aren't going to ride you in the afternoon at places like that.
FOTH: Were you taught how to ride by a few people or did you learn a lot of it on your own?

AT: Well I grew up riding horses, but yeah I had a lot of help making the change to racehorses. I learned the basics on the farm, like bridging your reins, and breezing babies. Once I went to work for Lukas the riders there helped me a lot. Stacy Prior (ex-jockey) was a great teacher! When I was getting closer to ride my first race Parker Buckley, was a great friend and mentor of mine. We'd go to the room at
Churchill and I'd ride the full card at Belmont some days on the equalizer! I learned a great deal from him and will forever be thankful for his help (RIP Parker!) I later went to work for Bobby Frankel as his main work rider at Keeneland and New York. I got to work with great riders like Angel Cordero, Gomez, and Castellano. Just watching guys like that everyday and working horses in company with them taught me so much! The horses really teach you a ton too, I had great teachers like Country Star, Ginger Punch, Precious Kitten, Out of Control...the list goes on!
FOTH: Tell me about your 1st race. Where was it, where did you finish and were you nervous at all?

AT: My first race was on a horse for Joe McSorely called Major Focus. It was a claimer, (10k, I think) at Turfway Park November 28. 2007. I was nervous as heck. I was the only one in the girls jocks room, didn't know how to dress myself. Didn't have any tack. I borrowed stuff from everyone and the guys dressed me in the TV room! Night racing at Turfway that time of year is COLD. We broke slow, trailed the field, went wide, and started passing em at the 1/16th pole. I think I finished 7 in a field of 12. I could barely get my horse pulled up, I was so tired!
FOTH: What tracks have you rode at so far and do you have a favorite?

AT: I've only ridden races at Turfway and Oaklawn. I've also ridden at Churchill, Keeneland, Pimlico, Belmont, Saratoga, Del Mar, Colonial Downs, Delaware Park, and Fair Hill. I love training horses at Keeneland, its by far my favorite track and the horses seem to love it. And of course I love Saratoga, I hope to ride there in the afternoon someday!
FOTH: How long would you like to ride for?

AT: I'd like to ride long enough to loose my bug haha. Not really, I just seem to have trouble getting started and then getting injured. I want to ride for as long as I can, as long as I still love it.
FOTH: What hobbies do you have or things you like to do when you are not riding?

AT: Well right now I'm enrolled in school in Portland again for the term since I'm out on an injury so I have plenty of time for other hobbies! I love volunteering for the animal shelter. I also love fine arts, I draw, paint, photography in my spare time. I'm also a huge music lover and require a good dance session at least once a week! And of course normal girl stuff like go shopping with the girls and get my nails done.
FOTH: If a girl came up to you and wanted to be a jockey, what advice would you give her?

AT: I'd tell her to go for it. Don't doubt yourself even when everyone else seems to. And once you think you are ready, go for it...the longer you wait, the longer people end up waiting on you.
FOTH: Do you think you have been treated pretty fairly so far in your career?

AT: In some ways. I think it's a struggle for all riders starting out no matter your gender. But certainly, I've had people judge me based on the fact that I'm a girl. I think the truth is most jockeys are mistreated to some degree by trainers, owners, and racetracks...not just me, not just other girls.
FOTH: How long did you exercise horses before you became a jockey?

AT: I broke babies for 2 years then went to the track. I was galloping and breezing horses at the track for Lukas for 7 months before I rode my first race.
FOTH: About how many hours in a given day are you at the track in a typical day?

AT: That depends. If I'm galloping I get there around 5:30 and stay until I'm done. Make some rounds, mingle a bit, and figure out my schedule for the next day. If I'm riding, then I get there close to the same time. Ride however many I have for the morning 7 or 8 usually. Then I make a starbucks run and go to the room. I leave when I'm done, so anywhere from 8-12 hours I guess.
FOTH: Have you had any injuries so far and if you have what was the worst one so far?

AT: Yeah. I'm out on an injury now. I was galloping a horse for Larry Jones back in October and hit a horse head on. I broke my sacrum (low back) in 3 places and rotated my sacral spine. I also torn my hip flexor. I've been out 12 weeks, I'll be out another 4. That is the worse injury, although early fall of 2007 went down at Churchill at had severe brain trauma and a herinated disc in my neck. Besides that just small stuff, broken ribs, broken fingers, concussions.
FOTH: How do you prepare to ride a race? Do you look at the program or listen to what the trainer tells you or a little of both?

AT: I read the form, ask any riders who may of rode the horse prior what he's like. Tracks like Turfway have the replay machines, so I watch those races. Hopefully I've worked the horse before and know how he feels, the just go by what the trainer says, at least try to!
FOTH: What usually goes through your mind when the gate 1st opens during a race?

AT: Grab mane! Then find a position and its ON baby!
FOTH: Do you feel you learn something new everytime you ride and do you watch your own replays a lot?

AT: OH yes! I'm still a newby. I have SO much to learn. Its like doing it for the first time everytime still. I always watch my replays, even when I'm mad at myself. The guys are usually good about showing you what you did wrong too, so that helps.
FOTH: Do you have any short term or long term goals for yourself?

AT: Short term for me right now is to get healed up and fit again. I want to be riding races this summer somewhere full-time. Long term right now is just to get myself some win photos!
FOTH: Ashlee I am all out of questions. Thumbs up for the interview and any last words?

AT: Just Thank You Chris for the interview and your awesome website!

Back to our main page