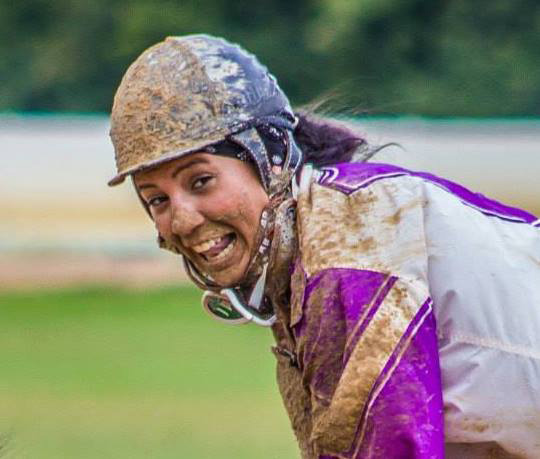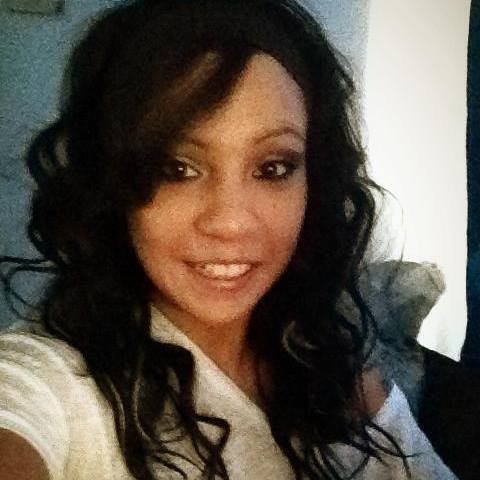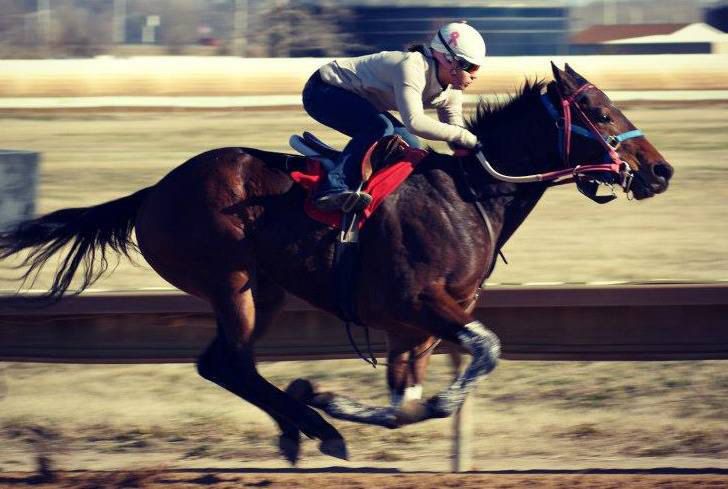 Aymara Rivero
Aymara Rivero is currently taking some time off to have a baby, but she has rode at Fairmount Park and Arlington Park and here is her story so far:
FOTH: Where were you born and where did you grow up?
AR: I was born in Centerville, Southern Illinois. I grew up about 30 minutes from there in Troy, Illinois.
FOTH: What sort of girl were you growing up?
AR: I was definitely a tomboy. My mom's best friends kids were all boys so I had like 7 "brothers"!
FOTH: What did you want to be when you were growing up and did you come from a big family?
AR: I wanted to be a lot of things. But I mainly wanted to be a Jockey! I was a husky kid until I was about 13 so I figured I would only be a pony girl or exercise rider! My mom was a groom when I was 3 for a little while and liked to go to horse races. So I knew a little bit about the sport, but not much.
FOTH: At what age did the world of horse racing enter your world?
AR: Well, besides the being 3 of a single mother groom. I didn't really enter the horse racing world until I was almost 16. My mom bartended in a town near Fairmount Park and knew a couple of trainers and got me a job as a groom for Kenny Jansen. So, since I was in High School still I worked weekends, some mornings, and all summer as a groom. I did get to jog and gallop a couple of easy horses here and there, but not much since I wasn't 16. When I did turn 16 I got my exercise license but I still didn't gallop much since at first it was very hard for me. I had been doing hunter/jumpers and eventing since I was 8 and obviously it was very hard going from one type of riding to another!
FOTH: So tell me a little bit at your 1st job at a racetrack and what track was it at?
AR: Besides what I have already said, I worked as a groom and galloped a few for Kenny Jansen for about 2 years. It taught me a lot but I was young and still really into school and boyfriends and this was just a job I enjoyed that made me really good money for my age! LOL. So I really didn't get into the actually racing part until later on...
FOTH: At what point did you decide you wanted to become an ex-rider and at the time was the thought of actually becoming a jockey enter your mind?
AR: Well, after working for Kenny as a groom I graduated High School and started college and moved out of my parents' house. I had a couple of "finding myself" partying years and I freelanced a little too make some extra money but I wasn't interested and to be truthful I was kind of scared still. Not necessarily scared of the horses, but scared of not doing a good job and embarrassing myself. Later on, I was about 18-19; I started getting on a couple horses for Mike Nance. That ended up being one of the best things to ever happen to me and after a year of just helping out and getting on a couple of babies and older easier horses, I became the "main" gallop girl. I worked every horse for him and really got better fast and started looking and feeling very comfortable and professional on a race horse! I ended up traveling a little with him and galloping and working about 15 a day for him in Indiana. Being the outgoing person I am I met a lot of jockeys and agents and really just wanted to be a jockey. I was a lot more confident in myself by then! The next year with Mike Nances help I became a jockey!
FOTH: Did anybody teach you how to ride and did getting up on a horse feel natural for you?
AR: Well, while working at Mike Nance's, his other exercise rider David Retana really taught me a lot. We would take babies together and he showed me a lot and taught me how to be more comfortable on race horses.
FOTH: So how long did you exercise horses before you became a jockey?
AR: I exercised horses off and on for 4 years before I became a jockey. But really exercised horses full time for 2 years before I got my jockeys license.
FOTH: Now when you became a jockey, how did it feel finally having a jockey license in your hand?
AR: It felt great. I had worked really hard for about a year to get to that point.
FOTH: What did your parents think about you becoming a jockey?
AR: They loved it! Especially my mom, since she had worked as a groom when I was little and always wanted to be able to do the same thing.
FOTH: Looking back, was becoming a jockey easier or harder than you thought?
AR: Becoming a jockey was easy once I put my mind to it. Being a jockey and succeeding being a jockey is a lot different than just becoming one!
FOTH: Tell me about your 1st race? What track was it at and where did you finish in the race and were you nervous at all?
AR: I was SO nervous! It was for Mike Nance, so I knew the horse. The horse "KnowwhatImean" was an old class horse. And after a year of riding looking back at that first race I always thought how if I knew what I know now, I could have won! But, that's what your bug years are for! I went about 4 horses too wide! LOL. I was just trying to be careful! I ended up coming in 5th but only got beat about 4 lengths. It definitely went a lot faster than I thought it would be. I mean I rode the fair races/ bush tracks the year before and it was still way faster!
FOTH: Tell me about your 1st win. What track was it at and did you win by a lot or was it close? What was it like jogging the horse back to the winner's circle?
AR: My first win was my 15th or 16th start on a first time starter for Patty Macari! The horse's name was "Grahmthebruiser"! I had been working the horse for the past month and really liked him. I was patient and did everything right and so did he! We won by about 5 things it was amazing! Jogging the horse back was just as exciting. The only thing going through my mind was how I wanted to pose! lol
FOTH: What did the jocks get you with after the race and did you know it was coming?
AR: Oh I knew it was coming! Actually, a couple weeks earlier I had gotten beat by a nose and they had told me when I got back they thought I had won and had gotten everything ready! So they got me good! Water eggs and baby powder! I loved it! I felt like I had earned a little respect!
FOTH: How do you feel your apprentice days went as a jockey as a whole?
AR: I feel like I learned a ton! More than a lot of apprentices do, actually. But, it was because I had a lot of bad luck and made a lot of mistakes on where I went, how long I stayed, and picking agents! I felt like, and still feel like I should have done A LOT better! But, I did make those mistakes.
FOTH: Tell me about what it is like riding at Arlington Park?
AR: It is one of the most beautiful tracks I have ever been to! It's also one of the toughest tracks to get mounts. I never rode there full time but I shipped there quite a few times with horses I thought were worth it. If you have the horse to win or run good, it's a lot easier to ride there. A lot of people think the "big boy" will be more tough on you, which sometimes they are, but all the horses are more classier and it's a lot tougher to get away with "race riding".
FOTH: Take me through what a typical day is like for you these days?
AR: Right now I am pregnant so I am looking for an outside job from the track! LOL. But when I was riding a typical day is get up about 5-6. Drink my coffee. Go to the track and talk to trainers and hopefully get on some horses. If it's a race day I go home and relax, try to take a nap, but usually can't because I still get excited just to ride! Then go to the jock's room and ride! If it's not a race days I usually just find something to do the rest of the day to keep me busy until the next morning...
FOTH: Do you feel you have a certain riding style and how would you like to ride for?
AR: I have won with speed horses and off the pace! I feel like I am a very patient rider and am good at both. But the horses I have gotten have mainly won from off the pace and from way out of it! I finish strong at the end and have had a lot of long shots so I think that is why.
FOTH: Any last words?
AR: I can't wait to have this baby. Get a job and try to save some money. Start working out and start to ride again the right way I have learned I need to. I have made a lot of mistakes. Worked hard but had stopped working as hard when I have gotten down. Let a lot of things get in my way. And I just can't wait to come back and well try to make a comeback! And see how it goes from there!