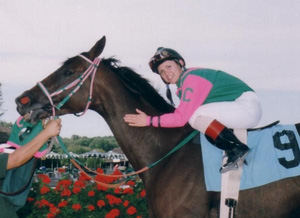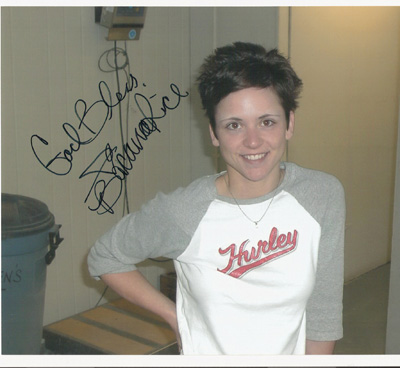 Bacarra Rice
Bacarra Rice is a jockey I used to know when she rode at Phila Park a few years back and I recently got back in touch with her and even though she recently retired from racing I got her on the phone for a 2nd interview and here is what she said to my questions:
FOTH: I know before we started this interview you had told me that you recently retired from being a jockey. How long have you been retired and what led to this decision?

BR: In 2003 and 2004 and I rode at Tampa Bay Downs and me and Ramsey Zimmerman got married and we had a little boy and because of the problems we had, we are going through a divorce, I went on my own and tried to ride a little bit, but I don't even know of any female riders that have children and are single. Do you Chris?

FOTH: Not off the top of my head I can't think of any.

BR: I got custody of him and it was tough riding and taking care of him. Besides that and time I should be staying with him and the stress and everything I couldn't focus on riding and I tried it and I took the winter off and I just kinda relaxed and I went to Lone Star and rode there for a meet and then I went to Remington and it was kinda rough out there and it was hard to break in being a female and I have never been treated like that and I finally just said "I got to go to school" so I am working on going to school right now.

FOTH: I know your still a young girl, has there been any thoughts of maybe riding a year or 2 from now or are pretty much done with that chapter of your life so to speak.

BR: In Jasper, Florida, which is only 2 hours and some change from my house they are building a quarter horse track and I pretty interested in that and that might be fun while I am going to school. My parents breed and I am breaking 2 babies for them and getting them ready is probably as far as it will go as I have my sights on other things and racing is so demanding and I can't put everything into it right now.

FOTH: I know exactly where you are coming from Bacarra. Now you mentioned about it being hard breaking in at Remington. Was that because you were a female rider or was it because you were the new kid on the block so to speak?

BR: The guys that I ran into were pretty old school and I was kinda disappointed. On the East Coast I kinda got spoiled and I had a lot of people just hand me mounts, like I would walk into a barn and a trainer would say, "ride this horse" and I was like "OK" (laughs). It was so easy and out west, like Ashton Fitzpatrick has been out there quite awhile and she is a great rider and she is even kinda struggling a little bit not getting the mounts she would like to have. Nena Matz is doing good, but she has been out there forever and her husband he trains. I just got so fed up with it and I left there with a bad taste in my mouth so I don't even know if I tried hard enough especially with everything I am going through. Trying to ride is tough enough, but not getting the mounts that you want is even tougher. I can't even explain it I have never been treated that way and I worked a lot of horses for a lot of people and they didn't hardly ever ride me on any of them. I'll never go back there that is for sure. (we both laugh)

FOTH: I knew you when you were riding here at Phila Park and Penn Natonal a few years back. What are some memories you have of riding at these 2 tracks?

BR: Fond memories. Penn National, cold (laughs). Philadelphia Park to this date was the best place I have ever ridden. When I was there the money wasn't great, but the guys in that room back in 2002 treated me like we were all a big family and if it came down to winning a race or helping somebody that was in trouble, somebody that could get hurt, we took care of them. Everybody took care of everybody and I have never, ever ridden anywhere else like that. Phila Park I loved those guys that rode there.

FOTH: Looking back do you think you were a pretty good apprentice rider?

BR: I think so. I waited a long time to ride cause I wanted to try and learn as much as I could before I rode. I galloped about 3 years before I rode and I watched replays and I got the equalizer even after I was riding and practiced and if I won a race by a length I wanted to win it by 2 or 3 lengths. I lived and breathed it. When I first started riding I was into boys, but I didn't date anybody for like a whole year that I had my apprentice. That shows you how much I was into it. I just ate, slept, and breathed it. I think that is what made me good.

FOTH: Are there any days that stick out in your mind as a rider that you can remember?

BR: There is one day I was riding at Phila Park and Robert Martel was my agent and I was doing pretty good and I was riding 1st call for John McCaslin and I was one of those days where none of your good horses get in and the horses that I was on, and I was on 3 that day, and 1 was for Trainer David Dotolo and the other one was for Bastina (i am sure this is spelled wrong sorry-chris) and this was like his only horse and he brought it privately from Trainer John Servis. I looked in the program and these horses were getting beaten by double digits every time and these were bad horses and they were over their head. I called Bobby and said "don't do this to me" (laughs). I went and called jockey Mike Smith in California and he said you got to ride them like they are favorites. I was like ok, ok. The 1st horse I rode Bastina told me he brought the horse privately and he said he could tell me nothing about the horse. The race went off and the horse broke right out of the gate and went straight to the front and she won and paid $126.00 or something like that. The next race, Dotolo tells me that they are gonna retire the horse to breed and they are running her in an allowance race and he said just give her a good trip and Phila's turns are really hard and just give her a good trip and I got a little sassy and asked him if the horse ever had a girl rider on him before and he kinda laughed and said "No" and I went out there and Kendra Taylor, you remember her.

FOTH: Sure

BR: Well we went out there and she was on a real longshot too and we break out of the gate and we are going a mile and change and Kendra and I were dead last. I don't know how many lengths, probably about 8 or so and we bet each other a beer. Whoever beat the other one owed them a beer. (major laughter). All the sudden my horse took off and to make a long story short, my horse won and paid $108.00 or some crazy amount like that. That is the only time that a rider on the same card had 2 horses pay that much. I didn't even want to ride these horses and the 3rd horses, which was the best of the 3 didn't even run much and I didn't even collect a paycheck on him.

FOTH: Next time I see Mr. Martel I'll tell him you said hi.

BR: How is he doing?

FOTH: He has our leading rider Frankie Pennington as his jockey and I think he has somebody else as well.

BR: John McCaslin, when he rode me at The Meadowlands, we shipped in, almost every horse he put me on won. His win percentage was like 60% or some crazy number like that. That was another pretty good memory.

FOTH: What made you decide to leave Phila Park?

BR: Honestly I had the bug and I was doing well and everybody and you have probably heard this before that once you lose the bug your done. (yes i have heard this before many times-chris) I believed it and i was really scared and stressed out from working as hard as I did that year and i was like 'what am i going to do?" and I called Todd Pletcher and I got a job with him and I am so glad I got that opportunity to work for him and get on those kind of horses, but in a way it was probably the worse thing I could have done for my career cause once you get going you can't stop like that and I should have just kept going and probably still be at Phila. I kind of panicked about losing the bug and I thought my clients would drop me and they probably had more loyalty than that.
FOTH: Did you ever have any problems with weight while you were riding?

BR: No I stayed right at 105 the whole time.

FOTH: What other tracks did you ride at? You told m you rode at Tampa Bay Downs, Phila Park, Penn National, Monmouth, The Meadowlands and Remington. Didn't you ride at Fairmount?

BR: Yes I did and I did good there. I liked it there. That place is not a good track (laughs), but it is a lot of fun and I had a really good time over at Fairmount. I also rode at Lone Star and when I was working for Todd I shipped into Gulfstream a couple times and I originally started my bug at Delaware Park and that was when I was working for Graham Motion and I rode my first handful of horses for him at Delaware Park and when the meet there was over that is how I ended up at Penn National.

FOTH: How could I forget Delaware Park that was the first time I met you and I got a pic with you

(laughter from Bacarra)

FOTH: Next thing you know I get a job up at Phila Park and then you started riding there full time and I was seeing you every day.

BR: Yeah I know. I miss Phila so much. When somebody starts talking about riding and asks me what my favorite place is I tell them Philadelphia Park hands down. I had the greatest time there and everybody treated me so good. I loved it and people were very respectful there. I just loved it and good riders and it was like family.

FOTH: Besides Remington, do you feel you were treated pretty fairly as a jockey at all the other tracks that you rode at?

BR: Yeah I do. I was always treated nice. Lone Star and Remington, nobody knew out there, but nobody would give me the time of day and they just weren't into it.

FOTH: So what was it like working for Todd Pletcher. How long did you work for him and that must have been an amazing experience?

BR: I worked for him for about 4-5 months and I just called him up and told him who I was and it is funny cause he is like "what is your name and when can I see you" and I told him I was a rider and wanted to take a break and gallop for a while. I remember I rode a horse for McCaslin and Todd had a horse in the same race and I ended up winning the race and he told me he remembered that! He was like where do you want to go to Miami or somewhere else and I said Miami and I went to this new training center, Palm Meadows, and this was the 1st year that they opened and I only got on stakes horses and they were amazing. When I got on those horses, and I had gotten on some nice horses, it was like the difference of driving a regular car and say a Lexus (laughs). Those horses were amazing, you didn't even have to hold onto them and at first I was intimidated by Todd and he carries himself like he is really classy and he is a really nice guy. At one point I was saying to him, "are you sure you are paying me for this job, shouldn't I be paying you to get on these horses, they are amazing." I loved galloping for him and if I ever decided to start galloping again he is the 1st person I would call to try and get a job with.

FOTH: Do you think another female rider will win one of the 3 Triple Crown Races?

BR: I hope so. The chances are probably pretty slim. The circuit those horses come from are Kentuckyish and there is hardly any girl riders out that way and it is a shame that people always say that the girls aren't as strong as the guys and yet we all weigh the same so I don't know where that is coming from. I check Equibase and I look at Phila and I don't know those girls, but when I see them do well I see that these girls are kicking some boy jockeys butts! (laughs)

FOTH: If a young girl came up to you and said she wanted to become a jockey what advice would you give her?

BR: First I would say finish school and then you have to put your whole heart into it. These guys are out there riding and they have families and this is how they make their living. This is not something to be played with and there is a lot of money involved and a lot of peoples lives are out there and this is something you have to be ready to give it all you got and you can't just say, "oh I want to ride," you have to take it seriously.

FOTH: Now when you started to gallop and stuff, at that point did you know you wanted to become a jockey and you just galloped to gain experience and stuff?

BR: I knew when I was 5 years old when I saw horse racing on TV and I said, I don't know what that is, but I want to do it. (laughs) I just knew from that day on and I lived in the city so there wasn't a lot of horses and I took riding lessons and I rode English and I showed and jumped and did all that stuff. When I turned 18 I had a friend, who had another friend, who broke babies over in Ocala, FL and that is how I got into it and I knew from that day what I was going for. The day I got a job with Graham Motion I had just come from the farm. I walked into Graham's office and I said "My name is Bacarra Rice and I want to become a jockey" and he was like trying not to crack a smile and he said he would do everything he could to help me.

FOTH: Do you remember the 1st time you went to a racetrack and what racetrack it was?

BR: Charlestown. Some old man there had a few horses and he took me in and taught me how to gallop and the basics and stuff and that is how I learned how to ride.

FOTH: Bacarra I am out of questions. Good luck with everything you do and stay in touch and do you have any last words to wrap this up?

BR: Just tell those girls at Phila Park to keep kicking butt.

FOTH: I will do that for ya.

Back to our main page