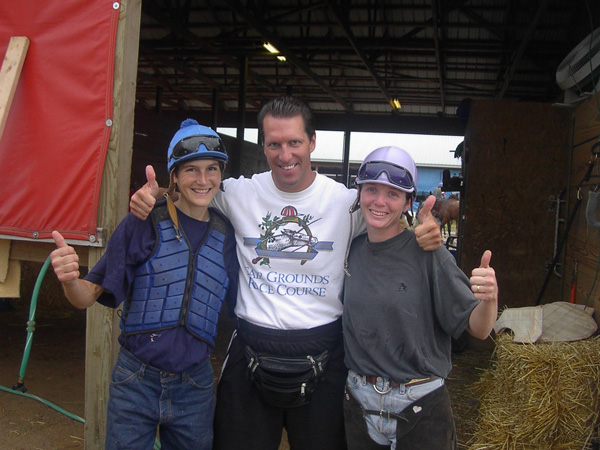 Lori, Chris, and Denise at Great Lake Downs
Denise Bennett
Denise Bennett was a jockey I met while I was at Great Lake Downs a few years back and I have stayed in contact with her and with her retiring and becoming a trainer I thought it was time for a 2nd chat with her. I called her on a rainy night in Chicago and her is what we talked about:
FOTH: Denise I am going to go through your whole riding career, if people want to they can read the 1st interview I did with you. Since I lasted talked to you, you have retired from being a jockey. My 1st question is why did you decide to retire?

DB: I wasn't happy with the quality of horses I was riding. I just decided it was time. I got it out of my system. When I first started I would wake up and couldn't wait to go ride. As I got older that feeling started to go away and I told myself when that feeling goes away I am gonna I am gonna quit. The trainer is expecting me to give him 110% and I was only giving him 75%. I retired for the right reasons.

FOTH: Do you remember your actual last riding race and if you do was it at Great Lake Downs?

DB: My last mount was at Great Lakes, but I don't remember the horse.

FOTH: Did you know at the time that was gonna be your last race or did you decide to retire a couple days later?

DB: Actually the trainer, he is now deceased, but I didn't know that was gonna be my last horses I was gonna ride. After my last race I was talking to the trainer and I had rode this horse the whole meet cause nobody else would ride him cause he was really sore and I had won some races with her and I just finished 2nd with her and the trainer said he was gonna take me off the horse and put and so on her and I went to bed that night telling myself that I was so tired of this and when I got up the next morning I was scheduled to ride 4 or 5 races and I went in and packed up my trunk and I was so tired and the business.

FOTH: I met you when I went out to Great Lake Downs in 2002. What are some of your thoughts on the track closing recently?

DB: In order for the new track (Pinancle) to be built Great Lakes would need to be shut down. They really weren't doing anything to Great Lakes and I think with the new track opening up things will be better. Whenever a track closes you are sad to see it close, part of the industry dies, but I think this is gonna be a positive thing.

FOTH: Tell me actually what you are doing now. Are you a trainer, ast trainer, etc? Do you still get up horses in the morning at all?

DB: I have a license as a trainer. My husband is a great trainer and I have his input in everything and I also get up on some horses in the morning. I gallop 4 or 5 days a week and I ride the pony. I do all the paperwork and stuff and I have really backed off on doing the barnwork and I get up on horses when I feel like it.
FOTH: Now do you missing riding at all or is it like you said before, out of your system and you don't really miss it?

DB: I do not miss the work you have to put in being a rider. It is tough. I don't miss the work, but every once in awhile I miss the riding and I think to myself it would be cool to go out and ride once in awhile, but I don't think too hard about that.

FOTH: I know you are based out of Arlington Park and I have never been there. Describe to me what racing is like out at Arlington Park.

DB: Arlington Park is a beautiful facility. It is a wonderful place to be and we have been here for the past 5 years and we are always anxious to come back to Arlington. We spend 5 months at Tampa Bay Downs and then Hawthorne, but Arlington is home. There is nothing they won't do for frontside and it is a very classy beautiful track.

FOTH: Has you or your husband used any female riders? Do you have a "go to" rider or do you just put on whatever jockey you think fits the horse best?

DB: I technically ride Eddie Perez, my husband doesn't ride many female riders, but we use Tammi Piermarini and she has 5 or 6 for us. She is a really nice girl too.

FOTH: Have you noticed at all lately that female riders are finally starting to get some more respect or do you always think that horse racing will be known as a "man's game" so to speak?

DB: It is and always will be. But you will have standouts like Tammi that will be a challenge to men and beat them. I think what is so tough for female riders is Arlington Park is not a female jockey friendly track, however, you go down to Tampa Bay Downs and they love the girl riders. It is situational. Delaware Park has always been a place where they love girl riders. Phila Park in the past has not been a been a girl rider track, but it just depends on where you are. A female has to work 2x as hard to prove they are as good as the men.

FOTH: You being an ex-jockey can you watch a race and tell your husband if the jock gave your or his horse a bad ride?

DB: Oh absolutely I know all the tricks. (we both laugh) We have a really strong relationship with our main rider so we know he is giving us a 150%, but if we put another jockey on one of our horses and I don't know them I am usually more critical of them. I watch very closely, and I try not to, but old habits die hard.
FOTH: Do you feel the riders weights should be put up a couple pounds or more or are you OK where they are at now?

DB: I have thought a lot about this over the years. I think the weight for journeymen should be 120 pounds. If you have to have less than 110 pounds on your horses back to win a race then that horse should not be running, it is as simple as that. I think weights are important, but look at the weights in Europe, they are far different than our weight. 120 would be a nice weight for a journeyman.

FOTH: If a young girl or boy wanted to become a jockey what would you tell them?

DB: Well since I have quit riding I have had several young people come to me and say they want to become a rider and ask me to help them out. The first thing I find out is how dedicated they are. If they are dedicated and that is all they want to be there is no talking them out of it. This next generation is gonna have a tougher time. Honestly I would discourage them. If a young girl came up to me and said she wanted to be a rider, I don't think I would encourage her. It is a tough business and tough on your body and relationships. A female that is. My daughter is 15 now and I only allow her to come to the barn once a month. I would not allow her to come to the barn, I mean this is a great industry and there is nothing I rather do in my life and I have no regrets, but I don't want my daughter doing it.

FOTH: When you were riding did you get in many arguments with other riders up in the room?

DB: (laughs) Yes. Plenty of times. (laughs)

FOTH: Did you win most of these arguments?

DB: Always. I never lost an argument. (we both laugh). I never lost a fight neither.

FOTH: What was the worst injury you had while you were riding?

DB: When I broke my jaw. It was a quarter horse. I had to get my jaw wired and that was my ex husband's that was the most screwed up 2 months of his life.

FOTH: Do you think you will be involved in horse racing all your life?

DB: Absolutely. It wasn't that hard to make the condition from rider to trainer because I will always have my foot in the barn. If I want to get on 3 horses I can and if I just want to ride the pony I can do that too. I will always be in the barn.

FOTH: Did you have a favorite track that you rode at?

DB: Tampa Bay Downs has always been my favorite track. I loved riding over Tampa and I did well there and I met my husband there.

FOTH: Dirt or turf or you like both?

DB: I like both, but I would have to say dirt cause I rode more on the dirt.

FOTH: What are your thoughts on the polytrack stuff they are putting on racing surfaces now at some tracks?

DB: We have that here at Arlington. We there was a lot of break downs the year prior to them putting the polytrack here and since then we had an amazing lot less breakdowns at the track. The only thing is the polytrack burns my eyes and hurts my nasal passage a little bit. Nothing is going to be perfect, but so far it has been pretty positive.
FOTH: Take me through as a trainer what you do in a typical day.

DB: I get at the track about 7:15 am, the barn is rolling pretty good by then. I come in and ask my husband what he wants me do and I sometimes take a horse up to the track, go down the shed row make sure everybody is doing what they should be doing, me and my husband look at all our horses together and that is pretty much it. I am usually home by noon.

FOTH: What are some fun things to do out in Chicago besides the track. Is the food out there as good as I hear it is?

DB: Every year they have this "Taste of Chicago" and it several days and all these vendors and you try all this food and it is amazing. The restaurants are awesome. Hare Kari's down in the city is awesome, which is named after the famous announcer. We have tons of museums, an aquarium, piers with cruises and just lots of entertainment. It is a pretty fun city. It is really beautiful at Christmas time too.

FOTH: I am out of questions. Anything you want to say to wrap this up and don't get too wet with the rain as you told me it is raining out there.

DB: It is pouring. It was nice talking to you again and if I get out to the East Coast you will be the 1st one I call and you can come hang out in the barn and have a good time. You have my number stay in touch.

Back to our main page