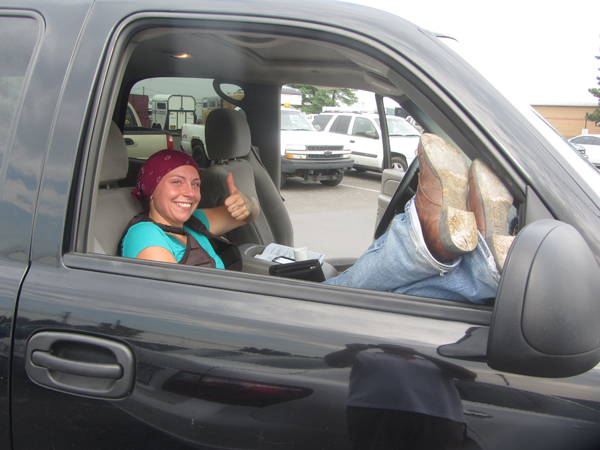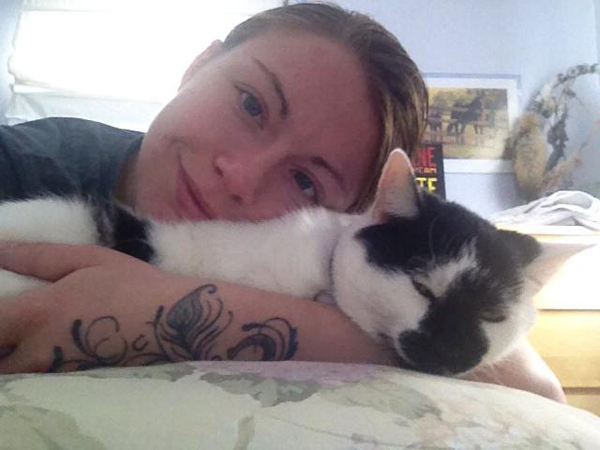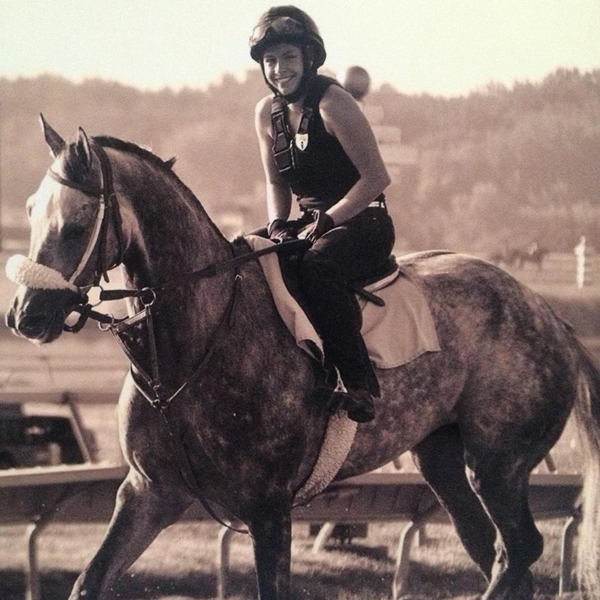 Laura Carson
Laura Carson is a young jockey riding over at Parx Racing and I recently emailed her over some questions and here is what she said to them:
FOTH: Where were you born and where did you grow up?
LC: Born in Vancouver B.C. Grew up in Point Roberts, WA.
FOTH: What sort of girl were you growing up?
LC: I was very tom boyish girl, but shy with people.
FOTH: What did you want to be when you were growing up and did you come from a big family?
LC: I have a very small family, but when I was 6 years old, I told my grandpa and grandma I wanted to be a jockey.
FOTH: At what age did the world of horse racing enter your world?
LC: When I was 18 some life changes wound up putting me at the track.
FOTH: So tell me a little bit at your 1st job at a racetrack and what track was it at?
LC: I got my 1st job at Hasting Racecourse as a hot walker.
FOTH: At what point did you decide you wanted to become an ex-rider and at the time was the thought of actually becoming a jockey enter your mind?
LC: At first I did not want to ride when I started working, but after I started working as a groom and after breaking babies (horses) all winter I decided I would try it to see if it was something I enjoyed.
FOTH: Did anybody teach you how to ride and did getting up on a horse feel natural for you?
LC: I grew up with horses, but had no formal instruction for many years, so I would say my biggest teacher was my own horses and the horses always felt natural to me.
FOTH: So how long did you exercise horses before you became a jockey?
LC: I exercised horses for just shy of a year before starting to ride.
FOTH: Now when you became a jockey, how did it feel finally having a jockey license in your hand?
LC: I don't think it really hit me until I was on my first mount in the starting gate.
FOTH: What did your parents think about you becoming a jockey and have they seen you ride?
LC: My family doesn't like it much, but they are happy I am doing something I love.
FOTH: Looking back was becoming a jockey easier or harder than you thought and what was the toughest thing about becoming a jockey?
LC: I knew riding would be hard so it didn't surprise me, but the hardest part of riding is dealing with the people.
FOTH: Tell me about your 1st race? What track was it at and where did you finish in the race and were you nervous at all?
LC: My 1st race was at Belmont on the turf. I finished 9th in a field of 10 horses. I was nervous in the jocks room, but as soon as I walked into the paddock I was calm and relaxed.
FOTH: Tell me about your 1st win. What track was it at and did you win by a lot or was it close? What was it like jogging the horse back to the winner's circle?
LC: My 1st win was at Parx Racing. I won by a nostril. I thought I won it, even though it was so close. I was so happy I wanted cry since it was my mom's birthday that day.
FOTH: What did the jocks get you with after the race and did you know it was coming?
LC: I never got anything, which was fine by me.
FOTH: I know you rode in NY for a bit before moving your tack to Parx Racing. What made you decide to choose Parx Racing and not another track?
LC: I moved to Parx because a friend hooked me up with an agent there and it was going to be much easier drive then going to most other tracks.
FOTH: What would you say is the biggest difference from NY racing to Parx Racing?
LC: I would say the jockey colony and the way they ride.
FOTH: Take me through a typical race day for you?
LC: Normally when I get done in the morning (exercising horses-cf) I head up to the jocks room and have a snack and then take a little power nap before getting ready for my races.
FOTH: If some young girl came up to you and said she wanted to become a jockey, what advice would you tell her?
LC: Get tough and stick to your guns.
FOTH: Do you like any sports besides horse racing and have you had a chance to venture into Phila, PA and see any live sport games (hockey, football, basketball, baseball)?
LC: I like hockey. I have been to a few games down in Phila, PA, but other than that, if it is not horse related, I am not interested.
FOTH: What do you do to prepare for a race? Do you look over the racing program or pretty much just listen to what the trainer wants you to do?
LC: I look over the program, but I always try and listen to the trainer.
FOTH: After you lose your "bug", would you like to continue to ride for years to come?
LC: I would love to continue to ride until I am ready to stop.
FOTH: What are some things you like to do in your spare time when you're not doing horse related things?
LC: I love to eat, sleep and watch movies or go out.
FOTH: What tracks have you rode at so far and is there any one track you have seen on TV and would like to ride at one day?
LC: I have ridden at Belmont, Aqueduct, Mountaineer, Beulah Park, Thistledowns, Oaklawn Park, Delaware Park, Parx Racing and Penn National as far as riding races goes.
FOTH: Now that you have been riding for a bit now, is being a jockey what you thought it would be?
LC: Being a rider is most of what I expected though a few things are different than I expected.
FOTH: (funny question) How did it feel to finally do your 1st thumbs up for a certain someone?
LC: I think you caught me in a decent mood because I had just one a race so I am not too sure lol.
FOTH: Any last words and thumbs up for the interview?
LC: Thanks Chris and best of luck with the website.

Back to our main page