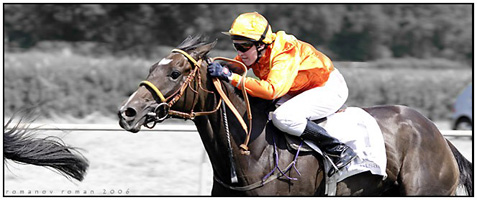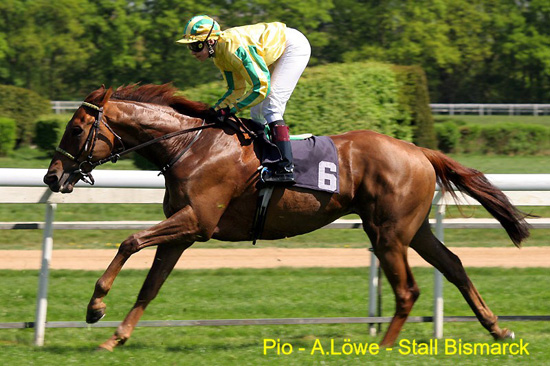 Carina Fey

Carina Fey is an overseas jockey that has rode at 56 different tracks and I recently sent her an email interview and below are her answers to my questions:
FOTH: Where were you born and what sort of girl were you growing up?

CF: I was born in Eschwege (Hessen) in Germany and was growing up in the little village Ršhrda next to. I was going to school in Eschwege for 10 years. My parents have never worked with horses but when I was young they had 2 for riding out in the forests.
FOTH: Are there many racetracks at where you grew up?

CF: No, there is a little racetrack at 40 km but the next bigger racetrack is at 200 km Frankfurt. After, nearly 200 km too, Hannover.
FOTH: What sort of girl were you growing up and did you have a love for horses at a young age?

CF: I've had a love for horses all my life! I got a shettland pony when I was 5 years old. With the racehorses I started to work in 2002 by a little trainer (F.A.Keuthen) and in 2003 I went away from my parents for my apprenticeship in Bremen (H.-H.Jšrgensen). I started to get interested in the racehorses when I saw the races on TV or on the internet. I really wanted to become a jockey...
FOTH: What was it like getting up on a horse for the 1st time. Did it feel natural or did it feel kinda weird?

CF: I don't know. I ride since I can walk. The first time on a racehorse was hard for me. I haven't had so much power yet because I was just riding my little pony before.
FOTH: Who taught or helped you out to ride?

CF: My trainer in my apprenticeship. The most for riding races I learned by watching the races at the TV and asking the jockeys after I was riding. Some jockeys helped me to get better. In Germany we have the "Jockeyschule" a school for apprentices. Every year they go there two weeks for a course. They ride at a trainer in the morning and in the afternoon they have lessons in theory and lessons with a jockey (Peter Heugl) on a racehorse simulator with photos and videos.... I've learned very much there.
FOTH: How long have you been riding for now and how long would you like to ride for?

CF: I ride racehorses since 8 years now and races since 6 years (2004). I don't know how long I can do my job but I hope for a long time.
FOTH: Can a jockey make a pretty decent living where you ride and do many people go see the races live where you ride at?

CF: I went to France before two years. The sport here is much bigger and more famous than in Germany, but its harder to get rides in races than in Germany. Here are much more racetracks than in Germany but more very good jockeys too. But you can make good money here by working with the horses. Yes, much people in France go at the racetrack or the PMU for looking the races and doing their money on the horses... In Germany the situation of the sport is difficult, its hard to make good money there by working with racehorses.
FOTH: Would you ever want to come to the US to ride and what do you think of the US riders and tracks that you have seen on TV?

CF: Yes I would really like to come to the US one day, I love traveling and get to know different countries, people, racetracks..... I don't know when, but one day I want to go to the US. At the moment I try to ride a little bit more races here in France...
FOTH: How many tracks have you rode at so far?

CF: I have ridden on 56 different racetracks in 4 different countries in my live. 28 racetracks from this are in Germany, where I started riding races.
FOTH: Are there many female riders where you ride at?

CF: In Germany are many female jockeys but not in France. Its hard to get rides here for the ladies, there are much good jockeys. But they have races for female jockeys in France, approximately 3-5 per month.
FOTH: Have you had any injuries so far and if you have, what has been the worst one?

CF: No, thank goodness!!! I've had accidents but I never had a bad injury so far.
FOTH: Do you ever get recognized outside the racetrack at all?

CF: Sometimes I meet people who knows me from the races. But not often.
FOTH: Take me through what you do in a typical day?

CF: I stay up at 4:45 o'clock in the morning and start working at 05:15 o'clock. I have 3 or 4 horses to ride a day, with every horse we're outside 1 hour and a half. I finish work at 11:30 o'clock. When I ride races, I just ride 1 or 2 horses in the morning and after I go to the racetrack. Several times a week I go jogging or swimming in the afternoon.
FOTH: What are some things you like to do when your away from the racetrack over there?

CF: I like drawing racehorses or reading when I relax at home. Otherwise I'm with my boyfriend or we go out with friends.
FOTH: What sort of music do you like?

CF: Nearly everything. Every moment needs another music....
FOTH: Are there many horse farms where you live?

CF: Yes, Chantilly is the biggest and most important training scentre in France. Many of the best trainers are here. The town I worked before I went to France (Kšlln) is the biggest training scentre in Germany.
FOTH: Do you have a favorite horse that you like to ride?

CF: In every stable I worked I had my favorite horses. When I ride a horse every day and I can work with him and see how he progresses, that's why I love my job. In the races I had some horses who I liked very much. The horse with I rode my first race "Gilde", two horses in my apprenticeship "Campala" (3 wins) and "Amajana" (3 wins), a horse who I love very much is "Aladar" - I made 5 wins with him and I rode him every start, "new game" (3 wins) I rode her every start, a horse with I made my first win for my trainer in Kšln (A.Lšwe) "Bellagio" and his brother "Bismarck", and the filly which I won my first (and only) listed race in Germany (Kšln) "The Spring Flower"..... After the listed I was 4th (Kšln) and 3th (Hamburg) in a group III. She was the best filly I ever rode in a race. From all this horses I know the owners and trainers good and I'm very grateful for their help and their support all this time.
FOTH: Do you feel the riding weights should be bumped up a couple pounds or are they good right where they are at?

CF: I don't know.... Its very hard to hold the weight. But I think that this job is a very hard one is one reason why only people are riding races who really love this job and who are willing to fight and to work very hard for it.
FOTH: Which do you prefer riding, on the dirt or the turf?

CF: Both! I love it to ride on the dirt too. In Germany in winter there are much jockeys who stop riding because its dirty and very cold, the sand hurts all over. So I got much chances on the dirt. In France its more easy, the sand don't whirl up so much and its not so cold like in Germany. But here aren't less jockeys on the dirt like on the turf...
FOTH: Do you have any short term or long term goals for yourself?

CF: I want to see much in my life. I want to travel, to work and (I hope) to ride races in different countries. But the first goal is to ride races here in France and to learn all what I have to learn here.
FOTH: any last words.

CF: Thank you for the interview! I love your website, its very interesting to read the interviews of any ladies who has the same dream as me.

Back to our main page