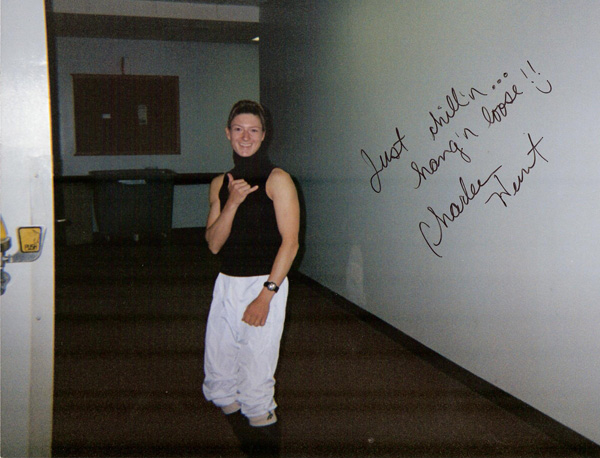 Charlene Hunt
Charleen Hunt is a jockey whom I have known for years. Since our last interview was at least 5 years ago, I decided it was time to catch up with her.

FOTH: As we are doing this interview you are currently not riding and expecting a baby. After you have the baby are you going to continue with riding?
CH: For the time being, I plan on continuing to gallop. Riding races in California (being female) is not easy. Because I've always had to fight my weight, it's almost not worth scrounging up a mount or two. It's even harder now that I have a family.

FOTH: When I say Garden State Park, what are some of the things that pop into your head?
CH: Why Chris Forbes, for one! There were some fun times for me, but I have to say that it was the beginning of a very hard trek for me. I bounced around from Garden State, to Atlantic City, Monmouth, Phili Park, Aqueduct and Belmont and wasn't winning much.

FOTH: Do you feel you have a certain riding style?
CH: I would have to say that I consider myself a bit "old school". I ride with a deeper seat and prefer longer distance and sitting off the pace and making a nice run at the end. It seems to me that speed is the norm now.

FOTH: Do you feel you have been treated pretty fairly as a jockey?
CH: Just as fairly as the next. It's a hard game for any rider. The best comes about by being in the right place at the right time...I wasn't always there!

FOTH: What is the hardest part about being a jockey?
CH: For me, there have always been two issues; dealing with people and fighting my weight.

FOTH: What is in your opinion the hardest track to ride at and why?
CH: As a woman, I would have to say "hands down" Santa Anita and Hollywood Park. There seems to never have been many female riders here, and the ones that are around, are sparsely used.

FOTH: Tell me a few funny jockey stories?
CH: Sorry to say that nothing comes to mind right off hand. I can tell you that I remember hitting someone else's horse in the ass the last 8th down the lane at Calder Race Track. I was, slowly but surely, closing in for 4th and (can't remember who it was) was weaving in and out of my way. Finally, I got to his rump and whacked his horse in the ass twice and told the rider to get the hell out of my way. Later on I thought that was rather funny. I got lucky because the stewards didn't notice!

FOTH: Is there any goals as a jockey that you would still like to achieve?
CH: No. I have nothing to prove. I'm a good rider and have won at more tracks than some have ever ridden at.

FOTH: For those who don't know, how did you come up with the whole "Hang Loose" gimmick?
CH: I began riding races at Calder and Rosemary Homeister always blew kisses the public from the winner's circle. I wanted to acknowledge the public also, but had to come up with a different salutation. My, then, significant other would always throw up the "Hang Loose" sign. It's a Hawaiian greeting that a lot of surfers use.

FOTH: What are some of your memories about riding at Monmouth Park back about 10 years ago?
CH: Like I said earlier, it was a really hard time for me. The good times were really sparse, and the wins were few and far between. I have to say that I really loved the pool in the jocks' training area. I'd go back and forth from the hot box to the pool 'til I rode my races.

FOTH: What was the worst injury you have ha as a jockey?
CH: Knock on wood and thank the good Lord, as a jockey, I never got hurt. My broken collar bone and torn ACL were galloping injuries.
FOTH: Have you had a proudest moment as a jockey?
CH: I can't say that any one particular moment stands out at me right now. There were many, many times that I was proud of myself. Usually it was from winning on a horse that no one else had been able to get to the winner's circle or the likes.

FOTH: What advice would you give to a young girl if she wanted to become a jockey?
CH: Gee, where to begin! First and foremost...plan your trek. Know where you are going to ride and make a circuit of it. Be consistent with it because it will become your business. Second, pick out 1 or 2 good riders that you admire and study how they ride. Try new techniques, but use what FEELS right for YOU. Be your own best critic. As soon as you start to ride, study your own replays. Your own style will develop like that. If you are not comfortable on a horse, the horse will not be comfortable. Third, find ways to make your seat (legs, torso, arms, grip...stance) strong in the saddle. I used to do all kinds of exercises: squatting while roller blading, using bungees instead of reins tied to anything both in the pull and push positions, balancing on my toes on a curb holding 1 pound weights and pumping. All of these exercises are in the jockey position!

FOTH: Do you like any other sports besides horse racing?
CH: I love to play volleyball, roller blade, swim and bike. I like, but don't have much practice at tennis and softball. I also like gymnastics and martial arts, but haven't practiced in almost 20 years.

FOTH: What are some hobbies and things you like to do to relax when you're not doing horse racing related things?
CH: As a wife and mother now, I don't have any time for myself. My son is only 19 months, so he takes up all my time. We often go to the park to play and let the dogs run. I steal computer time while he naps and put a DVD in from time to time.

FOTH: What do you think is the biggest misconception about being a jockey?
CH: A jockey's income. The public has this notion that a jockey makes a lot of money. Not many jockeys make a lot of money. Some do.

FOTH: Finish this sentence, if I was not a jockey I would be?
CH: a professional in the medical field.

FOTH: Did you ever get to give another jockey "the initiation" and if you did what did you get her/him with?
CH: No, I didn't. My own was almost missed. Because it was only my second mount, no one expected me to win. Rosemary Homeister got me with our face wash bucket!

FOTH: If I am not mistaken, were you not a trainer for a bit. If so, how was that and why did you go back to being a jockey? (
CH: Have never held a license. Just took care of the barn on a couple of occasions. I don't have any desire to be a trainer.

FOTH: What sort of music do you like to listen to?
CH: A variety; pop, soft rock, R&B, country, and the list goes on.

FOTH: If you had the power, what are a few things you would do to change the horse racing industry?
CH: To be quite honest with you, there is so much about the industry that I don't know the first thing about; I have no room to talk. I just went from track to track and adapted to the ways of each one.I think the issue is being addressed, but I'm not sure. Many people spend most of their lives on the track and when they can no longer work, they have nothing. I think there is now some kind of retirement planning, but like I said, I don't know. Does it apply to people who only work salary jobs...because many people work freelance? My point is; Race Track employees (salary or not) need to be taken care of better. Look at other professions.If there were something I could do, it would be to ensure retirement for all race trackers.

FOTH: Have you ever had any problems with your weight.
CH: I always had to reduce really hard. As a jockey, my life consisted of diet and exercise.

FOTH: When you prepare for a race, what do you do to prepare for it?
CH: Aside from making sure my weight is OK, I review the racing form, watch replays of the horse I'll be riding (if I haven't ridden it), speak with the trainer, say "hi" to the horse, and think WIN WIN WIN!

FOTH: Charleen, huge thumbs up for doing this 2nd interview with me. Any last words the floor is yours? CH: Thank you Chris. It's always a pleasure. I'm proud of the work you do on your website and the support you give the ladies. Keep it up, and keep in touch! Hang Loose, Charleen


Back to our main page