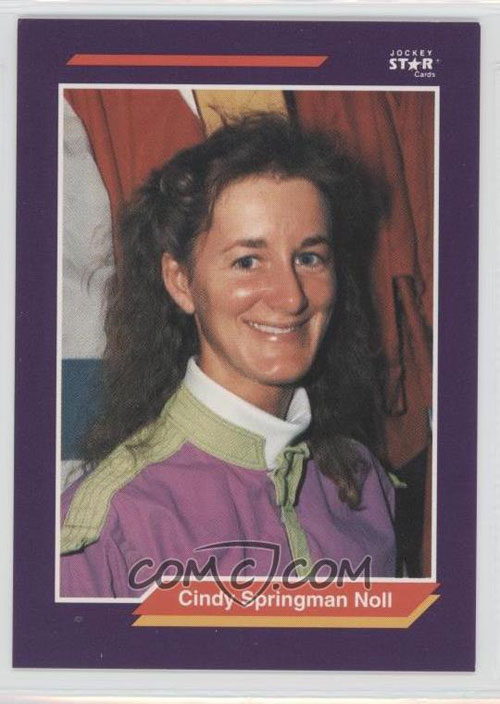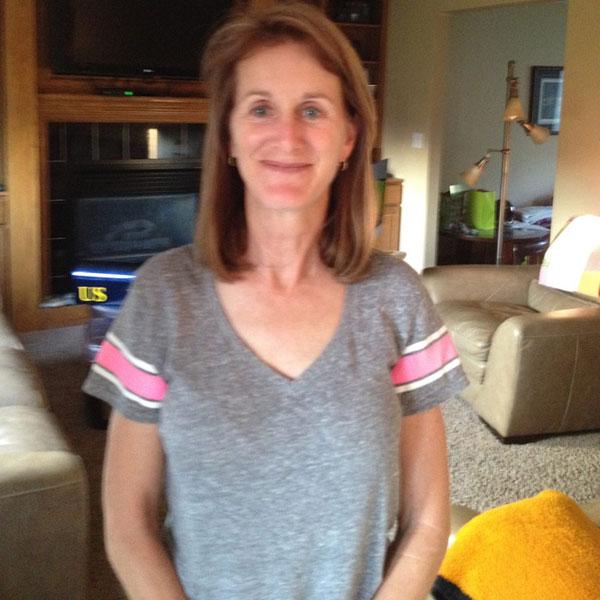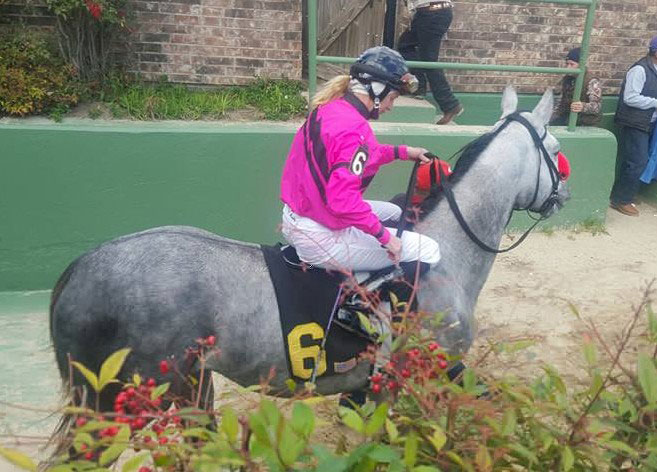 Cindy Murphy
Cindy Murphy (aka Cindy Noll) has been riding for close to 30 years and this is a brand new interview I did with her recently and here is what she said to my questions:
FOTH: Soon it will be 30 years that you have been a jockey and you have rode in over 17,000 races. When I throw that figure out there, does that amaze you in some ways?
CM: It does amaze me, where does the time go?
FOTH: Soon it will be 30 years that you have been a jockey and you have rode in over 17,000 races. When I throw that figure out there, does that amaze you in some ways?
CM: Yes, I have always wanted to break that 2000 win barrier, maybe I still can before I hang it up for good.
FOTH: So are you enjoying being a jockey these days as much as when you were an apprentice?
CM: I think I enjoy it maybe more, I was more nervous when I had the bug!
FOTH: So take me though what a day is like for you these days?
CM: Well I get up 5 am; have my banana and a protein shake. Go to track to work horses from 6-10, then on days with later post I swim (1/2-1mile), and or bike (6-20 miles). I used to always run, but the pounding is too hard on my body these days. Eat a healthy lunch, nap (most important, lol), even if just for 20 min. Ride my races, eat healthy dinner, sometimes provided by my good friend and valet Travis Skarpness (great cook). On dark days, always make time for family get togethers. My 2 older children, Christi (23, in medical field) and Cody (21, industrial safety) are on their own and live in OK close to our farm. Emmett (12 going in 7th grade, going to be in NFL or NBA he assures us). Christi has a 2yr daughter, Alia, who loves her Gam Gam. Cody has a daughter due in Oct. We are all very close, family time is important.
FOTH: So tell me what it is like riding at Prairie Meadows these days?
CM: I love coming to IA to ride. PM has always been my favorite track. Love the people here so down to earth. My Mom, brother, sisters, aunts, uncles are only a couple hours east of Altoona, so can see them while here.
FOTH: What tracks have you rode at throughout your career and what have been your favorite and least favorite?
CM: I started in 1986 in Argentina, Hipodromo Palermo, San Isidro and La Plata. Then came back to US in FL, Hialeah, Gulfstream, Calder, Tampa Bay, then Philadelphia Park, Penn National, Garden State, Meadowlands, Aqueduct, then Iowa, NE, MN, OHIO, IN, WV, OK, TX, NM, LA and Canada. I had just finished my apprenticeship before I came to IA to win that 1st race run here. Most favorite tracks, Prairie Meadows and Remington Park, least favorite Beulah Park (ironic because many, many wins there).
FOTH: I know through your career there has been ups and downs has there been any serious thought to retiring at one time?
CM: Serious retirement thoughts after severe neck injury in 2006, but just couldn't stay away.
FOTH: If a young girl came up to you and said she wanted to be a jockey, what would you tell her?
CM: If a young girl asked me about being a jockey I would tell her go for it IF you really love it. It's not for the faint of heart.
FOTH: Have you ever been recognized outside of the racetrack?
CM: I have had other accomplishments: BS in Animal Science (pre-vet), induction into Hall of Fame for track/cross country at NE MO State (now Truman State). Prairie Meadows Hall of Fame. (very cool stuff-cf)
FOTH: When you retire what would you like to be known for?
CM: When I retire for good I would like people to remember the effort and integrity I always put forth, always gave 110%.
FOTH: When you retire, any thoughts of becoming a trainer or an owner or an ex-rider or once you retire or you are going to leave horse racing behind so to speak?
CM: I would like to own a small string of quality horses someday, probably don't want to train them myself because I want to travel and see the world! Then I can just cheer them on from afar!
FOTH: Do you have a favorite horse that you have rode in your career?
CM: I have several favorite horses I've ridden: Sure Shot Biscuit (his 1st 2 wins), Best of the Crop, Fun to Run, Coding, and Something to Talk About are a few.
FOTH: Is the feeling of winning a horse race today the same as it was when you were starting out?
CM: The thrill of winning today is just as exhilarating as when I started no other feeling.
FOTH: Did you think when you were 1st starting out and riding races that you would still be a jockey these days?
CM: Never in a million years did I think I would last this long. People ask if I'm afraid of getting hurt again, totally not. God looks out for me, if something should happen? Well it was my choice; I'm doing something I love.
FOTH: Do you think you have been treated pretty fairly as a jockey?
CM: Most of the time I have been treated fairly in this business, everyone gets fired off horses from time to time and gets upset, but it's the fickle nature of the business.
FOTH: Does managing your weight get harder as you get older?
CM: My weight has never been an issue. I'm one of the lucky ones, just a natural lightweight. I weigh the same now as when I started.
FOTH: Have you had the chance to give another jockey their initiation after their 1st win so far and if you did who was it and what did you get them with?
CM: I was in on some initiations, one you know, Alex Birzer, he's my hero, great guy. The others were young girl riders who mostly didn't stick with it.
FOTH: Do racetracks these days need casinos to survive?
CM: Yes, I think casinos are needed now. I'm not sure of how it all works, but tracks with nice casinos always are more successful.
FOTH: If you were a general manager at a racetrack what are some things you would do there to try and bring people to the races?
CM: I think entertainment between races is a huge draw, especially for families. People can get bored waiting for the next race, bands, and trivia contests, etc.
FOTH: Have you done any female jockey challenges over the years and if so how fun are they?
CM: I have done 3 female jockey challenges: Albuquerque, NM, Remington Park, OK and Hoosier Park, IN, never lucky enough to draw the right horses but had tons of fun!
FOTH: What was the worst injury you had as far as race riding goes and how long were you out for?
CM: I have had my share of injuries, probably worst one was 5/11/06 here at Prairie Meadows, horse stumbled leaving gates, I went headfirst in the dirt, and horse kicked me in back of head driving me even harder into ground. I was life lighted to hospital not being able to feel or move anything from neck down. My neck vertebrae were pressing into spinal cord, after swelling receded and a cervical neck fusion and a year of therapy I was finally able to get on horses again.
FOTH: What is the feeling for you being on a horse being loaded in the gate and then shooting out of the gate?
CM: I love the gate leaving part of a race, I feel like that's one of the things I do best in a race.
FOTH: Cindy thanks for doing this 2nd interview any last words to wrap this up.
CM: I'm not sure how much longer I will ride, probably only a year or 2 more. I have grandkids to enjoy now and as I mentioned I would love to do some more traveling. I don't regret any of my life. I have had an exciting journey that I feel so privileged to have had!