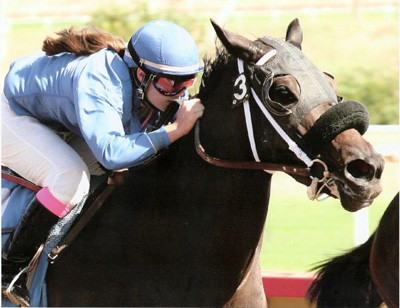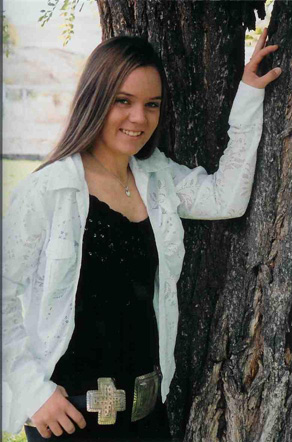 Cassie Papineau
Cassie Papineau is a young jockey that is riding out at Turf Paradise and I emailed her some questions and here is what she said to my questions:
FOTH: Where were you born and where did you grow up?

CP: I was born in Kennewick, WAÉ..but being as both my parents are jockeys as well I grew up a little bit of everywhere.
FOTH: At a young age did you know you wanted to be a jockey?

CP: Pretty much, since I was about 5 years old.
FOTH What sort of girl were you growing up? Were you a tomboy like most of the other female riders I have interviewed?

CP: Yeah, I was definitely a tomboy, but when you grow up with brothers and around the race track you don't have much of a shot to be anything else, haha.
FOTH: Were your parents supportive of you becoming a jockey?

CP: They were scared at first, but when they saw how bad I wanted it they were, and are still very supportive.
FOTH: What event or events actually led you toÊbecome a jockey?

CP: When I was about 13 I got to start breaking colts with my mom, and eventually convinced her that if I could break colts, then surely I could gallopÉ.then if I could gallop I could surely work just one horse, then why just one horse, and why not work one out of the gates while I'm at it, haha.Ê I eventually got to the point where she knew what I was trying to pull, and all she could do by that time is help me out.
FOTH: How many years did you exercise ride before you got your jockey's license and did you teach yourself how to ride or did people help you along the way?

CP: I think about 3 or 4 years, and I did get a lot of help, mostly from my mom.
FOTH: Looking back was becoming a jockey easier or harder than you thought it was going to be?

CP: There was a LOT more to learn than I initially thought there would be, and it's always hard, but it makes it a whole lot easier if you really love it.
FOTH: Tell me about your 1st race and were you nervous at all before the race?

CP: I was on a horse named Love Our Kinzie for Gary Morris Jr. I was in the 8 hole and mom was in the 9 hole. Ê I don't remember a lot of the race, I just remember coming down the lane and thinkingÉÓHOLY CRAP IÕM GONNA WIN ITÓ and I did, by a nose. Ê My mom was so proud of me because not only did I win my first race, but I came from way off the pace to do it, and in her opinion, Òrode the perfect raceÓ.Ê Haha, it was exciting and I was definitely nervous, but I had a horse that was an old pro and a good babysitter.Ê I won 3 races in a row on that horse.
FOTH: Did the jockeys get you after the race?

CP: They definitely did get me, my brother and the rest of the gate crew were waiting for me back at the room with a bucket of ice water and a hose and they got me good.
FOTH: Take me through what you do in a typical day?

CP: Well, here at Turf Paradise, I usually get to the barn before 6, work a few horses, maybe gallop a couple, go around and talk to some trainers, line up some more works and find some horses to enter, then head to the room to my ÒofficeÓÉÉthat would be the hot box, haha, spend a good couple hours in there sweating off a little bit before the races start, and then ride a few races.
FOTH: How do you prepare for a race?

CP: Well, I read the form a lot, try to figure out where I need to be, where everybody else is probably going to be and try to predict what the other riders moves are going to be and how I can work them to my advantage with each specific horse. Ê During the warm up I kind of try to get my horses attention on me, scratch him on the neck a little, find out what kind of attitude heÕs got and try to keep him happy and get him prancing and thinking heÕs a hot shot before we get to the gates.
FOTH: What are things you like to do when your away from the track?

CP: Haha, thatÕs not too often, but I LOVE camping, snowboarding, 4x4ing, all the fun outdoorsy stuff. Ê Other than that, maybe take my dogs to run around and play or hang out with the family, I'm big on family time.
FOTH: Is there any other jockeys that you like or admire?

CP: If you can't tell yet my mom is at the top of the list, and of course Julie Krone, what girl doesnÕt want to be her. Ê Other than that IÕd have to say Gary Stevens, I read his book when it came out, and since I know his family and they're all from Idaho, one of my stomping grounds, I kind of familiarized myself with his story. Ê I still remember the day he came to Boise and I got him to sign my book, I was so nervous to meet him, even though I knew IÕd met him before as a kid, but now I knew who he was, what kind of career heÕd had, what kind of horses heÕd had the privilege to ride, and IÕd seen and studied the finesse he had on the track and the understanding and love of the sport itself that you just donÕt see enough of anymore. Ê He is one of those role models in my career that I would love to mold my riding style around.
FOTH: How long would you like to ride for?

CP: For as long as I physically can.Ê Then, like most riders, IÕd love to train, but only on the side, when I do retire eventually IÕd like to become a geologist.
FOTH: What tracks have you rode at so far?

CP: So far mostly Les Bois Park in Boise, Idaho and Turf Paradise here in Phoenix, Arizona, but I did ride just a couple races at Yavapai Downs in Prescott, Arizona this fall.
FOTH: Do you watch all your race replays and see what you did right and wrong during a race?

CP: I watch every race replay when they play it after the race and before the next race day, sometimes again after the race day, and sometimes again at home if I really think I missed something or somethingÕs really bothering me about a raceÉ.you can NEVER watch too many replays, if you get tired of watching yourself you can always watch the other riders.
FOTH: Is there any track that you would like to ride at one day?

CP: Oh, haha, plenty of them, who wouldnÕt love to ride at Churchill downs or Del Mar, Golden Gate or especially Santa Anita. Ê If I had my one choice though it would be Santa Anita.
FOTH: If a young girl came up to you and said she wanted to be a jockey what advice would you give her?

CP: I think I would tell her first to make sure that itÕs what she really, really wants, to try hard and work hard EVERY day, ALWAYS ride to win, always keep your chin up even when it gets hard, and to never EVER think that youÕre done learning, because you never stop learning, and the more you learn, the better you ride.
FOTH: Do you have any short term or long term goals for yourself?

CP: As for short term goals, IÕm trying to beat the other bug boy here at Turf for apprentice of the meet. Ê Long term goals, I would love to be able to ride successfully in Southern California and make a name for myself doing what I love to do.
FOTH: I am out of questions. Thumbs up for the interview and any last words?

CP: Thank you very much for the interview and I love your website, IÕve read most of the interviews whether I know the jockey or not, and some of them are pretty inspiring.


Back to our main page