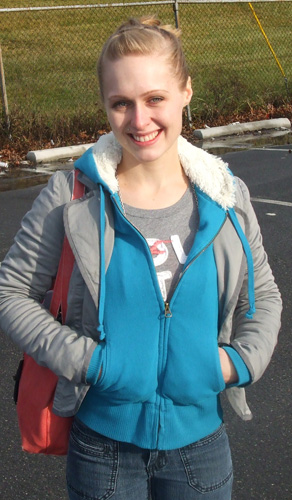 Jacqueline Davis
Jacqueline Davis is a young jockey and is the daughter of jockey Robbie Davis. I recently got her on the phone, interrupting her dinner no less ha ha, and here is what she said to the questions I asked her:
FOTH: Where were you born and where did you grow up?

JD: I was born in Long Island, NY and I actually grew up in the NY circuit because my dad rode so I spent ever winter at Gulfstream Park and ever summer at Saratoga.
FOTH: When you were growing up were you like a tomboy like most of the other female riders I have spoken to?

JD: Me. (laughs) I went through different stages where I was tomboyish, but I also wore my share of dresses.
FOTH: I know you mentioned to me that you grew up around numerous racetracks. Now at a young age did you know you wanted to become a jockey or was that something at the time that did not interest you at all?

JD: Actually I was always interested in being a jockey cause my dad rode before I was born, so you could say I was born into the business. (laughs) I guess I was gonna try and I really had no other option (giggles).
FOTH: Now I know your father was a jockey, now was he 100% supportive of you becoming a jockey and is he worried about you getting hurt at all?

JD: Absolutely. Actually he was against the idea when I brought it up to him. When I told him In wanted to ride he knew how dangerous it was and him with going through all the hardships he went through, even as a man, you know, he was against it, but I proved to him my heart was into it and I was going for it and he loved the idea. He is now totally supportive.
FOTH: At what age were you really serious about becoming a jockey and what was your 1st job on the racetrack?

JD: Actually I went to Chris McCarron's jockey school. I did work on the frontside of the racetrack when I was 16. The backside I really never went on it until I was 19. I know a lot of kids go when they are 16, but I wanted to get my college degree. I needed that backup plan just for me. I was not just gonna dive head first into it. A lot of people go that way, but my personally, I just couldn't do it. So I went to the jockey school and got an associate degree in equine science coming out of it. My 1st job on the backstretch was an exercise rider.
FOTH: Tell me a little bit about this jockey school you went to and what are some of the things that they teach you there?

JD: It is a 2 year program and it is located in Lexington, Kentucky and it is community college. We took a nutrition course for us and the horses, a finance course, an equine course, 2 horse anemic courses, maintenance course. We took a jockey life skills course and Chris McCarron did teach that. We took a lot of riding courses, we had a barn full of horses that we took care of, we were hot walker, groom and rider. (laughs). I took care of at least 3 horses by the end of the program. It was amazing.
FOTH: How long are you at this program?

JD: 2 yrs. You are there for a yr and a half and the last 6 months you are there for your internships with a trainer. I did mine with a doctor and I ended up staying with him when I graduated.
FOTH: How long did you exercise horses before you went and got your jockey license?

JD: I graduated the jockey school in May (2008) and galloped for about 4 months after I graduated. I rode my 1st race up at Saratoga. It was 5 1/2 furlongs on the grass.

FOTH: Did it feel very natural getting up on a horse when you were at this school and did your teacher teach you at all how to ride?

JD: I actually learned how to ride when I was pretty young. I got my 1st pony when I was 3. Everything we did before the school was backyard riding. Me running around the fields and falling off.

FOTH: Now you talked a little bit about your 1st race. Now were you nervous at all going out into the paddock and seeing that big crowd?

JD: It just felt surreal. My dad I think was more nervous than I was. I was so nervous inside, it was more like butterflies I was so excited. It was so amazing. (laughs) It was a like a dream. Most people strive to get there and I couldn't believe somebody actually gave them the opportunity to ride there.
FOTH: Now does your father come watch you ride live or on TV and give you little tips on what you did right or wrong during the race you just rode in?

JD: Oh absolutely. He watches every race I ride in and he will tell me you did very good here, but why don't you try doing this and how to fix my riding and different ways I can better myself and how to watch out for somebody.
FOTH: Now tell me a little bit about your 1st win. Was that at Belmont or at Aqueduct?

JD: It was at Aqueduct. It was so much fun. It was on a 64-1 shot and it was a mile and 16th on the turf at Aqueduct. I broke 2 or 3 on top. (laughs) Because I was 64-1 I think they let me go (we both laugh). I think they thought I was just gonna die out and I think I did the first quarter in like 23 seconds and then I slowed it down and I am on the backside and I look around and I am like, "where is everybody" and we get halfway around the backstretch and I am thinking "they are not going to let me get that far ahead of them" and then they came and I let her loose a little bit and she gave me a little ride and they almost caught me at the end at the quarter pole and my horse just took off again it was awesome. I went wire to wire. I couldn't believe it. I was in total shock.
FOTH: What was it like jogging the horse back to the winner's circle for the 1st time?

JD: If you saw me, now only did I have a big smile on my face, but I was grinning from ear to ear. I couldn't stop the horse, she wanted to go around again. When they brought me back to the winner's circle I was amazed.
FOTH: What did you dad say to you after the race and was he there in person?

JD: He was watching on TV. They said he wasn't feeling well, but he was jumping up and down on the bed when he saw that I had won. He aid to me later I thought you were gonna die galloping coming into the stretch. (laughs). He said he couldn't believe it as he didn't think I was gonna win either.
FOTH: How long do you plan on riding for?

JD: I am gonna ride as long as my body will let me. Knock on wood that I had a long riding career like my dad did cause you never know what the business is gonna bring you. I would love to do this for the rest of my life.
FOTH: Now do you plan on staying and riding the NY circuit or you might pack your bags this summer and ride Monmouth Park or Phila Park?

JD: Right now I want to ride the NY circuit, but it would be cool to go to other racetracks. I want to see if I can make it here and I haven't even started my "bug" yet. I have 2 more wins to go before I start that.
FOTH: I know Maylan Studart and Anne Napvarnik are also riding up in NY right now. How do the 3 of you get along?

JD: I am out to dinner with Maylan right now.
FOTH: Well tell her Chris Forbes said hi.

JD: I will do that. The 3 of us have to look out for each other as we are the only girls there. I love the guys, but we are kinda the minority in there. (the jock's room).
FOTH: Take me through what you do in a typical day?

JD: I wake up about 5:30 am and I get to the track at about 6:00 am and make my rounds with the trainers and have a lot of conversation and try to pick up mounts. I get up on a couple and I am done around 10:00 am and then if I am riding I go up to the jock's room and relax a bit and go over the program and go over my strategy and I get a masseuse to go in and massage and stretch me and he is pretty good (slight laugh) and then I ride and go home.
FOTH: What are some of things you like to do when your away from the racetrack?

JD: I can't wait for it to snow and I love to go to the mountains and go snowboarding. I love shopping and actually I went to school for fashion design. I am very big into clothes, I can show. I also love going dancing.
FOTH: If a young girl came up to you and said she wanted to become a jockey, what advice would you give her?

JD: I would say work hard. Work really hard and keep in shape and keep a positive attitude and try not to let anything get you down. If you have a positive outlook no matter how bad it gets, there is always a brighter side and you'll make it.
FOTH: I am all out of questions. Anything you want to add or say to end this interview?

JD: I am having the time of my life.


Back to our main page